As soon as I saw Kylie Jenner wearing the pink rhinestone Balenciaga Le Cagole XS… I knew this was going to be the new it bag. (And it's very Y2K which is so in right now.) But gurl, at $7,000 (yes, $7k!!) the price tag is STEEP. I mean that's practically the price of a Chanel classic flap these days. And we all know how I feel about paying a steep price tag for designer items that don't even have any logos to let a hoe know you got it like that. (Because c'mon, if we're dropping serious Gs on a bag, it's because we want the world to KNOW — you're lying if you say differently.)
Table of Contents:
Shop More: Affordable Designer Dupes
Kylie Jenner's Balenciaga Bag Started It All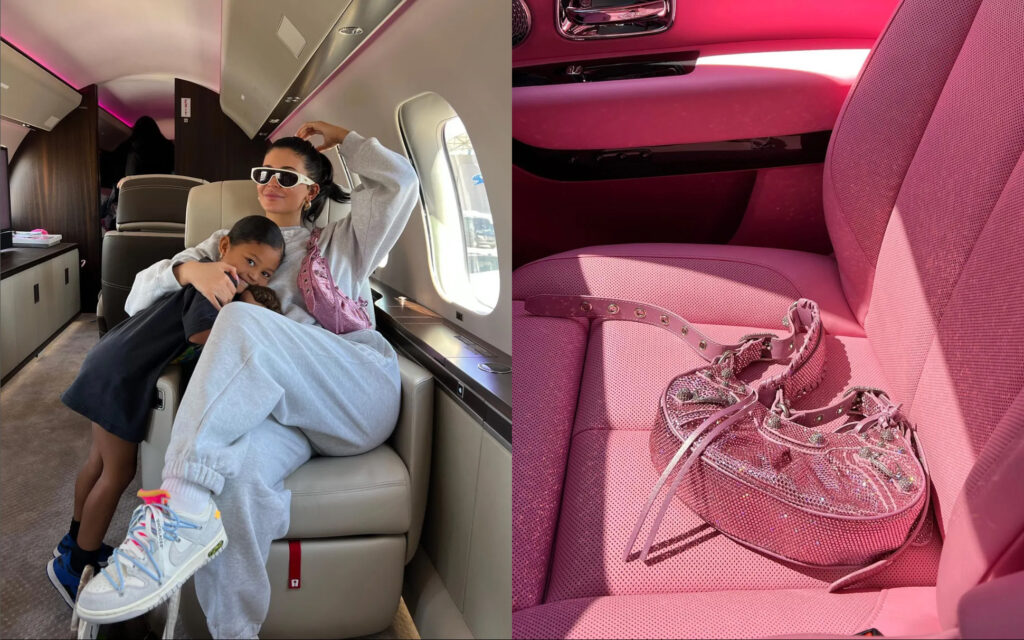 If there's anything a Kardashian is good at… it's starting a trend. So we can thank Kylie Jenner for making the Balenciaga Le Cagole XS Shoulder Bag the new it bag as soon as she posted not one, but TWO pics of her pink rhinestone version (in her private jet and $300k Rolls Royce, no less). Thanks Kylie!
If you're not a billionaire like Kylie, and don't have $7k to drop on a bag, you're in luck, because I found a literal exact dupe so good, no one will know the difference! You can thank me later. (Actually you can thank me right now by making any purchase through the links in this blog so I can make a few monies off the sale!)
Follow me on Instagram: @debra_jenn
Swoop the Balenciaga Le Cagole Dupe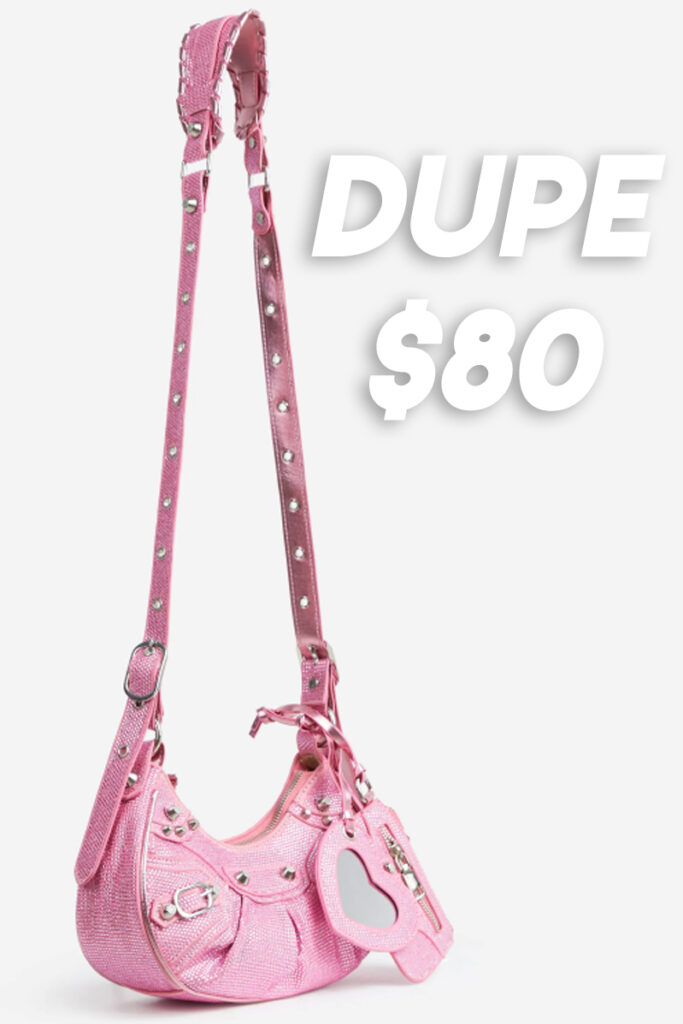 Tell me this Balenciaga dupe doesn't look the exact same as the original! It's even covered in rhinestones, just like Kylie's Balenciaga shoulder bag. If pink rhinestones aren't your thing, the bag also comes in a ton of other colors that I'll link below (and the non-rhinestone versions are even cheaper!).
Note: if the original Ego Shoes Texas bag is sold out, I've recently found a few more incredibly spot-on dupes (including one on Etsy that's a little pricier, but an even better dupe, and one on Shop Akira.)
Follow me on TikTok: @Debra_Jenn

More Balenciaga Shoulder Bag Dupes In Every Color
If you love bright colors like me, you're gonna want to snag this bag in every color. My absolute favorite dupe is the Ego Shoes Texas bag which comes in so many colors, including a bunch of sparkly rhinestone options, but Public Desire also has a version that comes in a hot pink that I couldn't find anywhere else. And if you want more colors in your life, be sure to check out my favorite colorful makeup looks.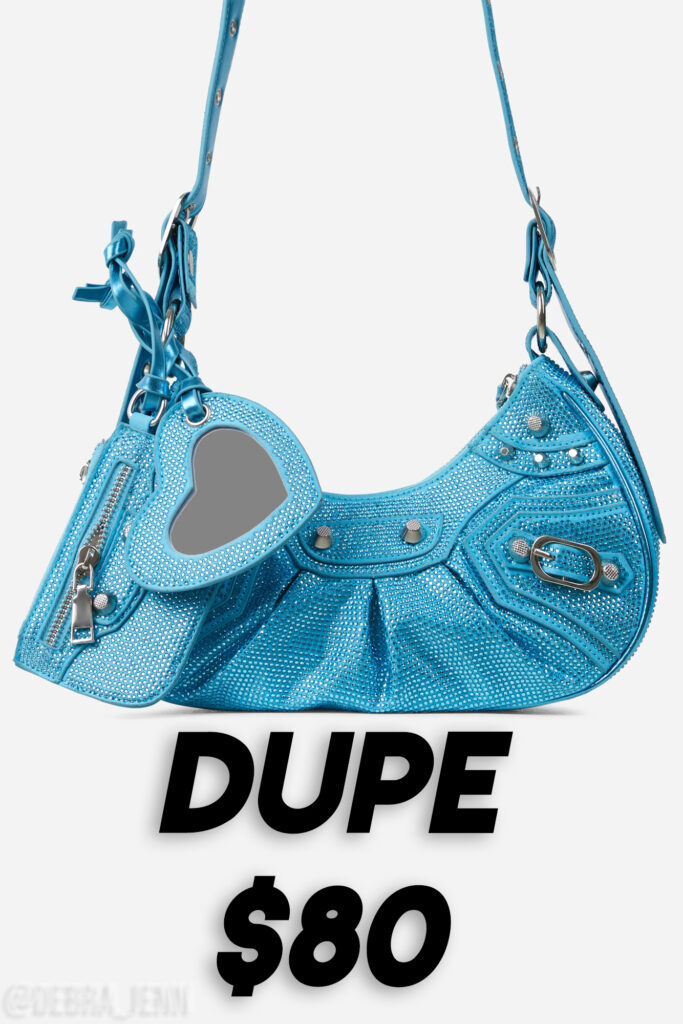 Shop my Amazon store for my favorite skincare, costumes, home organization & more!
Splurge on the Genuine Balenciaga Le Cagole XS Shoulder Bag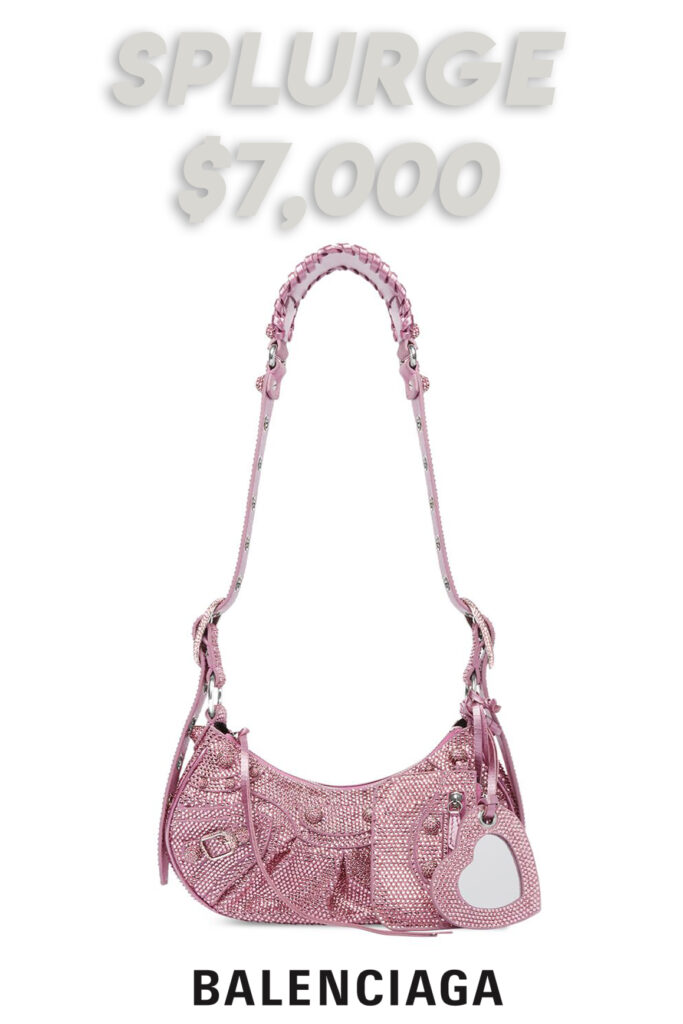 And if you're Mrs. Moneybags, here's a link to the real McCoy Balenciaga Le Cagole… please consider doing some charity work by buying it through my link (since you got it like that), so I can make a few dollars off the sale 🙏🏼😂
Like my Facebook page for live tutorials: Debra Jenn
More Affordable Y2K Handbags I'm Living For
A girl can never have too many bags right? Here are some more cheap handbags with a Y2K flair that look just like designer bags.
Follow me on Pinterest for more makeup ideas & fashion inspo
Watch My Affordable Makeup Tutorial
If you like affordable tings, check out my affordable makeup tutorial below and don't forget to subscribe to my YouTube channel while you're there!
Subscribe to my YouTube channel
More Fashion & Style Blogs:
* Some of the links above are affiliate links, which means I may make a small commission if you choose to purchase. If you feel comfortable, purchasing products through these links greatly helps me out as I work really hard to make high quality, fun content for you guys to enjoy.