Platform pumps are SO HOT right now, and none hotter than the Versace Medusa Aevitas satin platform pumps. But at $1,575, that's more than most people's rent (or mortgage, for that matter). Luckily, the queen of dupes is swooping in to save the day! Keep reading to check out the absolutely perfect, spot-on Versace platform heels dupe and grab a pair for yourself. (With the amount of money you're saving, you'll be able to snag them in every color!)
Table of Contents:
Shop More: Affordable Designer Dupes
Swoop the Versace Satin Platform Pumps Dupe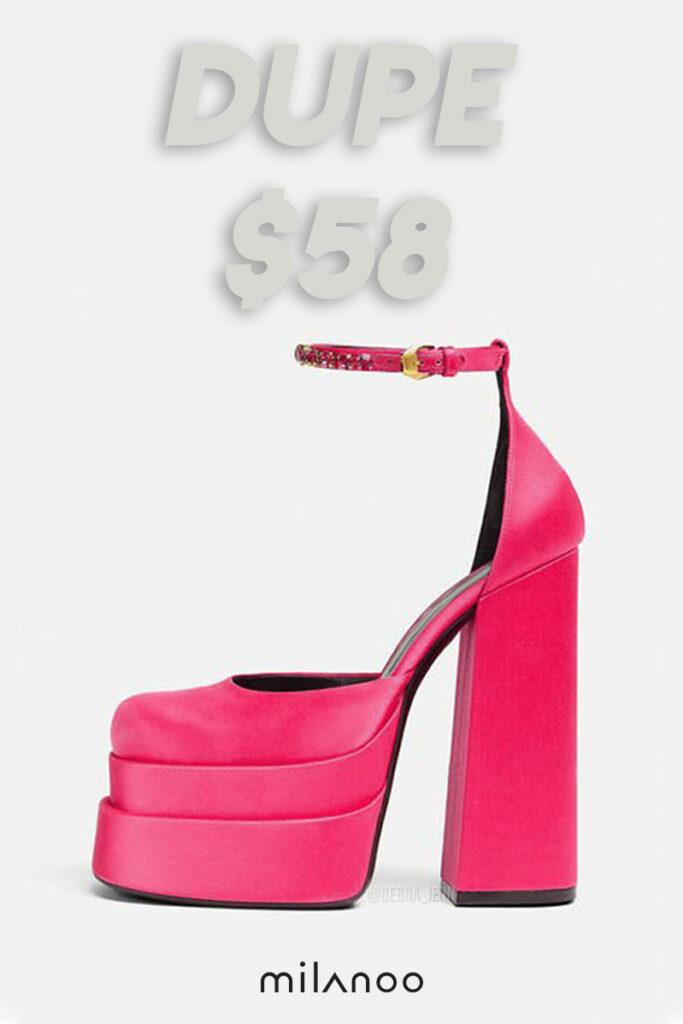 Tell me these don't look exactly like the originals! The only difference I can see is they don't say Versace on the footbed… and who would ever see that, anyways?
Here's the link to the chunky heels Versace dupe — if you like 'em, buying them through my link really helps me out as I slave over a hot, umm… laptop to bring you quality content 😉 (Seriously, my laptop gets pretty overheated writing these.)
The best part? They literally come in every color of the rainbow!
Follow me on TikTok: @Debra_Jenn
More Versace Heels Dupes In Every Color
If you love bright colors like me, you're gonna want to snag these sky-high platform shoes in every color. And if you want more colors in your life, be sure to check out my favorite rainbow makeup looks.

Get the Versace Look for Less on Amazon
Amazon is my fave destination for just about anything since I love to shop last-minute and always need my deliveries ASAP. So if you wanna get the Versace look for less, but you need it delivered, like NOW, here are my fave platforms on Amazon that'll get the job done.
Shop my Amazon store for my favorite skincare, costumes, home organization & more!
The OG Versace Satin Platform Pumps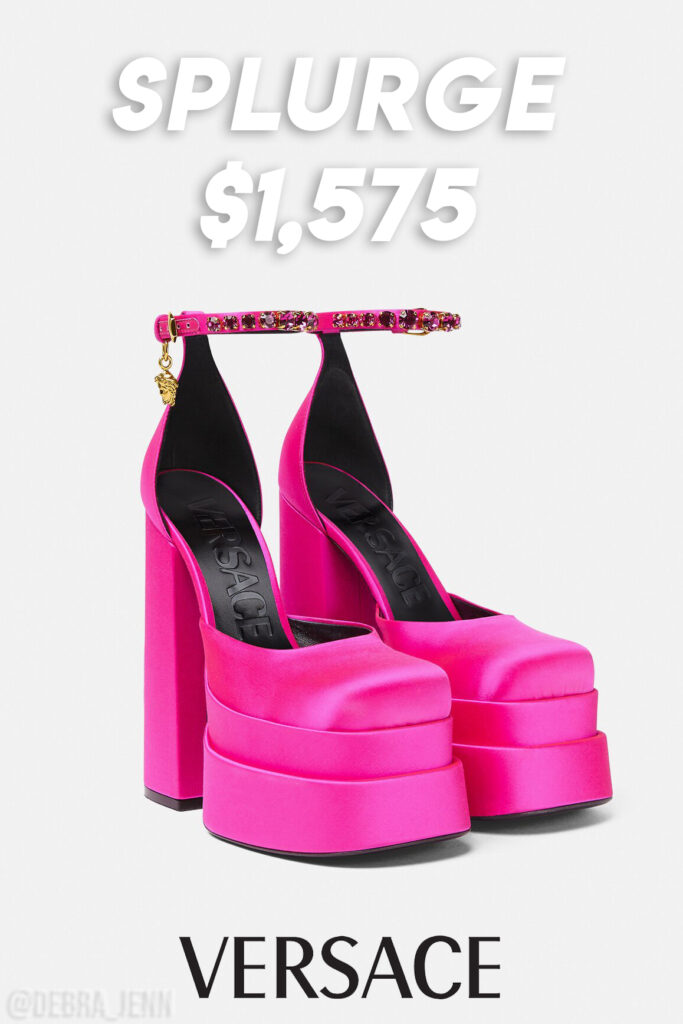 If you're Ms. Moneybags, here's a link to the OG Versace Medusa platform heels… please consider doing some charity work and buy them through my link, so I can make a few dollars off the sale 🙏🏼😂
Like my Facebook page for live tutorials: Debra Jenn
Celebrities Wearing Versace Medusa Aevitas Platform Pumps
Back to the hot-fire Medusa Aevitas Platform Pumps, celebs have been spotted wearing 'em left and right. Everyone from Beyonce to Ariana Grande have been seen wearing these sky-high chunky platform shoes. So if you needed any more reason to buy 'em, this is it!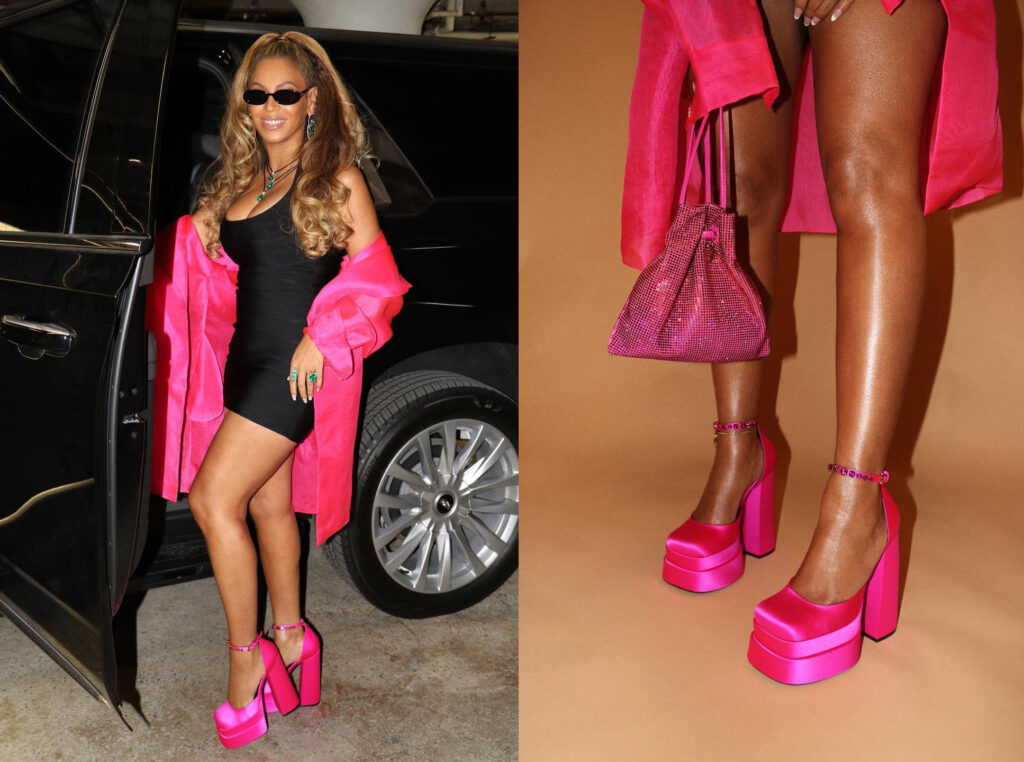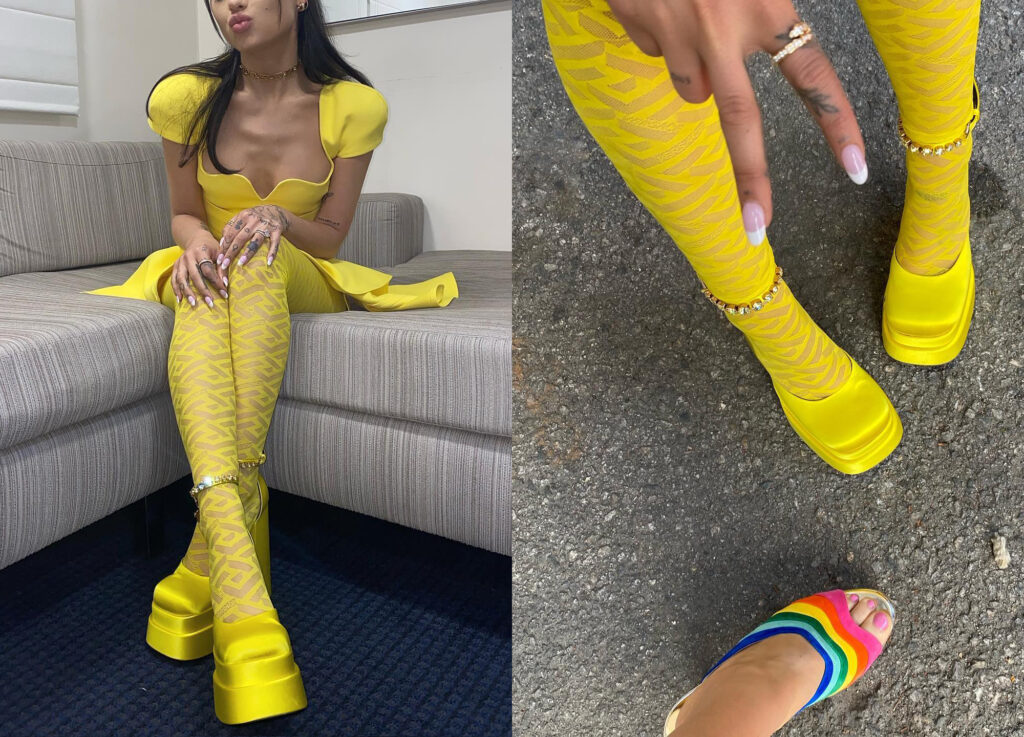 Follow me on Pinterest for more makeup ideas & fashion inspo: @Debra_Jenn
More Affordable Platform Heels I'm Living For
You can literally never have too many platform heels, amirite ladies? Here are some more of my fave styles that I simply cannot resist! The following platforms have the same vibe as the Versace heels, without the high price tag. All of the styles below also come in a ton of different colors to go with any lewk.
Follow me on Instagram: @debra_jenn
Watch My Makeup Dupe Review
If you like affordable tings, check out my review on this affordable makeup dupe below and don't forget to subscribe to my YouTube channel while you're there!
Subscribe to my YouTube channel
More Affordable Designer Dupes:
* Some of the links above are affiliate links, which means I may make a small commission if you choose to purchase. If you feel comfortable, purchasing products through these links greatly helps me out as I work really hard to make high quality, fun content for you guys to enjoy.