Bottega Veneta is undeniably having a *moment*. Everywhere you look, you see another celebrity or influencer carrying a Bottega Veneta bag. But you know what's not having a moment? The BV price tag. I mean, in this economy? Dropping $5k on a bag? With these gas prices? Gurl. No. That's why I've done some digging to find you the best Bottega Veneta dupes, all for under $50!
Also, umm, fun fact: I literally just learned that Bottega Veneta is pronounced Bow-TAY-guh VAN-etta (not ven-etta or ven-eet-a) and it means "Venetian Shop" in Italian. Huh, whomst knewed.
Jump to the Bottega Veneta dupe of your choosing:
Shop More: Affordable Designer Dupes
Anywho, the thing is… these bags are sooo easily duped. I mean, they don't have any logos or anything, so it's not like you can really even tell if someone is carrying the real deal or a dupe.
And listen, I know a lot of people like to be on their high horse and pretend they don't buy designer bags for the logos, but let's be real… the only reason anyone carries a designer bag is so people know you spent MONIES. Some might say, "mOnEY taLKs, WEalTh wHiSPeRs," but let's be real, none of us are Kim Kardashian, so we don't really got it like that. (Unless you actually happen to be Kim K; in which case, why are you reading my blog? Not that I don't want you to be reading my blog of course, Ms. Kardashian, I'm just a bit shocked by the completely implausible scenario, ya feel me?)
Personally, if I'm dropping a bag on a bag, I want people to KNOW!
All of that is to say, why spend a bunch of money on the real deal when there are some great dupes available for way less than $50 and no one will be the wiser? There's no reason, that's what. It's financially smarter to not spend thousands on the real McCoy. So take the money I've saved you and invest it. And since I'm being so kind and graciously saving you thousands of dollars, please at the very least make your purchases through the links on my blog so I can make a few pennies off your sale. (Alms for the poor, m'lady.)
Follow me on TikTok: @Debra_Jenn
1. Bottega Veneta Cassette Bag Dupe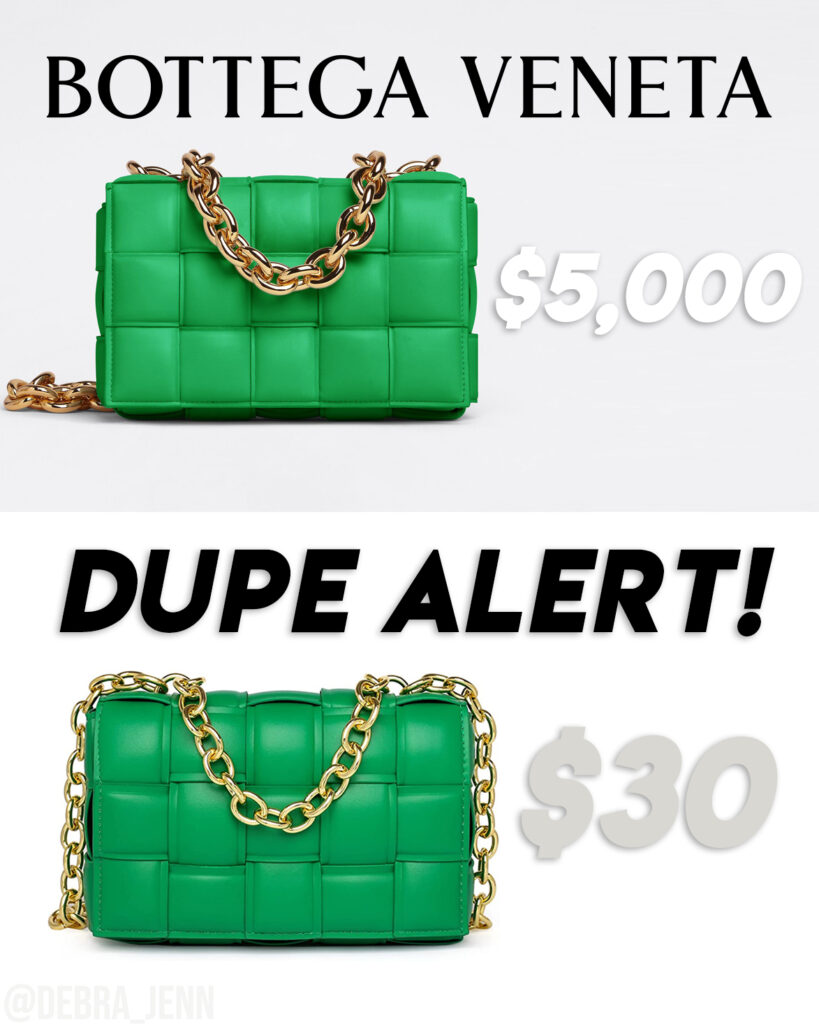 The Bottega Veneta Cassette bag is my favorite BV style! And the green is such an iconic color. My fave dupe is the one by Ego Shoes, which has a more substantial chain and even comes in a gorgeous cobalt blue that I'm going ga-ga over.
Follow me on Instagram: @debra_jenn
Snag These BV Cassette Dupes
The JW PEI version isn't an exact dupe, but it has the same vibe and I have two JW PEI bags myself and they're both very high quality! I personally like the Cassette bag with the chain strap best, but the real deal also comes in a version with the fabric strap, so I included some of those too.

Shop my Amazon store for my favorite skincare, costumes, home organization & more!
2. Bottega Veneta Mini Jodie Dupe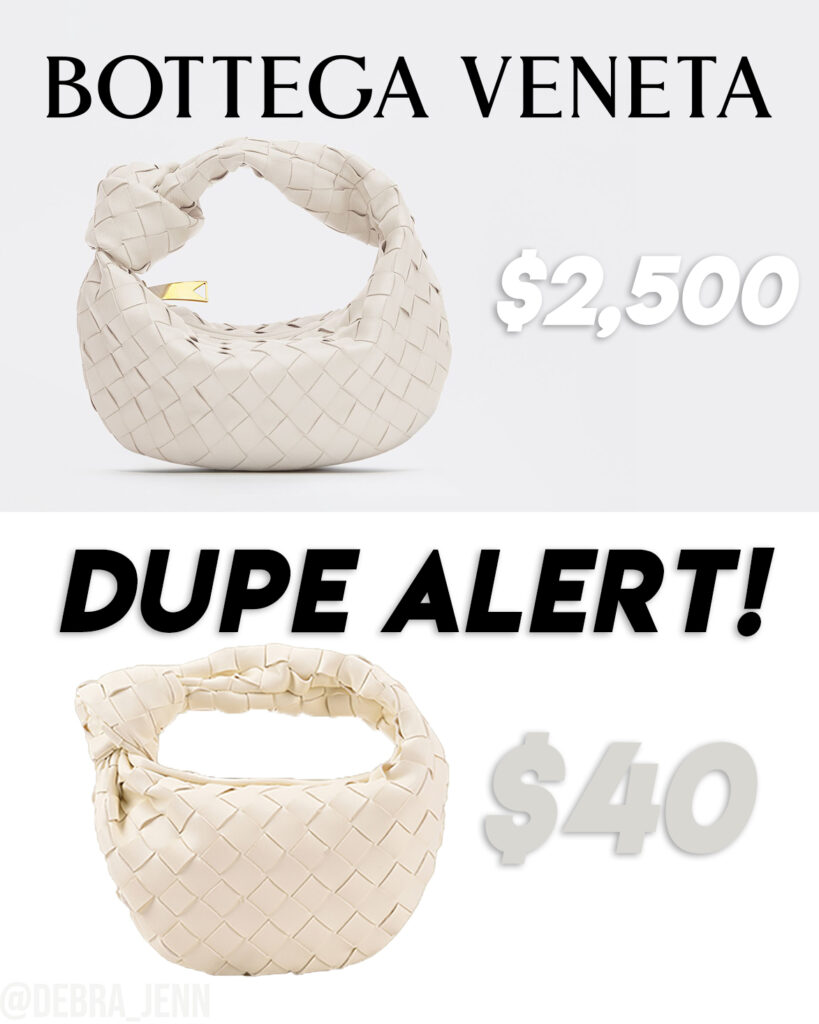 This Bottega Veneta woven bag looks like a v. chic Chinese finger trap.
The Mini Jodie is so cute and comes in so many amazing colors, and if you're buying the dupe, you'll save so much money, you might as well buy 'em all!
Snag These BV Jodie Dupes

3. Bottega Veneta Pouch Dupe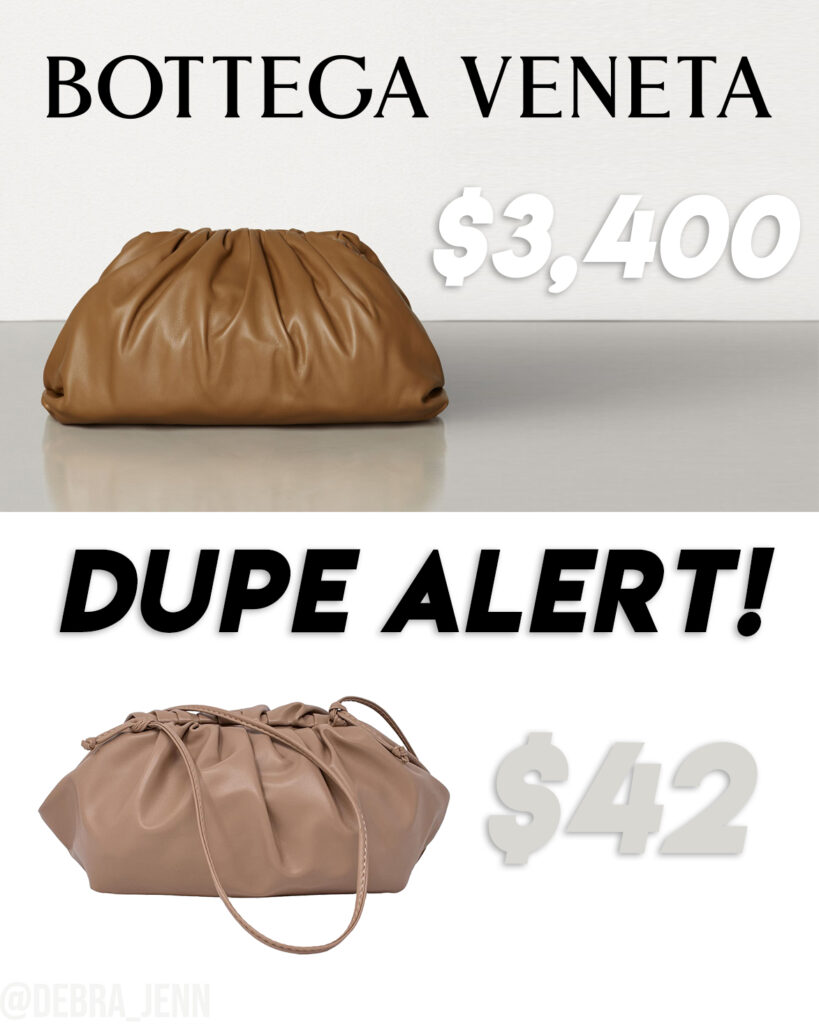 This BV clutch style is so chic. My fave is the brown leather style and the dupe I linked literally looks the exact same! Nobody's gonna know… How would they know?
Buy Your Fave BV Pouch Bag Dupes

4. Bottega Veneta Chain Pouch Dupe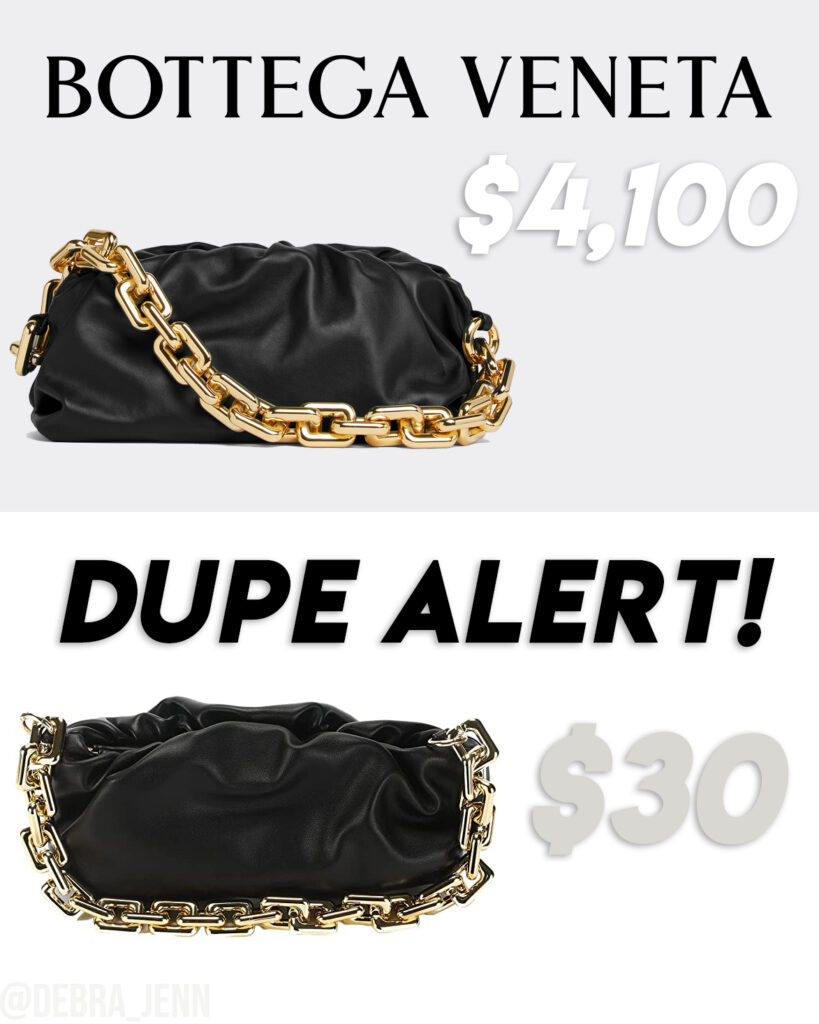 This bag is also known as the cloud bag or dumpling bag and tbh it's sooo cute. I love carrying it as a clutch. Es un vibe.
Swoop a BV Dupe

Like my Facebook page for live tutorials: Debra Jenn
More Cheap Bags With a Luxe Look I'm Loving Right Now
If you've got a hankering for even more affordable designer-look bags, here are my fave styles I've totally been lusting over — and they all have a Bottega Veneta vibe. (I have the JW PEI bag in kelly green and I love it! The material is so soft and buttery, just like real leather.)
Follow me on Pinterest for more makeup ideas & fashion inspo: @Debra_Jenn
Watch My Affordable Makeup Tutorial
If you like affordable tings, check out my affordable makeup tutorial below and don't forget to subscribe to my YouTube channel while you're there!
Subscribe to my YouTube channel
More Cheap Fashion Dupes:
* Some of the links above are affiliate links, which means I may make a small commission if you choose to purchase. If you feel comfortable, purchasing products through these links greatly helps me out as I work really hard to make high quality, fun content for you guys to enjoy.