The Dior Saddle Bag is having the comeback of all comebacks! But for $4,000, it's not for everyone. But I always have your back with the best dupes, and this is no different. Behold: the best Christian Dior Saddle Bag dupe money can buy (even if you don't got a lot of money to spend). Shop away, my loves!
Table of Contents:
Shop More: Affordable Designer Dupes
This Dior Bag is Saddled with History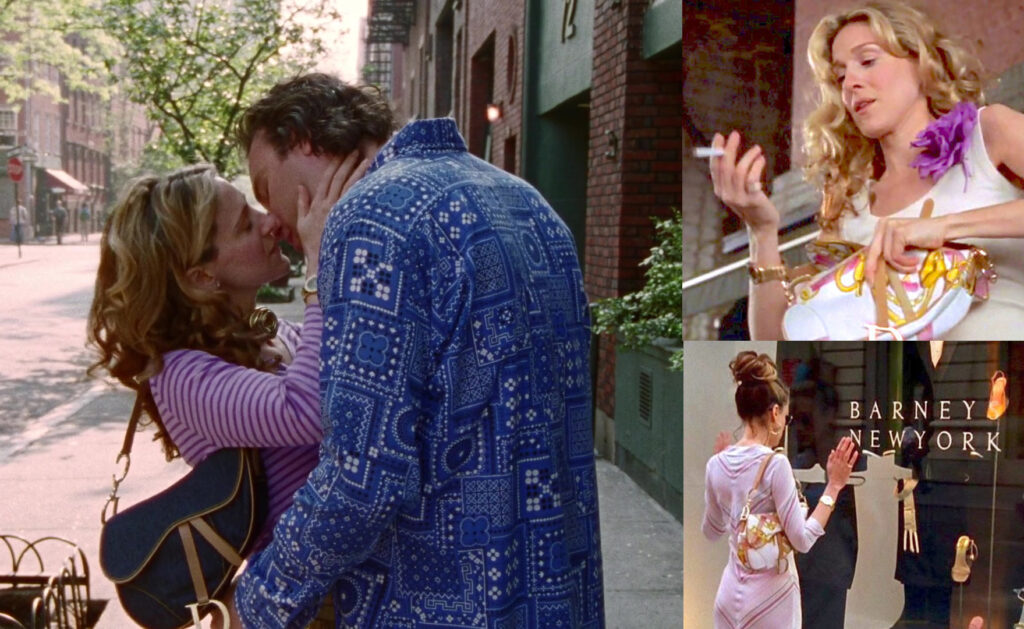 Did you come here for a history lesson? No? Well I'm gonna give you one anyways, because I actually think the history of the Dior Saddle Bag is pretty interesting and reminds me why I fell in love with fashion in the first place. But don't worry, I'm gonna keep this short and sweet and stick to the major talking points only. The Dior Saddle Bag first hit the scene in 1999 and was the brain child of the house's former artistic director, John Galliano. But it wasn't until Ms. Carrie Bradshaw was spotted with multiple iterations of the bag in season 3, episode 5 of Sex and the City (that first aired on July 9, 2000) that this bag was cemented as THE It Bag of the early aughts. (Seriously though, how did Carrie always afford all of her designer digs? I think she was secretly sugar babying…)
After years of "it bag" status, the bag seemingly fell off and was discontinued in 2007 (maybe this was the real cause of the economic disaster of 2008). But now with the resurgance of Y2K fashion, the fashion house of Dior has brought the bag back, and boy it is HOT again. What goes around comes around, as they say.
Actually, it was Beyoncé herself who first heralded the bag back in the fashion god's good graces when she was photographed with one of the bags in 2014. (Don't attack me, but it was a pretty ugly outfit, so it just goes to show that Queen Bey literally has superpowers.) Two years later, Korean popstar, CL, sported the bag on the gram and the outfit was hot-fire (I'm literally obsessed). And slowly, the celebs started carrying this bag in droves again, until Dior could ignore the resurgence no longer, and the house (led by creative director, Maria Grazia Chiuri) officially brought the bag back in 2018. Check out the end of this post to see some of my fave ways celebs have styled the bag.
Buy Carrie Bradshaw's Denim Dior Saddle Bag

Follow me on Instagram: @debra_jenn
Enough Chit Chat, Time to Swoop the Dior Saddle Bag Dupe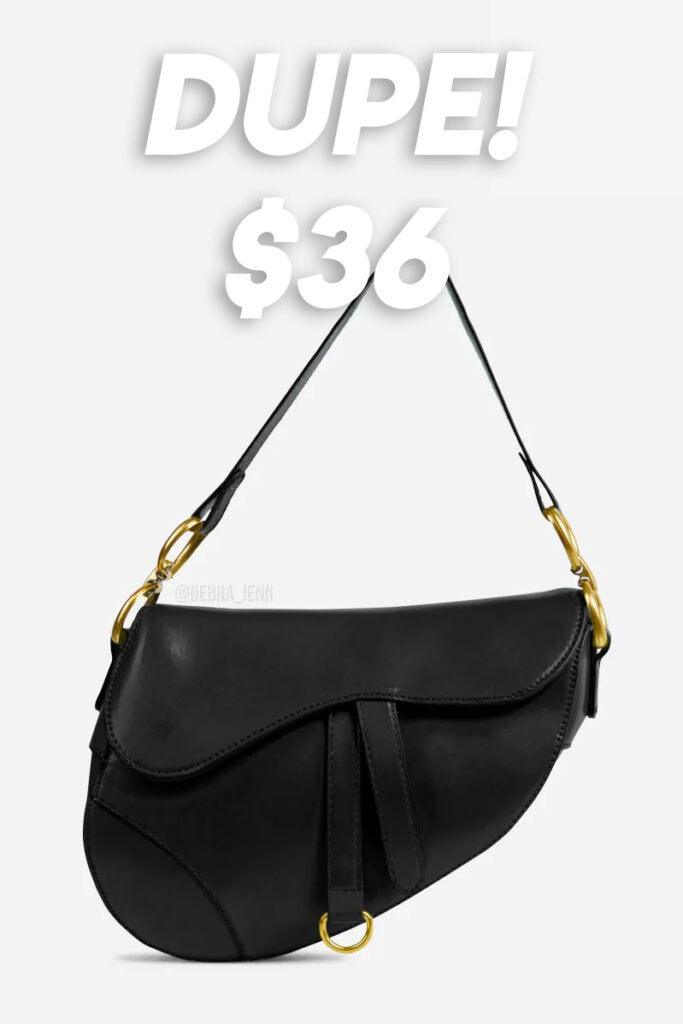 There are a lot of saddle bag dupes out there, but trust me, this one's the absolute best. It comes in a beautiful faux leather and has the exact same shape and vibe as the real McCoy. Sure, it doesn't have the CD logo details, but you're gonna need to hit up Canal Street (or DH Gate) for one of those.
Follow me on TikTok: @Debra_Jenn
Swoop the Saddle Bag Dupes In Every Color
There's nothing I love more than bright colors, so the pink bag is SPEAKING to me. But the black and white are also gonna get heavy use, obvs. But with this good of a price, you can swoop the dupe in every color your heart desires. And if you want more colors in your life, be sure to check out my favorite colorful makeup looks.

Read More: Rainbow Makeup Looks
More Affordable Saddle Bags I'm Loving
It's impossible to have too many bags (just take a look at my overflowing closet), so here are some more saddle bag styles that are super affordable. And they're all on Amazon, so if you need a bag last-minute (why do I always wait til the last possible second?), these are the move.
Shop my Amazon store for more of my favorite fashion finds!
Splurge on the Genuine Dior Saddle Bag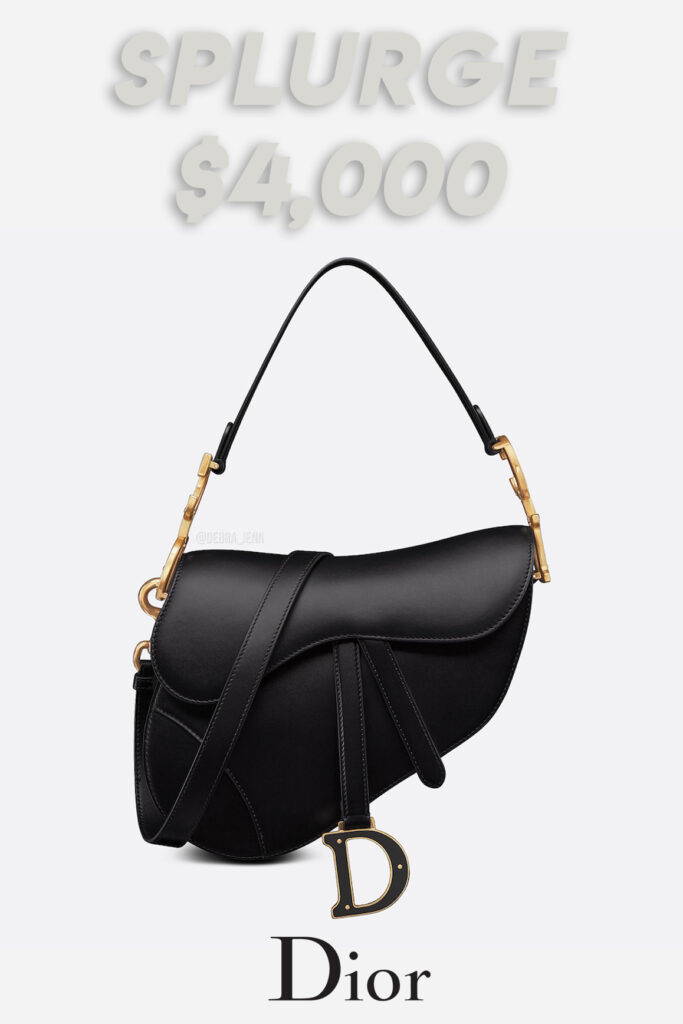 And I know some of my readers gots money, so if that's you, here's the genuine article. As always, buying through my links always helps me out a ton, so if you feel comfy, please consider doing me a kindness 🙏🏼
Follow me on Pinterest for more makeup ideas & fashion inspo: @Debra_Jenn
Limited Edition Dior Saddle Bag Styles
There's nothing I love more than a limited edition designer bag. Here are my fave special edition Dior Saddle Bags currently for sale, but you better snatch 'em up quick! They're truly one of a kind.

Like my Facebook page for live tutorials: Debra Jenn
Celebs & the Christian Dior Saddle Bag
Here are some pic of celebrities carrying the iconic Christian Dior Saddle Bag. Of course, the reigning queen of the early 2000s, Paris Hilton, styled it the best, in my opinny. A true icon and a legend, she could do no wrong.
Watch My Affordable Makeup Tutorial
For my money saving queens, check out my affordable makeup tutorial below and don't forget to subscribe to my YouTube channel while you're there!
Subscribe to my YouTube channel
More Fashion & Style Blogs:
* Some of the links above are affiliate links, which means I may make a small commission if you choose to purchase. If you feel comfortable, purchasing products through these links greatly helps me out as I work really hard to make high quality, fun content for you guys to enjoy.