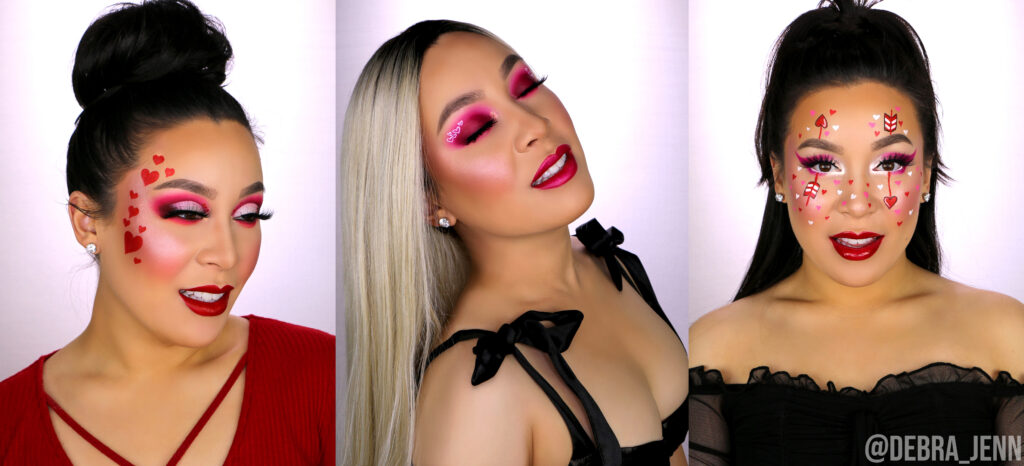 Ahh, Valentine's Day… a holiday seemingly designed solely to make people believe that being in a relationship is the only thing that gives your life purpose and meaning. Can we all just agree that this holiday is trash? And yet, while I hate what Valentine's Day stands for, I LOVE me some pink makeup looks (and red and purple). So here we are, writing a whole post about Valentine's Day makeup looks. And by we, I mean me alone. The Royal we, if you will.
Follow me on Instagram: @debra_jenn
My Fave Pink Eyeshadow Looks for Valentine's Day
As previously stated, I love pink makeup looks. I also happen to be at least halfway-decent at drawing hearts. I can hear it now, "Well hearts are just an easy shape to draw, DEBRA, that doesn't make you an ✨artist✨!" and you're right! They are easy! And that is, in fact why I love drawing them. They make me feel ✨talented✨ or whatevaaaa. So please, just let me have this one thing.
Here are some of the pink eyeshadow looks that I've done for good ol' Val Day! Click the links below each picture to watch the tutorial for each look.
Subscribe to my YouTube channel
On Cloud 9
Feel like you've always got your head in the clouds? Clouds are one of my fave things to draw because they're surprisingly easy! I used my CC Beauty oil-based face paints and a Morphe M326 lip brush (use code GLAMFAM789 to save those monies, honey) to draw them thangs. For the hearts and eyeliner, I used the Mehron Paradise paint palette, and on mis ojos, I'm wearing the Jeffree Star Jawbreaker palette.
See full products list on my Facebook page.
Struck by Cupid's Arrow
I was hit by Cupid's sparrow! Funny little bird, but he gets the job done. I used my trusty dusty Mehron Paradise Pro Face Paint palette for this fun, creative Valentines makeup look!
See full product details listed on my Facebook page.
Heart Eyes for You
This look is quite simple, but it packs a punch! I love the idea of a smokey pink eyeshadow look for Valentine's Day because it's easy and sultry! I did this one using the Jeffree Star Jawbreaker palette and the Suva Beauty hydra liner in space panda to draw the hearts.
See the full product details on my Facebook page.
Heart Freckles
You gotta love a faux freckle moment and a heart freckles moment slaps even harder, so sayeth the Lord! Of course, I used my Mehron pro face paint palette for this look… because WHAT CAN'T you use those water activated paints for? They're a life saver.
See the full list of products I used on this look on my Facebook page.
She Wears Her Heart on Her Face
Blah blah blah, I'm getting sick of writing a description for each and every look, so if you wanna see a list of products I used for this one, head over to my Facebook page 🙂
Glittery Pink Cut Crease
Ugh, I'm so proud of how this cut crease came out! I remember cut creases used to scare me and now they're pretty much all I do! You can see a list of all the products on… you guessed it, my Facebook page.
Watch My Valentine's Day Makeup Tutorial
Here's a Valentine's Day makeup tutorial I did using the ColourPop All That palette! The more I used this palette, the more I love it — the pink tones really just SPEAK to me, ok? If you wanna swoop it up for yourself, you can use code 5DEBRA (and that's not an affiliate code, it's just a code to save you monies, honey).
More Pink Eyeshadow Looks:
*Some of the links and discount codes shown are affiliate links, which means I may make a small commission if you choose to purchase any of them. If you feel comfortable, purchasing products through these links and codes greatly helps me out as I work hard to make high quality, fun content for you guys to enjoy.