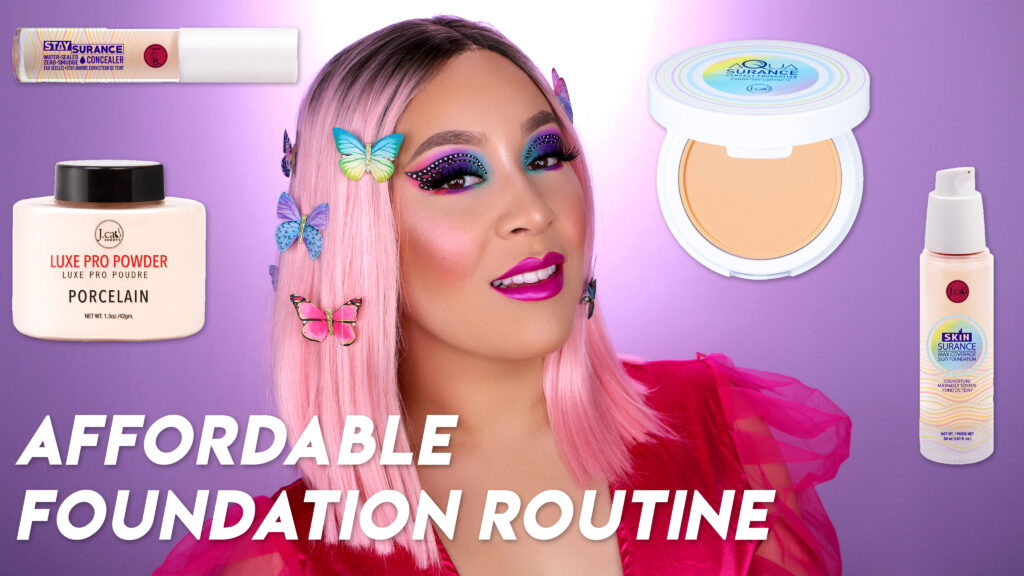 If you want to beat your face without spending a lot of coin — then this is the foundation routine for you, sonny boy! You'll look seriously flawless for a fraction of the cost of high-end products! Because why spend more money when you can look just as good (or better, TBH), for these prices?
Subscribe to my YouTube channel
Table of Contents:
Check Out More: Affordable Makeup Reviews
A Cheap Foundation Routine That's Better Than High End? Better Believe It
Cheap foundation doesn't have to mean cheap foundation, if you know what I'm sayin. I pretty much never shut up about how much I love J.Cat's products, but there's a good reason: they're affordable, but they're superb. A true win-win. I swear, nothing on their site costs more than $15, so if you don't believe, me, you can try it for yourself without breaking the bank.
Use my JCAT Beauty coupon code DEBRAJENN to save 10% on jcatbeauty.com
Jump to my video on my cheap foundation routine
The Best Cheap Full-Coverage Foundation
Follow me on Instagram: @debra_jenn
The Best Cheap Concealer, Hands Down
Follow me on TikTok: @Debra_Jenn
The BEST Powder Foundation of All Time, Trust Me on This
Like my Facebook page for live makeup tutorials: Debra Jenn
The Best Affordable Setting Powder for Baking
Shop my Amazon store for my favorite skincare, costumes, home organization & more!
The BEST Cheap Highlighter Under $10
J.Cat's Illuminating Primer is Primo
Looking for a Cheap Contour Palette? Say No More
An Affordable Blush Palette that Can't Be Beat
Watch My Affordable Foundation Tutorial
Read More Fashion & Beauty Blogs
* All thoughts shared are my own honest opinions of the products shown. By using my JCat discount code DEBRAJENN, I do make a small fraction of the sales, so if you feel comfortable, using this code really helps me out as I work to pursue my passion for beauty blogging and turn it into my full-time job.