These white Jimmy Choo bow heels have become a wedding staple, and it's not hard to see why… they're freaking STUNNING and sure do make a statement! I personally love the idea of pairing them with your rehearsal dinner dress, or mayhaps your reception dress. IMO, a nice midi-length or white mini dress would really give these shoes the spotlight they deserve.
Table of Contents:
Follow me on TikTok: @Debra_Jenn
Jimmy Choo Wedding Shoes Blues
Anywhozies, back to the Jimmy Choo bow heels (aka the Averly 100 and Aveline 100), there's just one problem with 'em… they're spendy as a mutha! So if you don't have $1,695 (+ tax!) to drop on your wedding shoes, or if you just feel like splurging on other areas of your wedding instead, I've found some perfect options so my save-savvy sistas can get the Jimmy Choo bow heels look for less.
I'll link everything below so you can grab the same items, if you love 'em as much as I do!
Follow me on Instagram: @debra_jenn
Get the Jimmy Choo Bow Heels Look for Less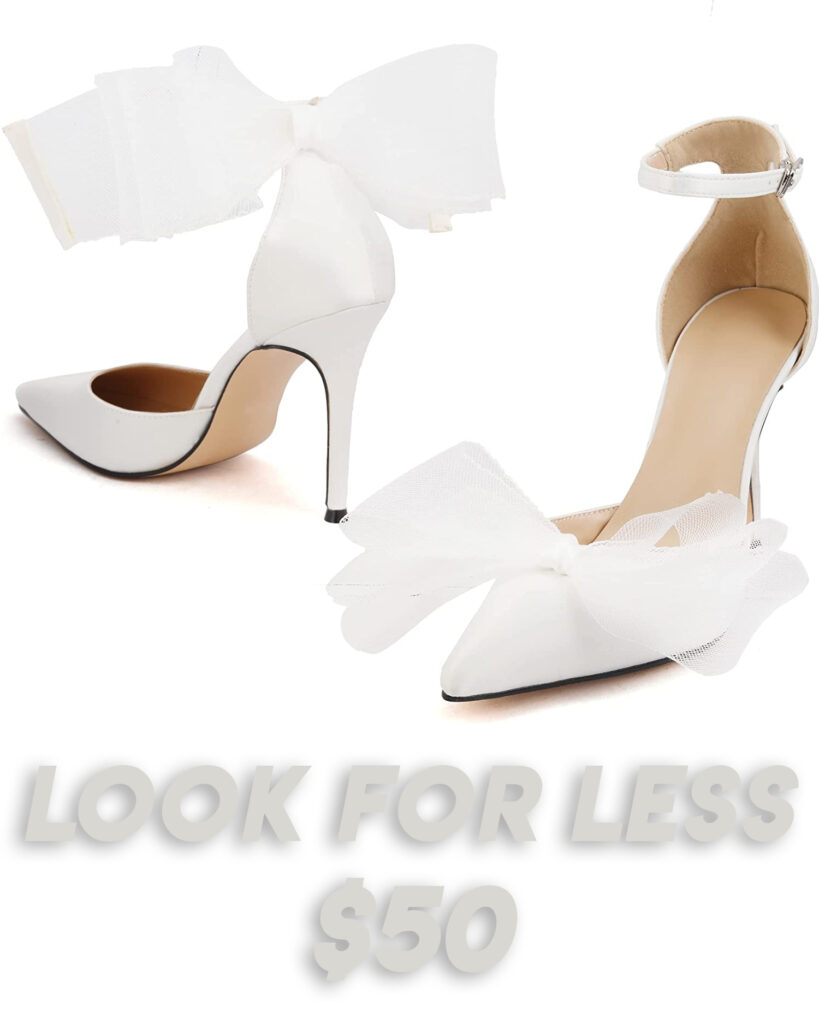 Tell me these don't look almost as good as the original Averly 100! The only difference I can see is there aren't rhinestones (so if you don't like rhinestones, you're in luck!). And hey, when you're saving over $1600, I think we can sacrifice a bit of bling.
Here's the link to the cheap wedding shoes — if you like 'em, buying them through my link really helps me out as I slave over a hot stove, err… laptop to bring you quality content 😉
There's a Shein Jimmy Choo Bow Heels Dupe, but I also found a way better pair on Amazon and updated this post because I'm always on the hunt for the bestest stuff!
Steve Madden also has a GORGEOUS bow heel that's not an exact dupe, but gives the same vibe.
These bow heels also come in pink, red, and black, so they're not just for weddings 💃🏻
Get the Jimmy Choo Aveline 100 Look for Less
If your looking for the strappy sandal version of the Jimmy Choo bow heels (the Aveline 100), I gotchu covered. Don't say I never did nothin' for ya!
Follow me on Pinterest for more makeup ideas & fashion inspo: @Debra_Jenn
More Wedding Shoes with Bows
The shoes below are just as good, maybe even better than the famous Jimmy Choo bow heels, and I honestly can't decide which ones I like most, they're all sooo good! And if you have a good eye, you'll spot the similarities to the Mach and Mach dupes I blogged about.
Shop my Amazon store for my favorite skincare, costumes, home organization & more!
Splurge on the Real Jimmy Choo Averly 100 Heels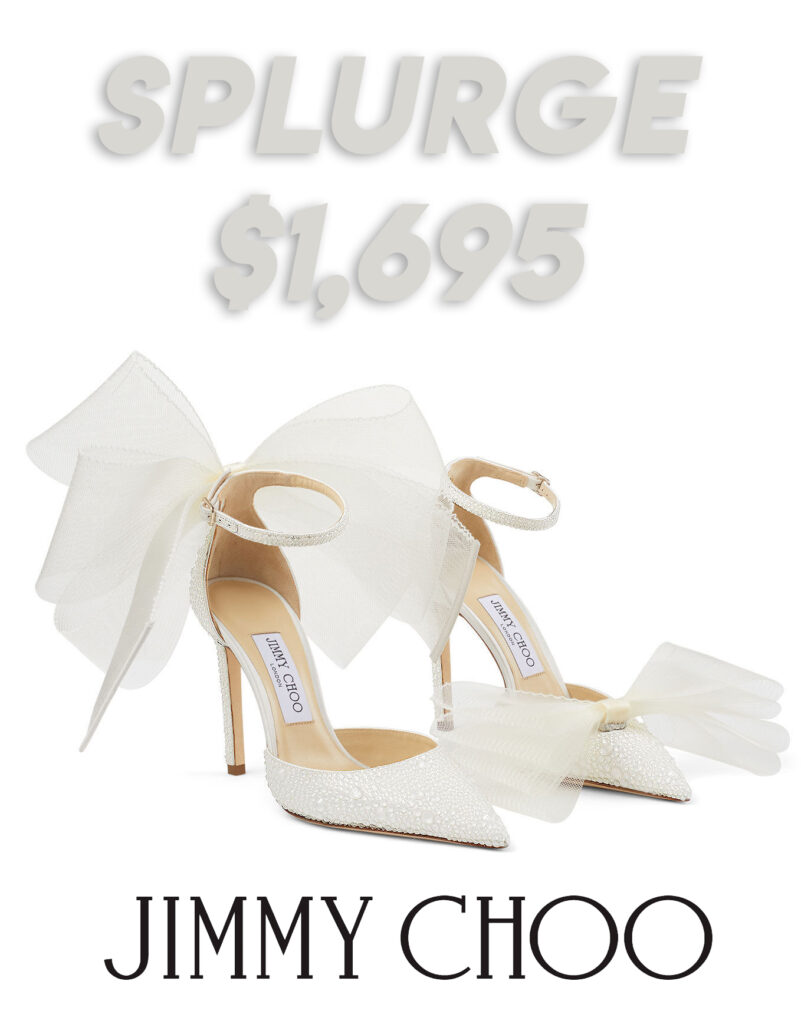 And if you're Mrs. Moneybags, here's a link to the OG Jimmy Choo wedding heels… please consider doing some charity work by buying them through my link (since you got it like that), so I can make a few dollars off the sale 🙏🏼😂
Like my Facebook page for live tutorials: Debra Jenn
More Affordable Wedding Shoes I'm Loving Right Now
If the white bow heels above aren't your jam, here are some more luxe-looking but cheap wedding shoes with bows that I've totally been lusting over.
Dupe Nation: Hot-Fire Bottega Veneta Bag Dupes Under $50
Watch My Affordable Makeup Tutorial
If you like affordable tings, check out my affordable makeup tutorial below and don't forget to subscribe to my YouTube channel while you're there!
Subscribe to my YouTube channel
More Fashion & Style Blogs:
* Some of the links above are affiliate links, which means I may make a small commission if you choose to purchase. If you feel comfortable, purchasing products through these links greatly helps me out as I work really hard to make high quality, fun content for you guys to enjoy.