I feel like everywhere I look, I see another gorgeous blogger posting pics wearing the Selkie Puff Dress. And for me, it was love at first sight. But the price tag? Not so much (y'all know I'm nothing if not a cheap-a$$ beeeeach)… luckily I found some frilly frocks so you can get the Selkie Puff Dress look on Amazon for an eighth of the price, without sacrificing any of the princess vibes!
Table of Contents:
Shop My Blog: Affordable Designer Dupes
The Selkie Puff Dress Will Have You On Cloud 9
Anywho, back to the Selkie Puff Dress, the only problem with this pretty-as-a-princess dress is that the price is a lil steep! It ranges anywhere from $245-$295 depending on the color/pattern you pick. And I don't know 'bout y'all, but I'd rather not spend that much on one article of clothing, especially for a standout piece that I might not be able to wear a ton (at least not without people accusing me of being an outfit repeater, a la Lizzie McGuire.)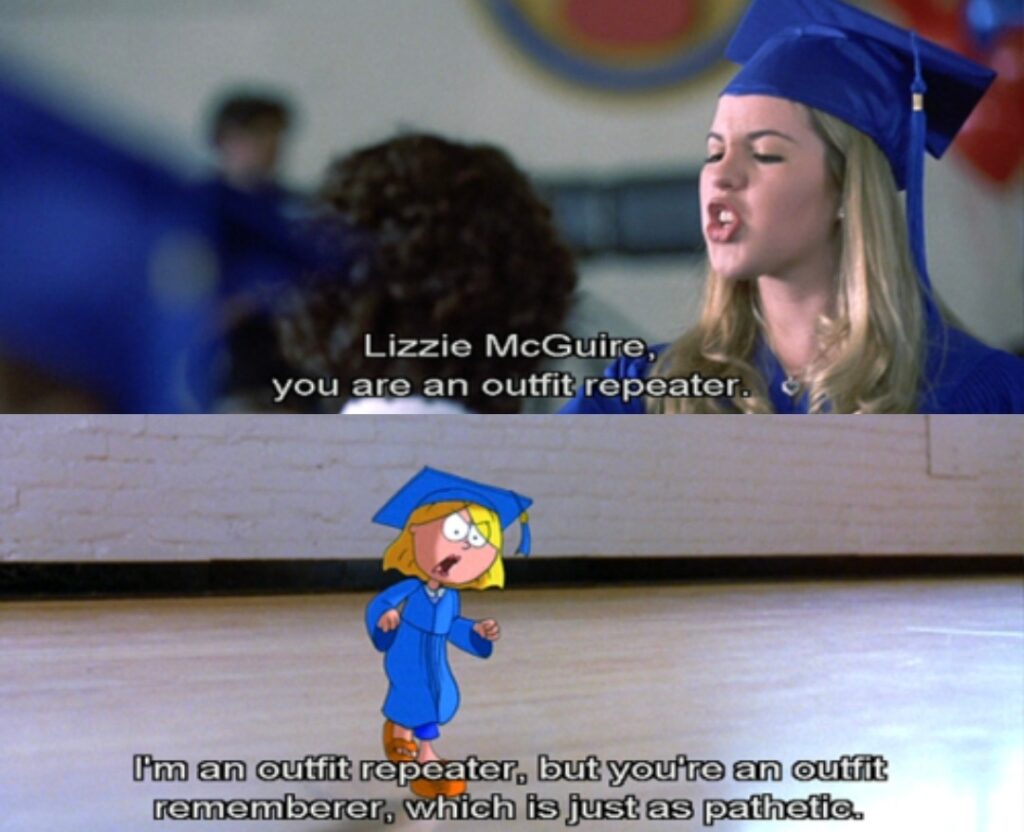 Follow me on TikTok: @Debra_Jenn
So that's why I'm so glad I found the perfect puff dresses for cheap — I'll link everything below so you can grab 'em in every color (seriously, at Amazon's price, you could buy every color for the price of one Selkie)!
Follow me on Instagram: @debra_jenn
Pretty in Pink: Get the Selkie Puff Dress Look for Less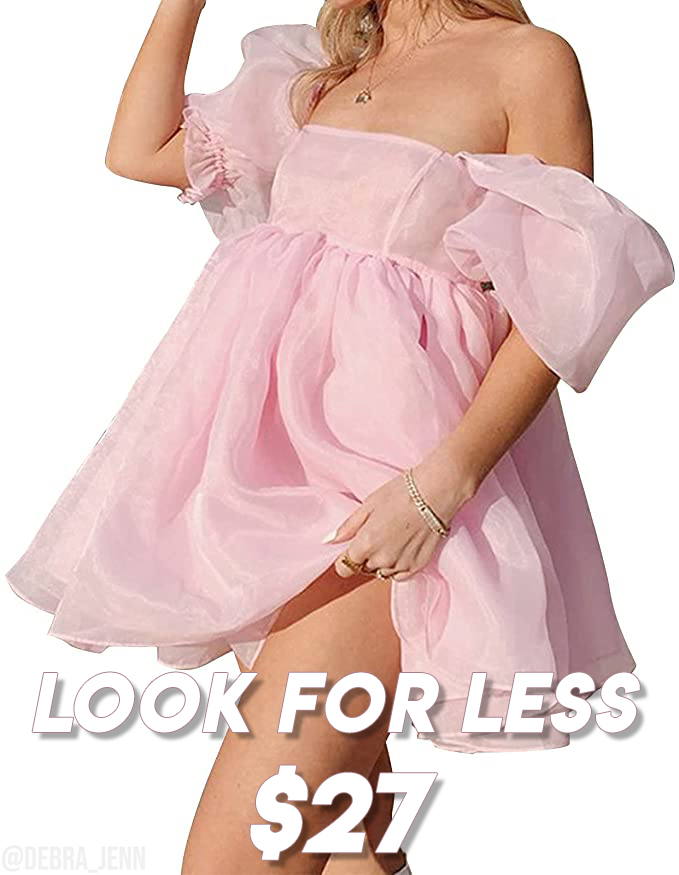 Tell me this dress doesn't look exactly the same as the original!
Here's the link to the pink puff sleeve mini dress — if you like what ya see, buying through the links on my blog really helps me out as I scour the internet for cheap alternatives for my favorite styles 😉
Get the pink Selkie Puff Dress look for less on Amazon
Or if you want the original, you can buy that on Revolve
The cheap option also comes in a ton of other super pretty colors, like cloud print, rainbow, purple, baby blue, and more! (Is it just me or would the pink and baby blue colors make the perfect gender reveal party dresses?)
My Fave Selkie Look-for-Less Dresses
Shop my Amazon store for my favorite skincare, costumes, home organization & more!
Rocking the Rainbow Selkie Puff Dress Look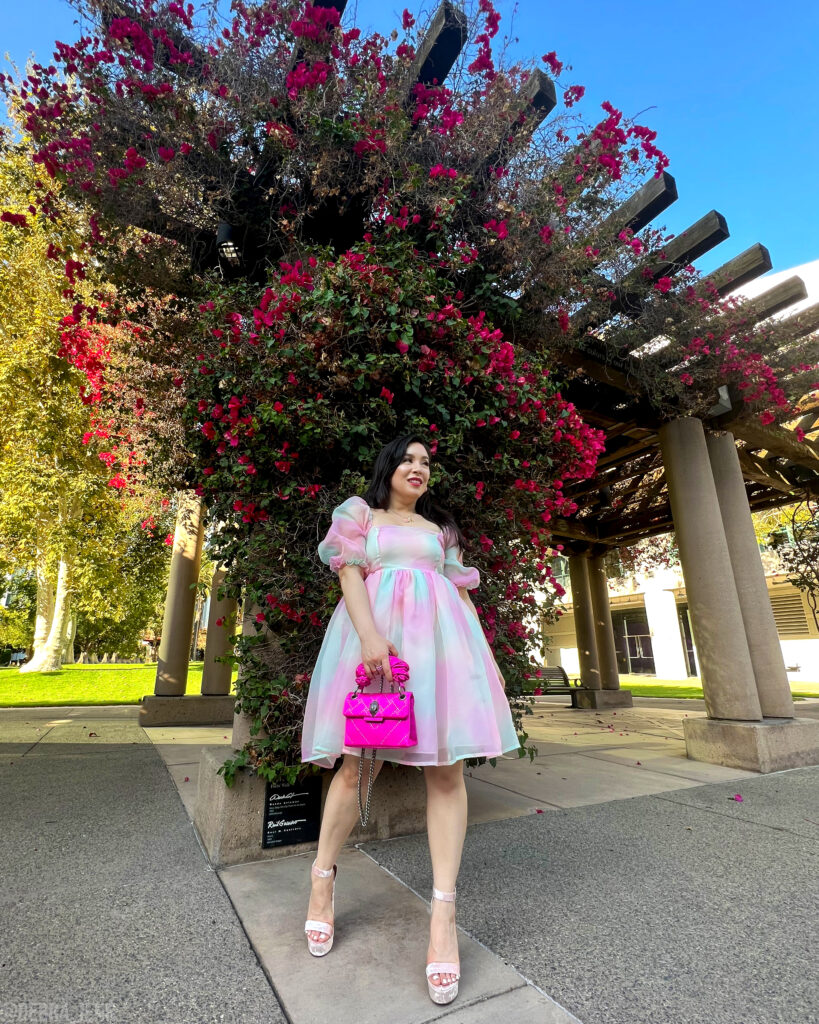 As proof that I really do love the designer dupes I blog about, here's a pic of me wearing the rainbow Puff Dress I got from Amazon. I got so many compliments when I wore it and a girl literally stopped to ask me if it was the Selkie dress!
I'm wearing the Amazon Puff Dress in a size medium — I sized up from my normal size small (I hover between a small and a medium) and the dress fit perfectly!
I styled this outfit in a hurry, but if I did it again, these are the accessories I'd wear it with:
Follow me on Pinterest for more makeup ideas & fashion inspo: @Debra_Jenn
Get the Midi-Length Selkie French Puff Dress Look
If you're looking for Selkie's midi-length puff dress, check out the dresses below — it also comes in a ton of colors to suit your fancy and is perfect for occasions when a mini dress isn't as appropriate. (High tea with Her Majesty, mayhaps?)
The Real Selkie Puff Dress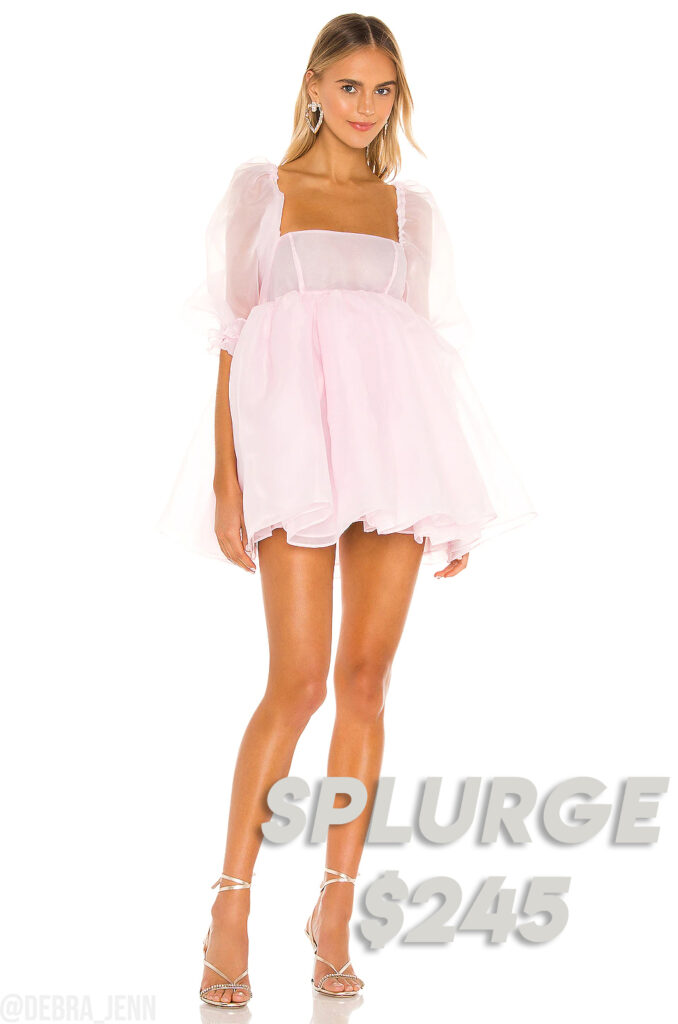 And if money ain't no thang for you, here's a link to the OG Selkie Puff Dress! If you're up for doing some charity work, please consider buying through my link, so I can make a few coins off the sale 🙏🏼😂
Like my Facebook page for live tutorials: Debra Jenn
More Affordable Pretty Pink Dresses I'm Loving Right Now
If the dresses above aren't your jam, here are some more affordable dresses with a pretty princess vibe that I've totally been lusting over.
Read More: Snag a Bottega Veneta Dupe for Under $50
Watch My Affordable Makeup Tutorial
If you like affordable tings, check out my affordable makeup tutorial below and don't forget to subscribe to my YouTube channel while you're there!
Subscribe to my YouTube channel
More Fashion & Style Blogs:
* Some of the links above are affiliate links, which means I may make a small commission if you choose to purchase. If you feel comfortable, purchasing products through these links greatly helps me out as I work really hard to make high quality, fun content for you guys to enjoy.