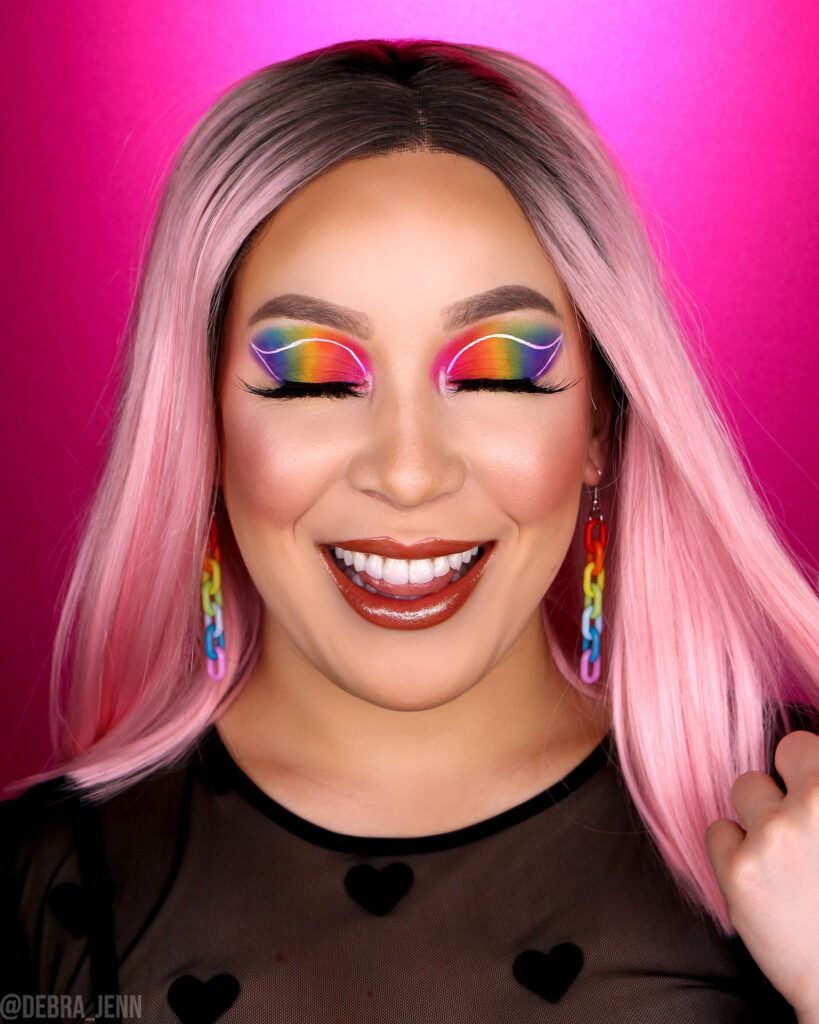 It's Pride Month, baby! And to celebrate, I've done a ton of rainbow makeup looks, which are one of my FAVE types of makeup to do! In my book, there's no occasion where a rainbow look wouldn't be suitable to wear, but that's just me. Hi, I'm Debra, the colorful clown ?
Anywho, if anyone needs me, I'll be wearing rainbow eyeshadow all summer long ?
Subscribe to my YouTube channel
The Best Pride Makeup Looks
Now, I'm not saying I'm the best makeup artist who ever lived, but I am very *proud* of these Pride Month makeup looks! If you like wearing rainbow eyeshadow or just want to celebrate your PRIDE, these festive looks will get the job done.
All of the tutorials are linked in the caption below each image so you can recreate these if you want. Please remember to tag me if you do! @debra_jenn ??
1. Head in the Clouds: A Rainbow Cut Crease Eyeshadow Look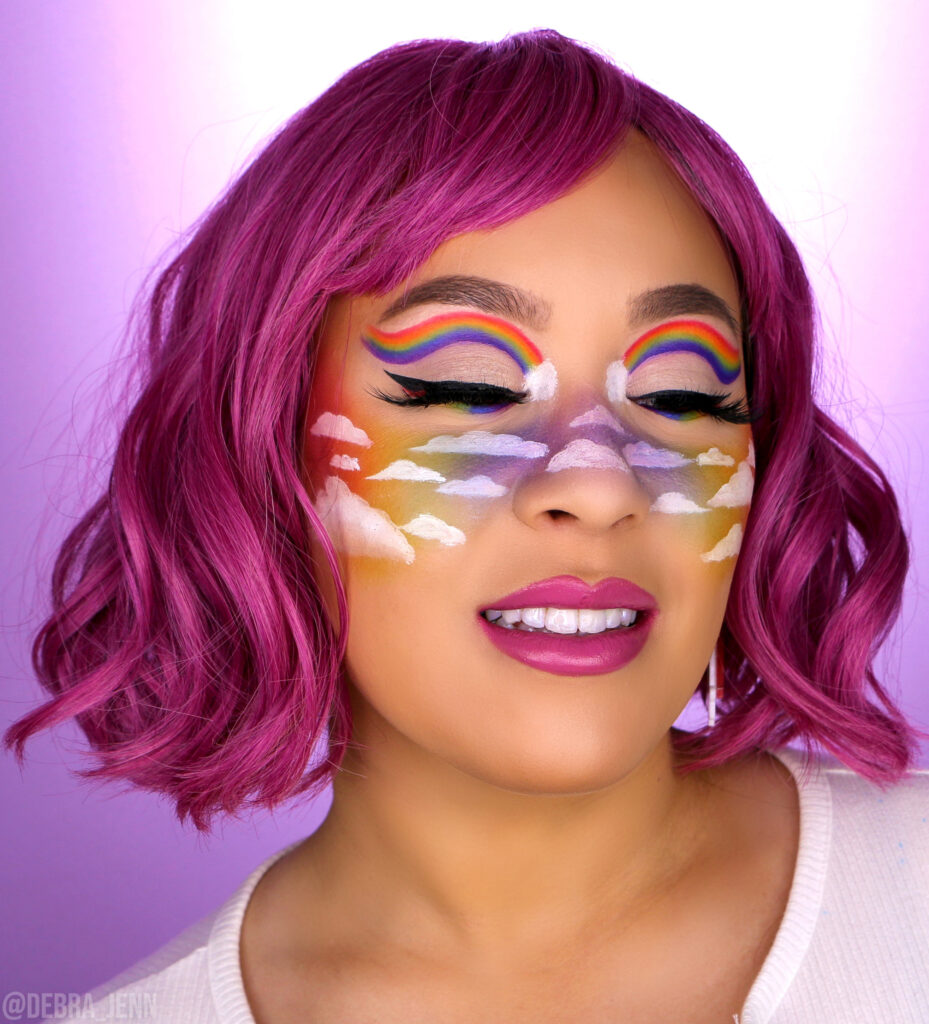 This is one of my fave rainbow makeup looks I've ever done! I'm so *proud* of how this cut crease came out, but I gotta be honest… I was HELLA NERVOUS it wasn't going to turn out right! I used my thinnest eyeshadow brushes (like my Morphe M326) to lay down a thin strip of each eyeshadow color to create the rainbow.
Follow me on Instagram: @debra_jenn
2. Rainbow Bright Eyeshadow Look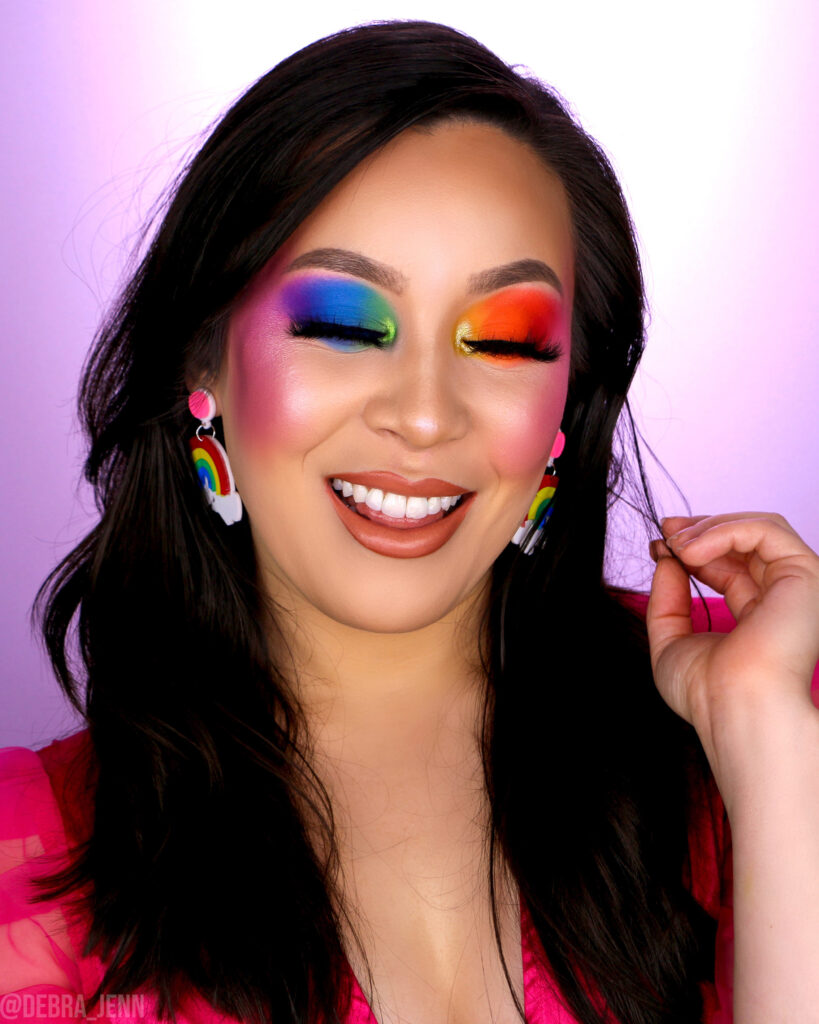 I did the look above with the Morphe 35b palette (use code GLAMFAM789 to save), which is one of my FAVE rainbow eyeshadow palettes!
3. Rainbow Eyeshadow with White Graphic Liner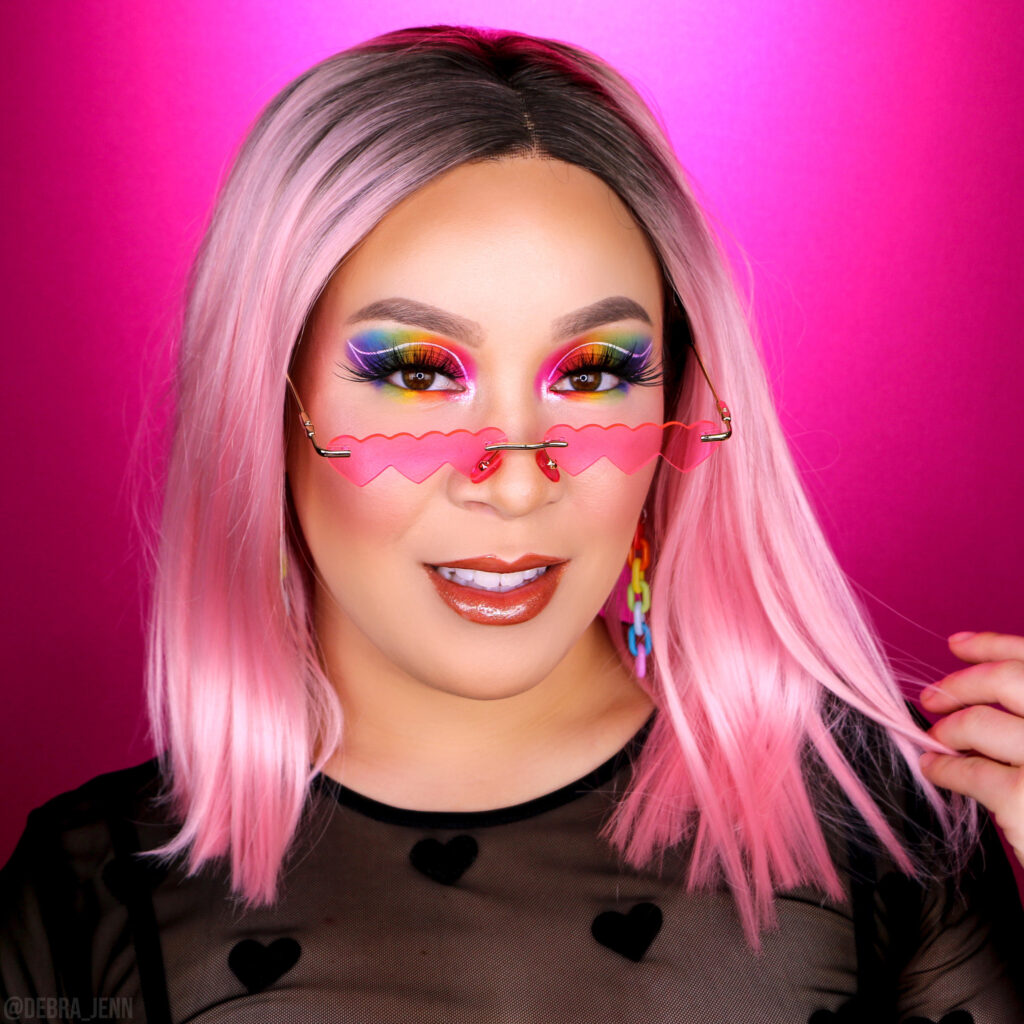 A winged graphic liner is one of my fave things (and the more you practice it, the easier it gets). I used the Morphe 35B eyeshadow palette for this look (use code GLAMFAM789 to save $5 on morphebrushes.com) and then used the Suva Beauty Hydra Liner in Space Panda for the graphic liner. Since the liner is basically a water-based face paint, it's a little easier to correct mistakes than if you use a true eyeliner (just use a dab of water on a small brush to correct small mis-steps and then redraw the line — but be careful, you don't want to mess up the eyeshadow underneath!).
4. Somewhere Over the Rainbow Makeup Look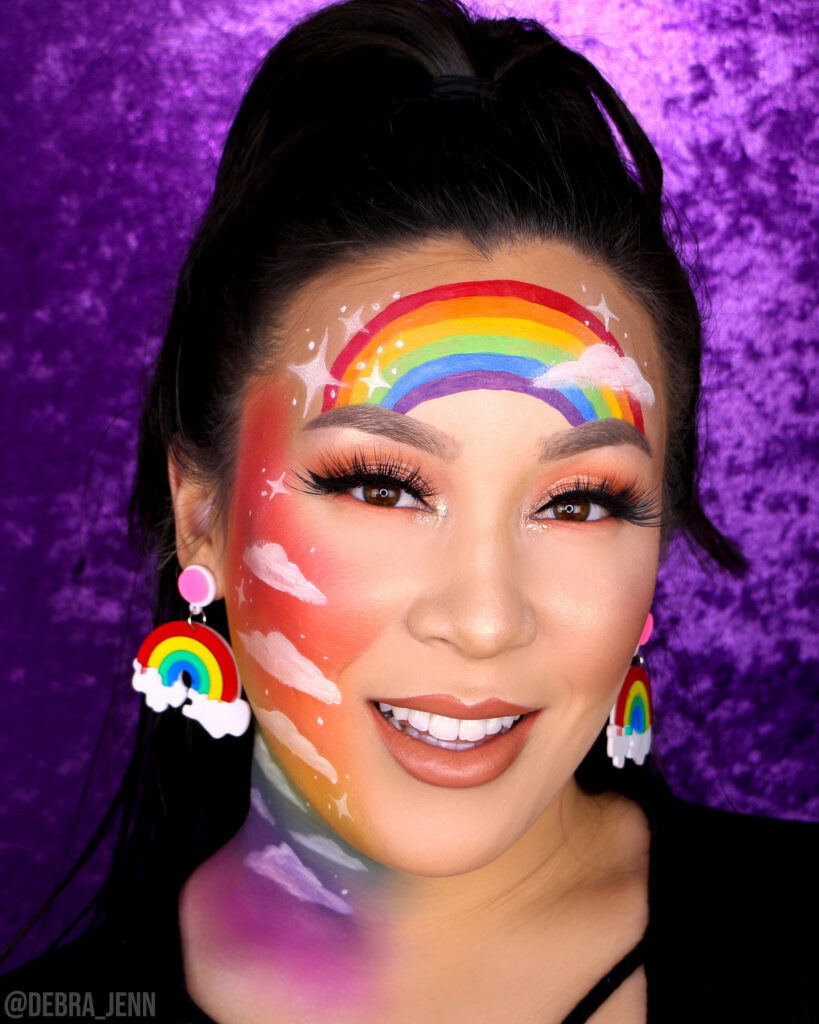 This look is just your everyday, average, running errands makeup look ? To create this ultra-simple lewk, I used the Morphe 35B eyeshadow palette to shade my cheeks(are you noticing a pattern yet? You betta use code GLAMFAM789 if you wanna save that money!), the Mehron Paradise Paint Palette to draw the rainbow and stars, and the CC Beauty Flash Color Face Paint to draw the clouds (I prefer drawing clouds with an oil-based face paint, as it gives a more cloud-like texture).
5. Dripping Rainbow Makeup Look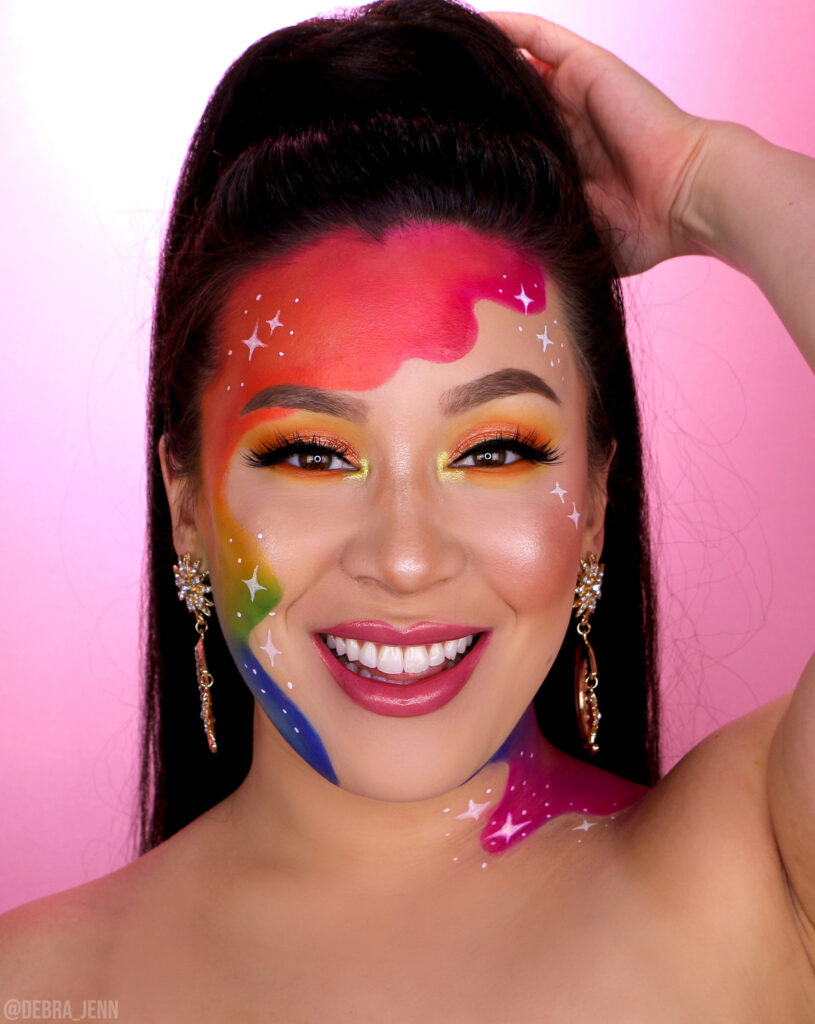 Watch My Colorful Eyeshadow Palette Review
The ColourPop Lizzie McGuire collab was full of bright colors that would be perfect for creating a colorful makeup look of your own! Check out my review of the Y2K reminiscent collection below (and don't forget to subbie-sub to my YouTube channel!).
More Colorful Makeup Looks: