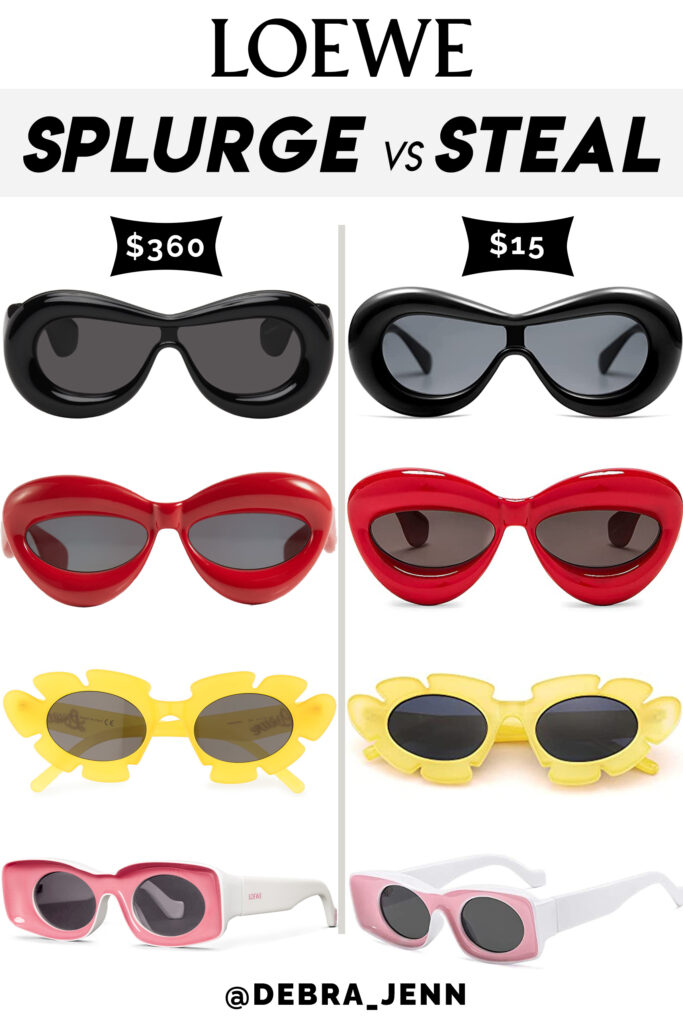 Loewe is the designer of the moment and their funky sunglasses designs are cropping up everywhere. But for almost $400? Ouch. Luckily, I found some of the perfect Loewe sunglasses lookalikes on Amazon. Keep reading to get the look for less.
Table of Contents:
Shop More: Affordable Designer Dupes
Get the Loewe Sunglasses Look for Less
Loewe is so hot right now (Rihanna even wore a custom Loewe outfit for her Super Bowl halftime show), and I'm quite literally obsessed with Loewe sunglasses. With their bright colors and funky designs, they are so far up my alley, it ain't even funny. But their $380 price tag sure does smart, especially since I have a deep fear of breaking or losing my sunglasses. One time, I went in the ocean with sunglasses on my head… a wave crashed over me and BOOM! Sunglasses gone. Another time, my sister and I were riding a roller coaster and her sunglasses flew right off her head into the abyss. So this isn't an irrational fear.
Spending hundreds on a pair of sunglasses, no matter how cool they look, just doesn't sound so fun. So when I spotted these Loewe lookalikes on Amazon, I just about screamed. And you know I just had to tell my besties about 'em!
Since I'm being such a good friend and saving you so much monies, if you could do me a solid and purchase any pairs you may want through my links, I'll make a few pennies off your sale and those pennies add up, helping me to be able to keep creating content and finding affordable designer dupes for y'all!
Fun fact: Loewe is pronounced Lo-Weh-Vay (not "low") and it means "Lion" in German (Loewe is a Spanish brand with a German name).
Shop my Amazon store for more of my favorite affordable fashion finds!
1. Loewe Paula's Ibiza Sunglasses
Follow me on Pinterest: @Debra_Jenn
Snag These Loewe Paula's Ibiza Original Lookalikes
2. Loewe Inflated Sunglasses
Follow me on Instagram: @debra_jenn
Shop the Loewe Inflated Sunglasses Lookalikes
3. Loewe Inflated Cat Eye Sunglasses
Buy Your Fave Loeve Inflated Cat Eye Sunglasses Lookalike
Follow me on TikTok: @Debra_Jenn
4. Loewe Cat Eye Sunglasses
Get the Loewe Cat Eye Sunglasses Look for Less
5. Loewe Flower Sunglasses
Shop the Loewe Flower Sunglasses Lookalikes
6. Loewe Inflated Mask Sunglasses
Shop the Loewe Inflated Mask Sunglasses Lookalikes
7. Loewe Paula's Ibiza Dive In Mask Sunglasses
Get the Loewe Paula's Ibiza Dive In Mask Sunglasses Look for Less
Like my Facebook page for live tutorials: Debra Jenn
More Cheap Sunglasses that Look Expensive
If you've got a hankering for even more affordable designer-look sunglasses, here are my fave styles I've been lusting over. From Versace, to Balenciaga, to Bottega Veneta, these shades will have you rocking the look for way less.
Watch My Affordable Makeup Tutorial
If you like affordable tings, check out my affordable makeup tutorial below and don't forget to subscribe to my YouTube channel while you're there!
Subscribe to my YouTube channel
More Cheap Designer Dupes:
* Some of the links above are affiliate links, which means I may make a small commission if you choose to purchase. If you feel comfortable, purchasing products through these links greatly helps me out as I work really hard to make high quality, fun content for you guys to enjoy.