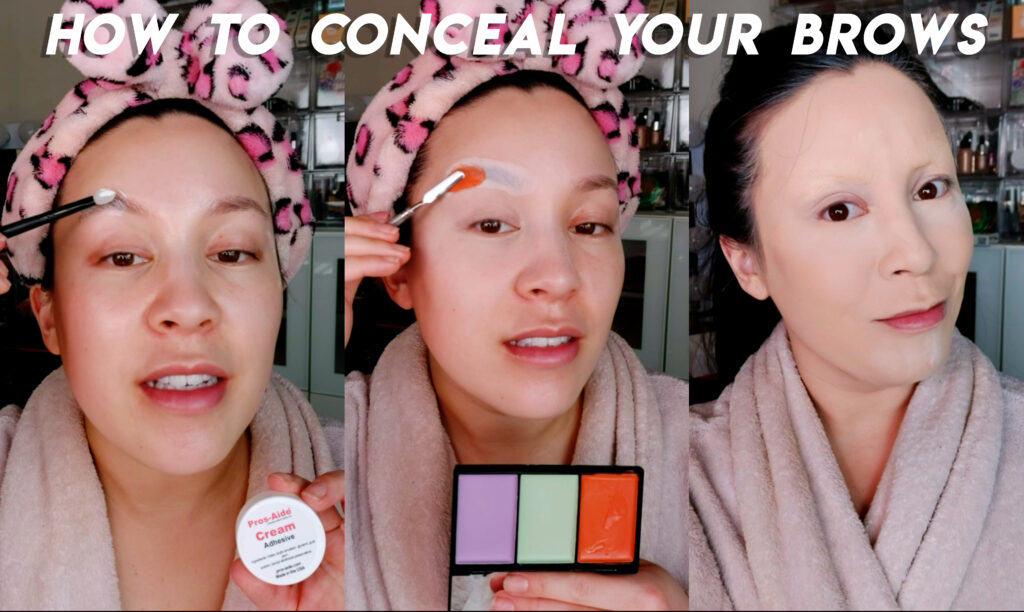 If you're struggling to figure out how to cover your eyebrows like you've seen all the drag queens doing on RuPaul, you are not alone! It took me years (and lots of DMs to my fellow makeup artists) to figure out the PERFECT technique for blocking out eyebrows. Seriously, I could not, for the life of me, crack the damn case on this skill! But anyways, after much trial and error (and a lot of help from my friend @klamour_makeup — go follow her, she's the best!), I finally know how to block brows.
So whether you're looking to cover your brows for cosplay, drag makeup, or just so you can rock an edgy, avant garde makeup look, keep reading to find out all my tips and tricks!
Table of Contents:
Follow me on Instagram: @debra_jenn
What Do Drag Queens Use to Cover Eyebrows?
A lot of drag queens use Elmer's glue sticks to lay their brows down flat, but that has never worked for me. I guess my brows have a mind of their own and a glue stick doesn't have enough hold to keep them laying down flat, which is KEY to hiding your brows and making sure those pesky hairs stay completely hidden! If you've got brow hairs springing up, it'll totally mess up the concealed brows look you're going for.
Jump to my video tutorial on how to cover eyebrows
Here are my favorite products to cover up eyebrows:
Shop my Amazon store for my favorite skincare, costumes, home organization & more!
How to Conceal Eyebrows: Step By Step Instructions
Here are the step-by-step instructions for how to cover your eyebrows with concealer and pros-aide. I'll include the video tutorial on how to hide eyebrows at the very end of this post so you can see each step in action! I also linked all the products I used so you can easily find them when you're ready to cover your brows and serve up some naked mole rat realness ?
Remember to tag me on IG if you use this method so I can repost you to my stories! @Debra_Jenn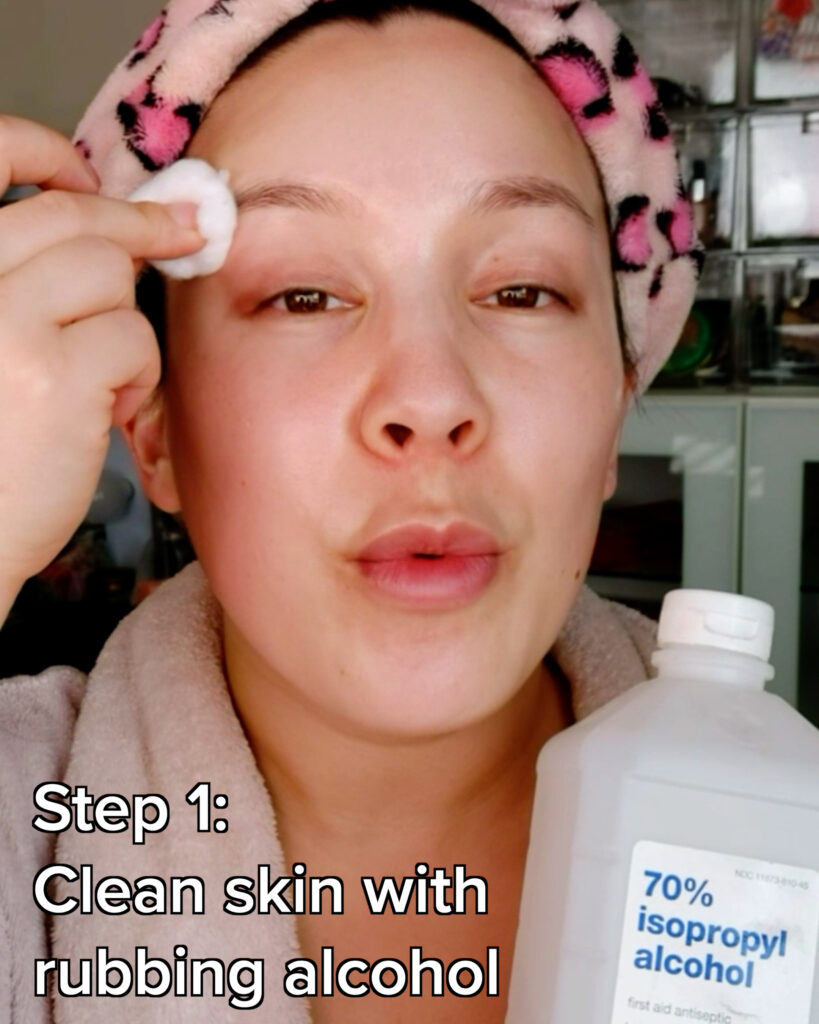 Step 1: Clean Skin with Rubbing Alcohol
You've gotta make sure you don't have a lot of oils on your skin before you begin the next steps, otherwise the Pros-Aide might not stick as well as you want it to!
Products Used:
Follow me on TikTok: @Debra_Jenn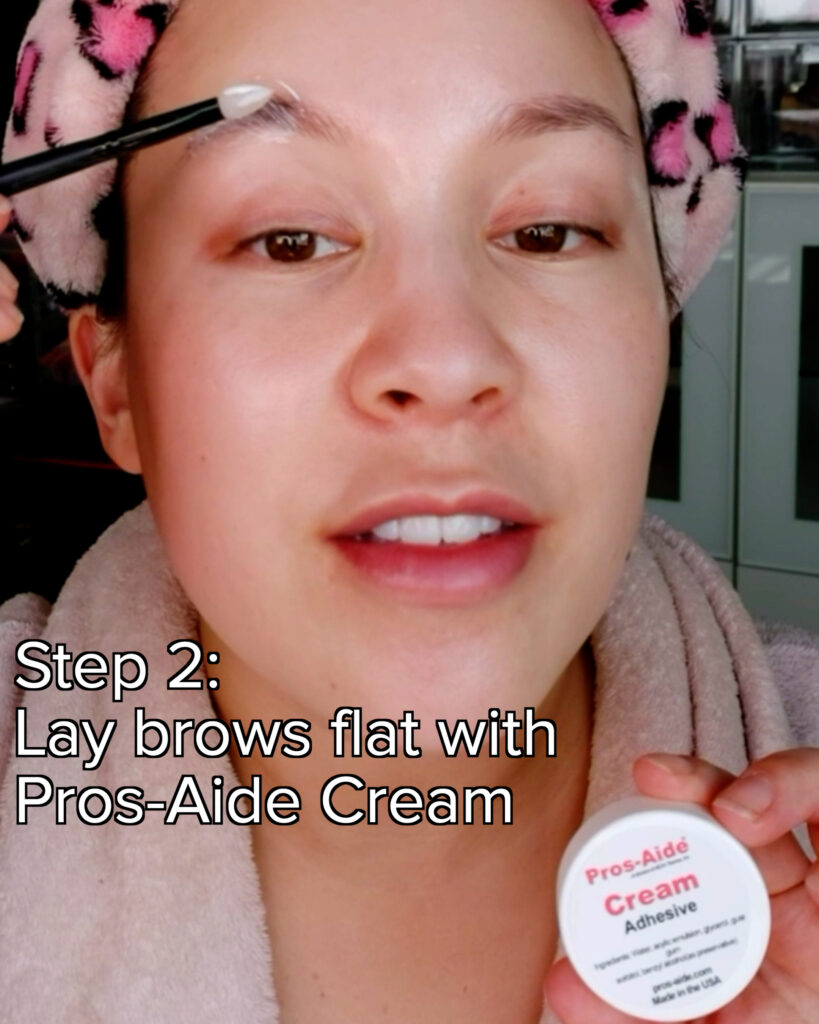 Step 2: Use Pros-Aide Cream to Lay Brows Flat
Having trouble hiding your brow with the Elmer's glue stick method? So was I! I couldn't figure out why it never worked for me, but turns out, a simple glue stick just didn't have enough hold for my brows. Then a friend suggested I try Pros-Aide cream and the rest is history. I was finally able to fully conceal my brows!
Products Used:
Pros-Aide Cream

Note: I prefer the cream version for this step, but the liquid will work too — it's just a little really messier and will take longer to dry down

I used a J.Cat Silicone Brush to lay the product down (use code DEBRAJENN to save money)
How to Cover Your Brows for Drag Makeup
Now here's where it becomes a bit of a choose your own adventure… because TBH, if you're gonna cover your whole face in a colored face paint, you can skip all the rest of the steps! Just laying your brows down flat should suffice (even if you have dark eyebrow hairs like me!) I've found if you go in with all the powder and concealer steps after this, then go in with a white face paint (or any other color) on top of that, it can take a lot of work to make sure your paint doesn't get muddied with concealer.
However, if you're doing more of a drag makeup look, or any look where you will be doing your typical foundation makeup routine, keep reading! These next steps are important and took me some time to figure out.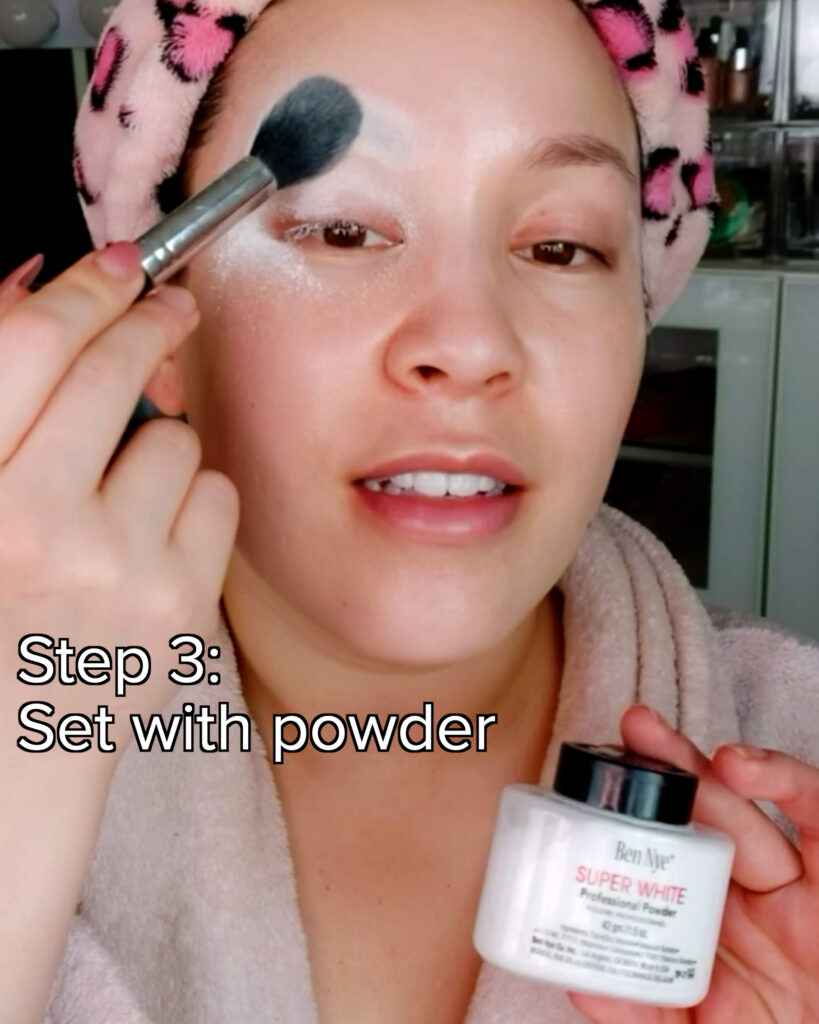 Step 3: Set with Powder
Time for our first layer of setting powder! I used Ben Nye super white to really start the process of covering my brows (but of course, if you have dark skin, this may not be right for you!)
Products Used: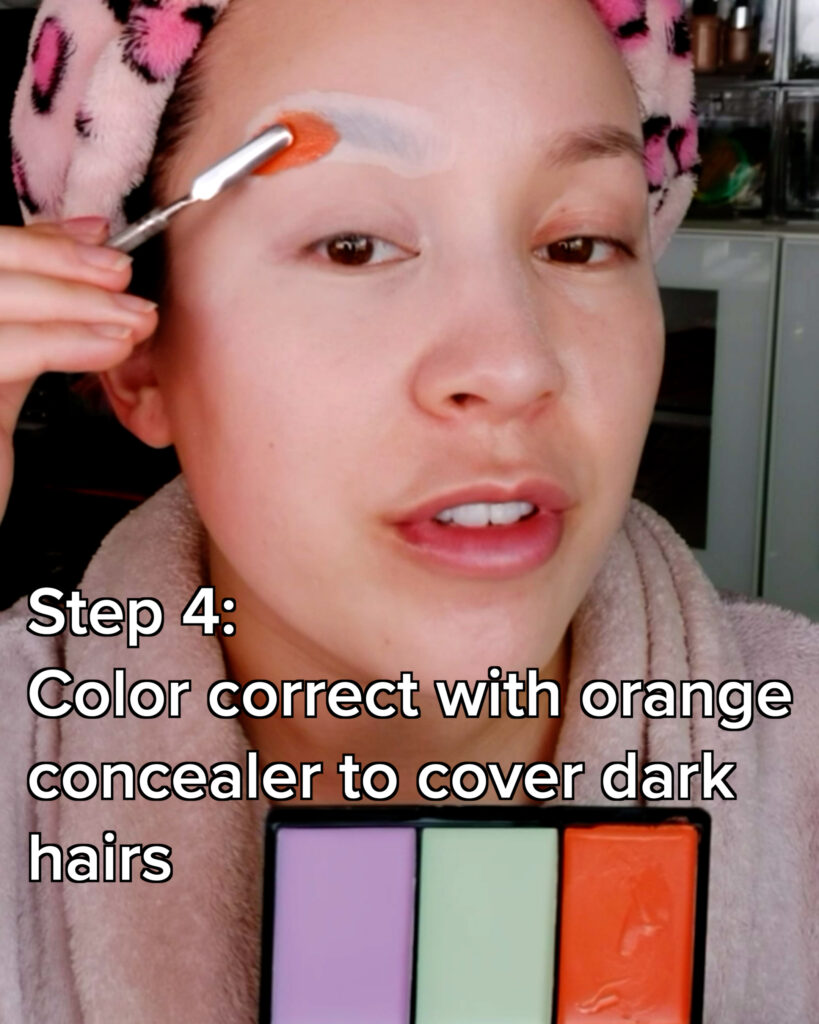 Step 4: Color Correct with Orange Concealer
If you have dark eyebrow hairs, this step is a must! It helps to color correct and hide those pesky dark hairs.
Using cream concealers only is a MUST! If you use liquid, it's much more likely you'll start breaking up the glue's hold on your eyebrows and those pesky hairs will start bursting through like sunshine after a rainstorm.
Products Used:
Like my Facebook page for live makeup tutorials: Debra Jenn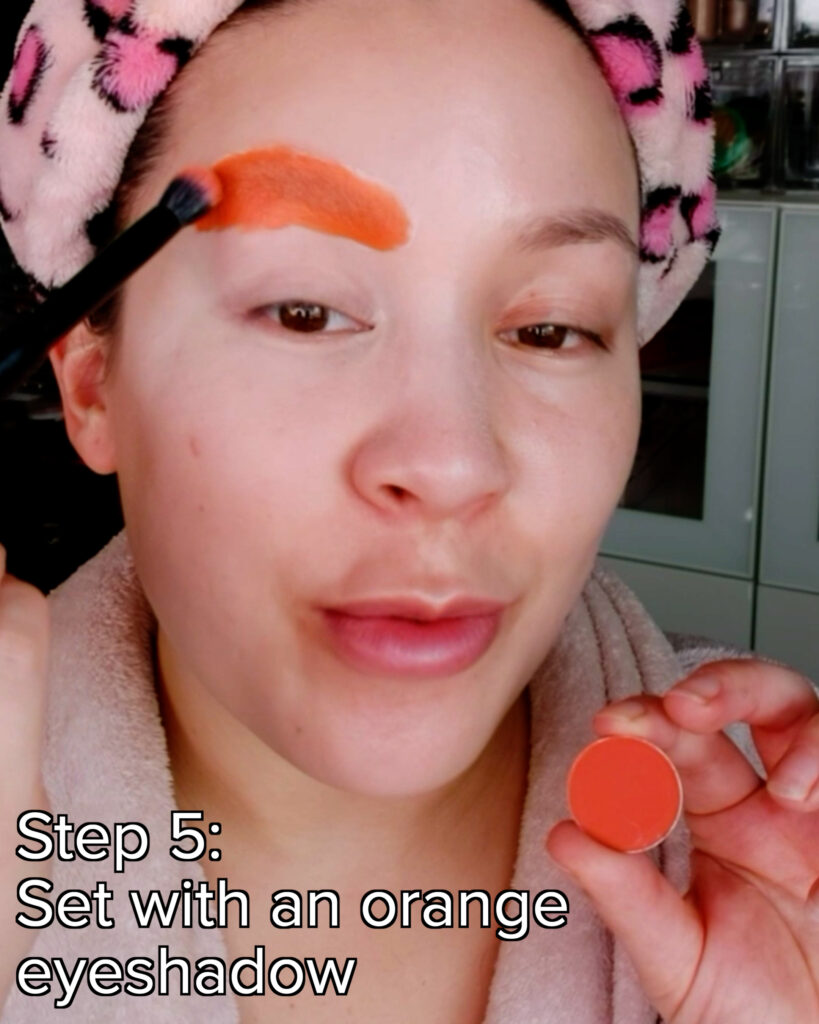 Step 5: Set with Orange Eyeshadow
Instead of using a translucent powder, we're gonna set the orange concealer with orange eyeshadow. Orange you glad I didn't say banana?
Products Used: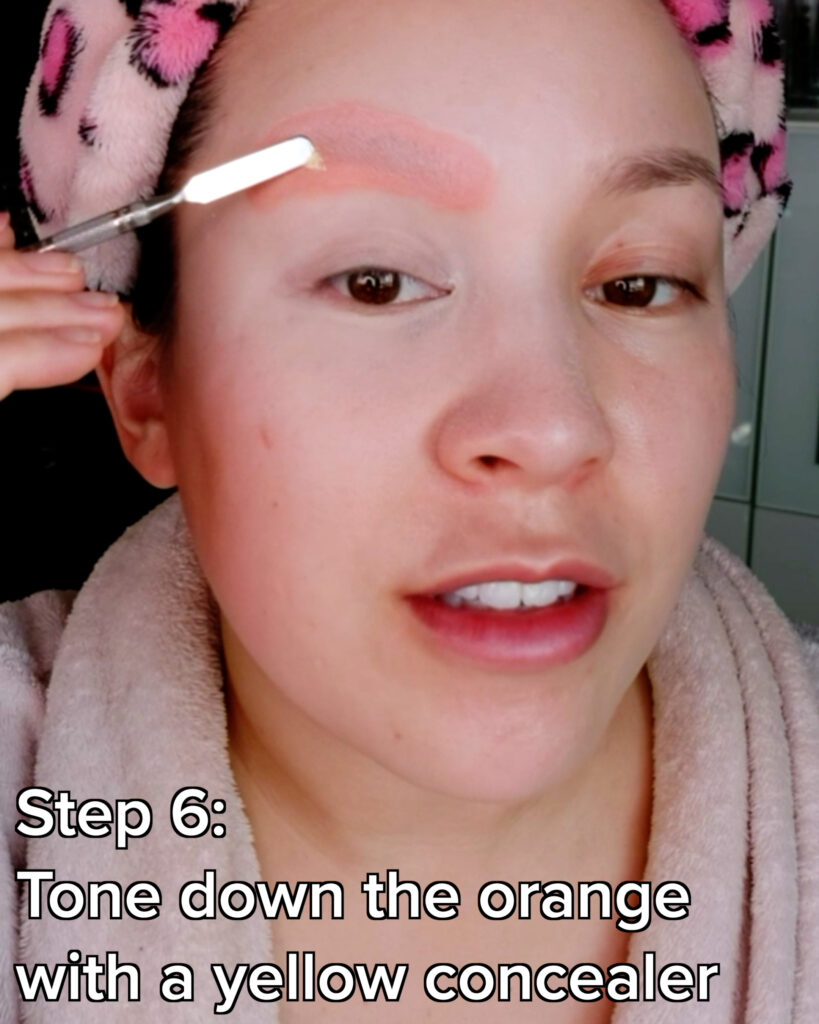 Step 6: Use Yellow Concealer to Tone Down the Orange
This step is really only for people with light skintones (like my ulta-pale, avoid-the-sun-at-all-costs-for-fear-of-wrinkles azz ?). If you have dark skin, go ahead and skip to step 8!
If you're doing this step, remember to use CREAM concealer like the product linked below ?
Products Used: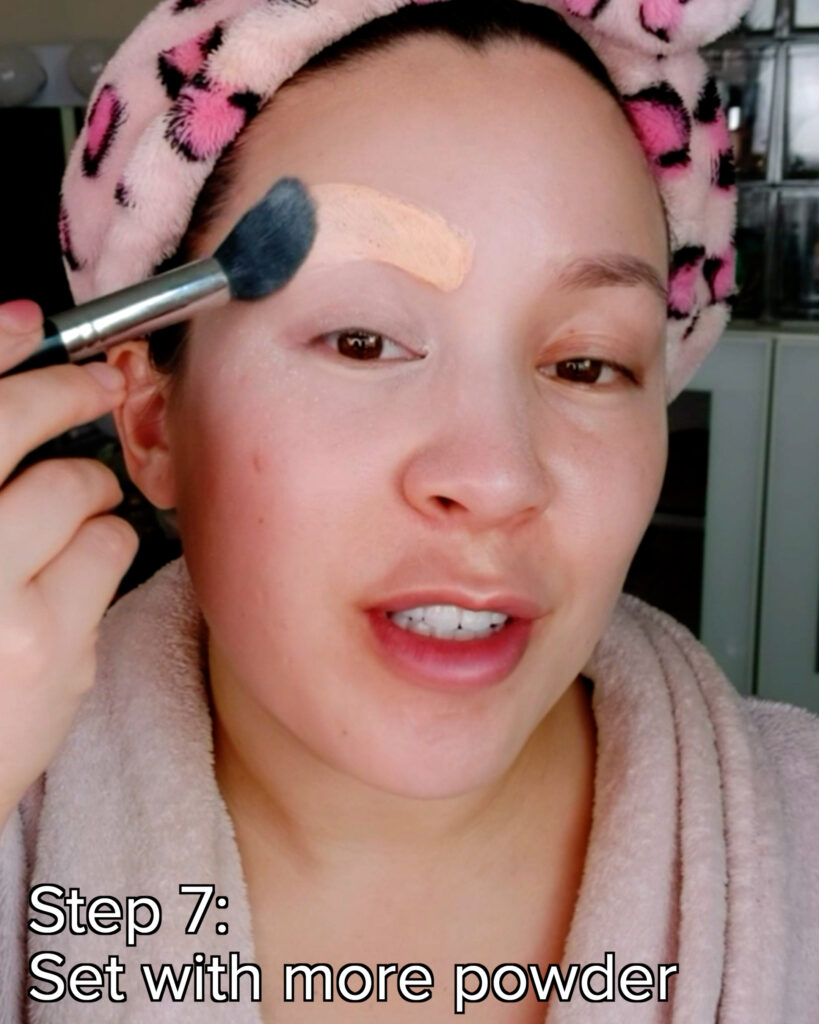 Step 7: Set with More Powder
We're gonna be using a lot of setting powder for this, so buckle up!
Products Used: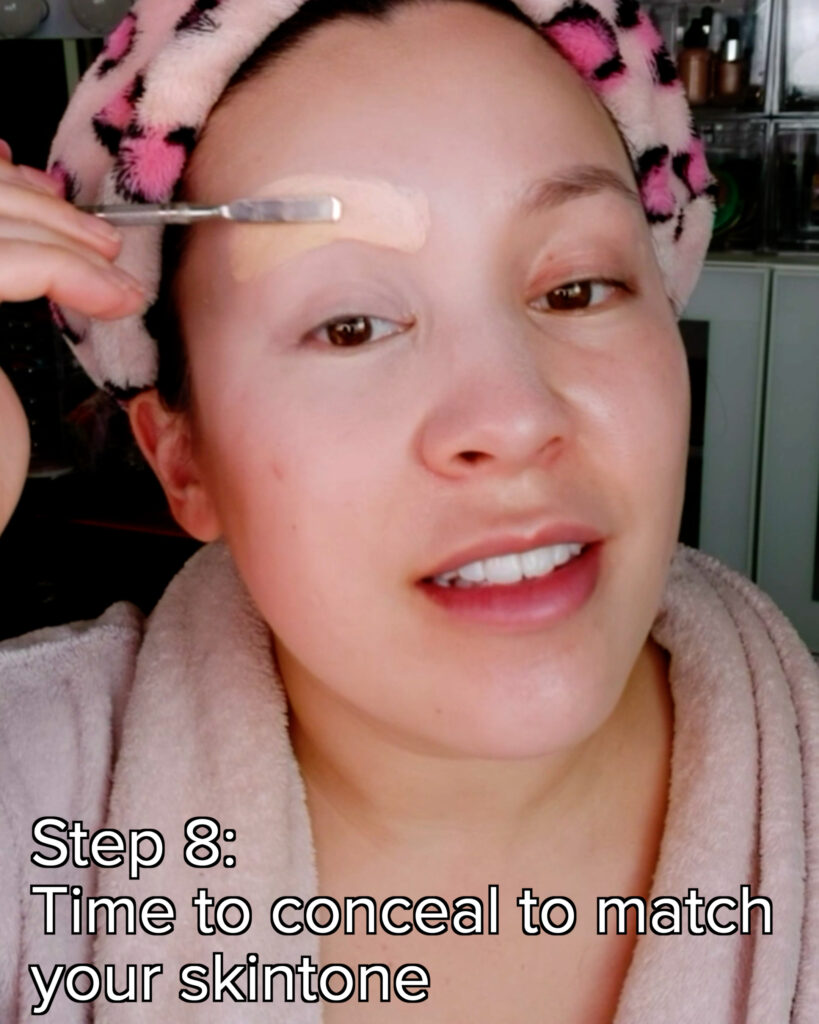 Step 8: Use Concealer in Your Skin Tone
Again, it's important to use a cream concealer so you don't dilute the power of the glue holding your eyebrows down!
Products Used:
Cream concealer in your skin tone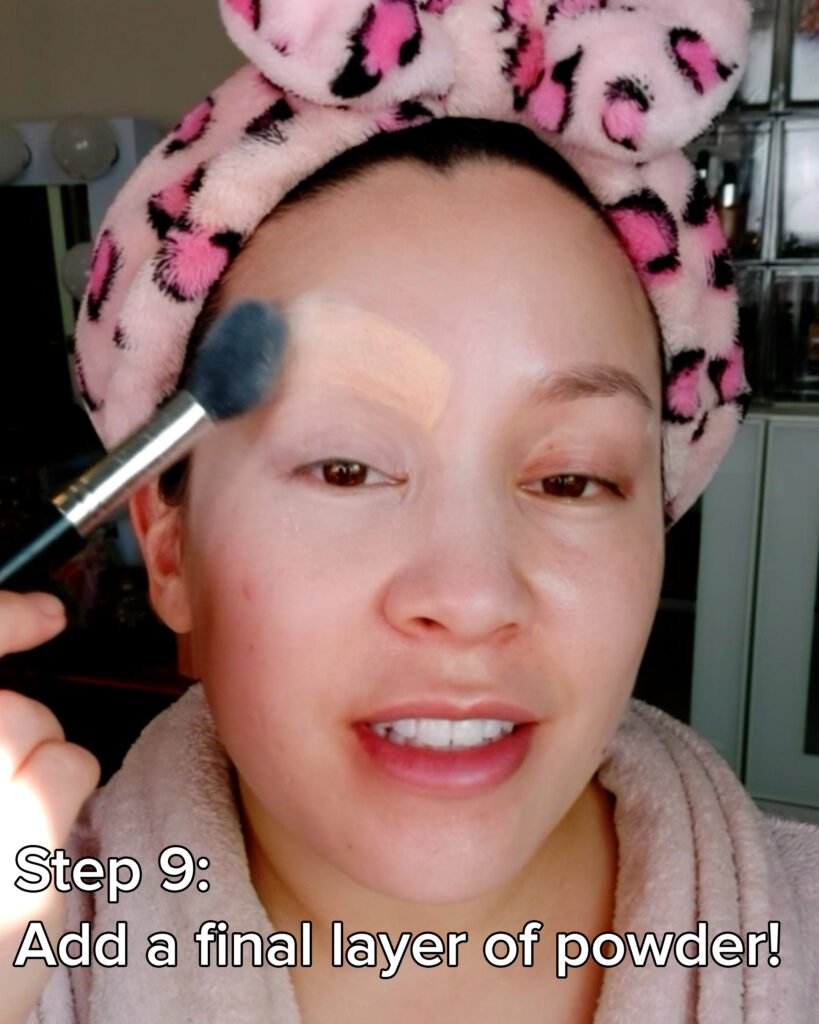 Step 9: Set with Powder (Yet Again ?)
Yep… even more setting powder!
Products Used:
Ben Nye Super White Powder
Step 10: Time to Serve Up Your Fiercest Alien Looks, Sans Brows
Brows? Never heard of 'em!
How to Wash Your Eyebrows After Blocking Them
When it comes time to wash your makeup off, you will absolutely need to use the special Pros Aide Remover. I thought I wouldn't need it (how different could it really be from using oil or even rubbing alcohol, methunk). Well, turns out it's pretty different. Since Pros Aide is a very strong glue usually used for prosthetics, you're gonna want to use their remover if you want to get the glue off your face gently and easily (and leave all your brow hairs intact).
Read More: How to Remove Glitter from Face
Watch My Tutorial on How to Cover Eyebrows
Check out my tutorial below, showing each step for how to cover your brows with concealer in action, and don't forget to subscribe to my YouTube channel while you're there!
Subscribe to my YouTube channel
More Creative Makeup Looks:
More Step-By-Step Tutorials:
* Some of the links above are affiliate links, which means I may make a small commission if you choose to purchase. If you feel comfortable, purchasing products through these links greatly helps me out as I work really hard to make high quality, fun content for you guys to enjoy.