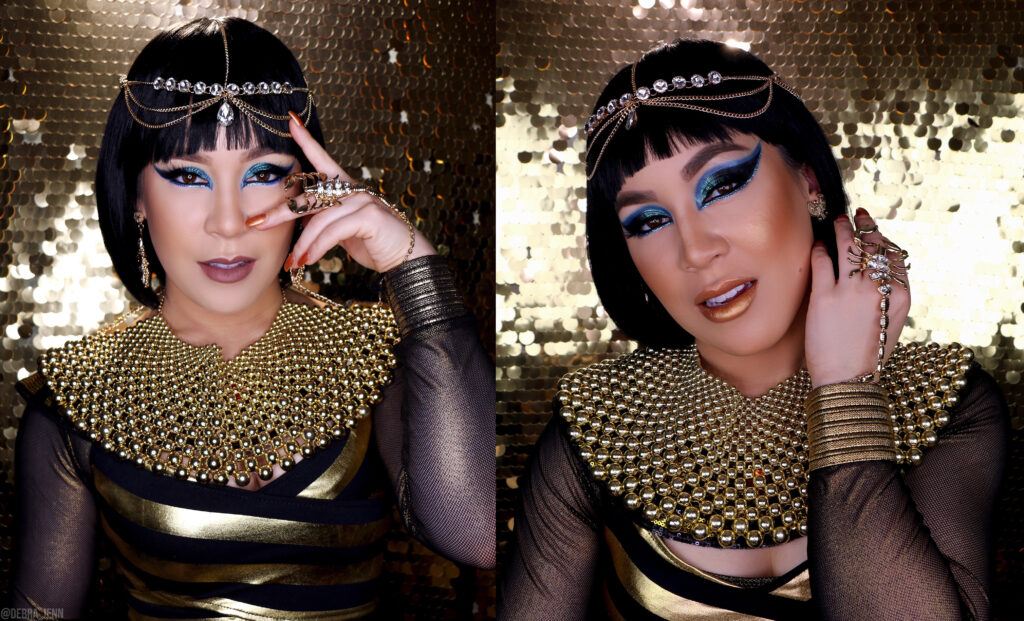 You want a Cleopatra makeup tutorial? I'll give you a Cleopatra makeup tutorial!
I liked this look so much, I did it two years in a row! Kinda crazy tbh, but when I first started my makeup page, I wasn't filming tutorials (in all honesty, I had no business filming tutorials yet anyways since I didn't really know what I was doing ?), so I wanted to do it again so I could film a tutorial on it. Think you can guess which version in the picture above was from the more recent year?
Table of Contents:
Follow me on Instagram: @debra_jenn
Cleopatra Costume Makeup: It's All About the Eyes
If you guessed that the picture on the right is the newer Cleopatra makeup, you guessed right!
For this Cleopatra Halloween costume, it's really all about the eye makeup. The costume and accessories are gonna pull it all together, but without a dramatic, winged eyeshadow look, you're really just wearing a costume — the makeup makes the lewk, ya feel me?
And does anything say Queen of the Nile more than blue eyeshadow? Methinks not, m'lady. Methinks not.
Follow me on TikTok: @Debra_Jenn
I'll include the makeup tutorial at the very end of this post and link everything I used to create my Cleopatra makeup look, plus all of the Halloween costume accessories so you can recreate the exact lewk if you wanna ? (Remember to tag me on IG if you do so I can repost you to my stories! @Debra_Jenn)
Jump to my Cleopatra makeup tutorial below
Products Used in My Cleopatra Makeup Look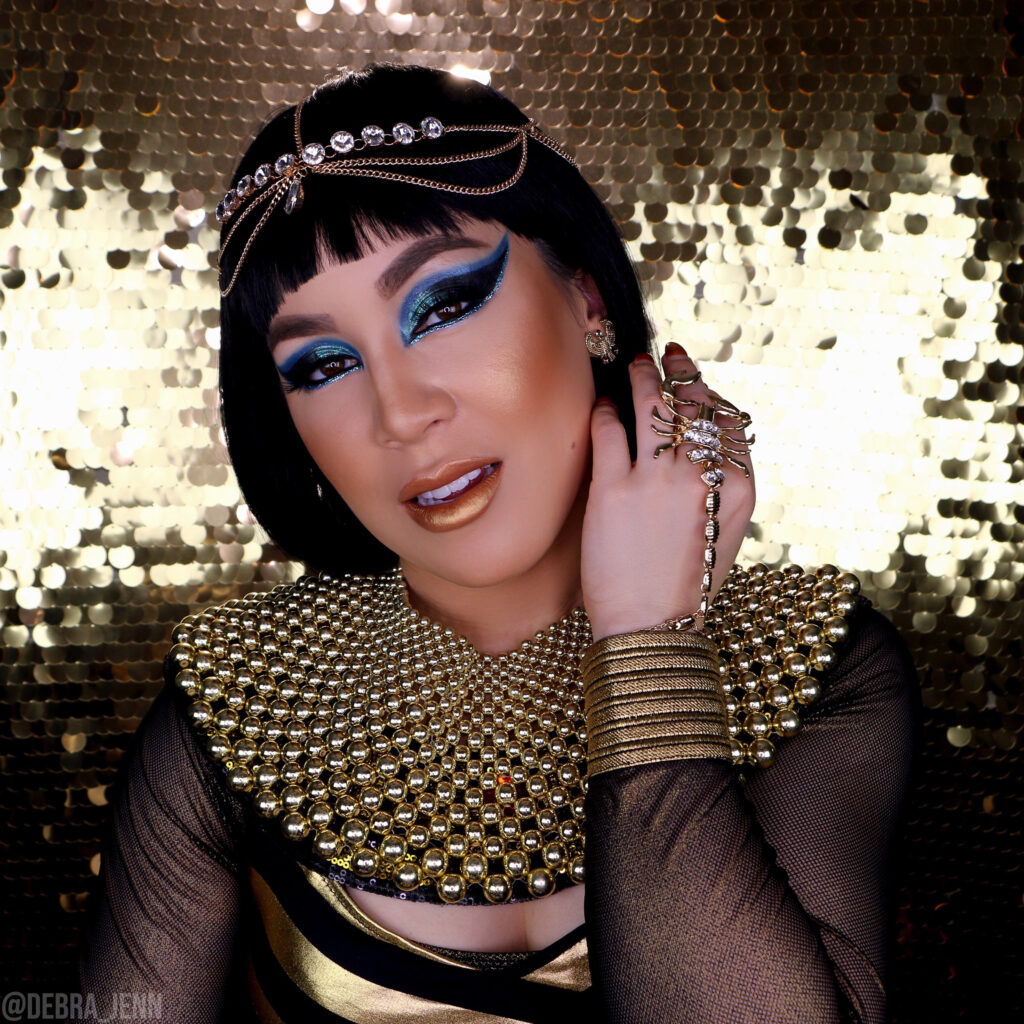 See full list of products used here
Snag My Cleopatra Halloween Costume & Accessories:
Shop my Amazon store for my favorite skincare, costumes, home organization & more!
Watch My Cleopatra Eye Makeup Tutorial
Check out my Cleopatra makeup tutorial below and don't forget to subscribe to my YouTube channel while you're there! In this tutorial, I give super in-depth instructions on exactly how I achieved this very dramatic winged eyeshadow look. TBH I love this eyeshadow, and would rock it whether or not I was rocking a Cleopatra costume! You can also use the same techniques with different colors to switch up the look.
Like my Facebook page for live tutorials: Debra Jenn
Subscribe to my YouTube channel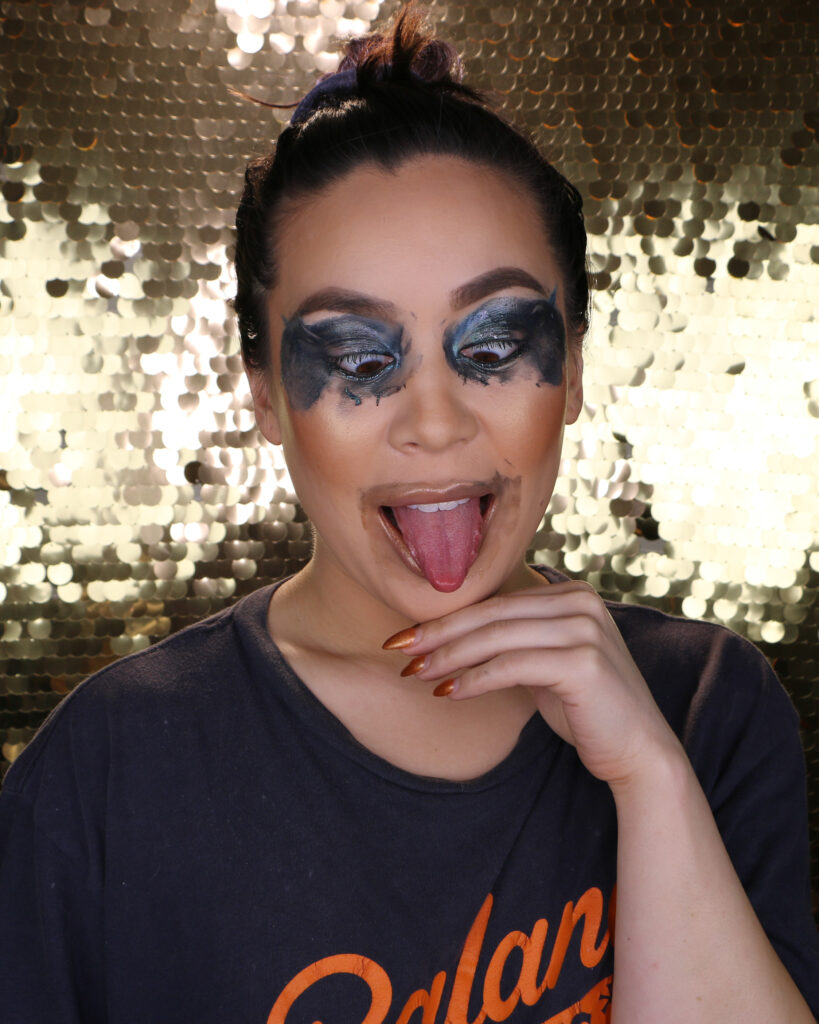 And this was the aftermath of my Cleopatra Halloween costume! Lookin' cute, Debs. Lookin' reeeeeal cute.
More Halloween Makeup Looks:
* Some of the links above are affiliate links, which means I may make a small commission if you choose to purchase. If you feel comfortable, purchasing products through these links greatly helps me out as I work really hard to make high quality, fun content for you guys to enjoy.