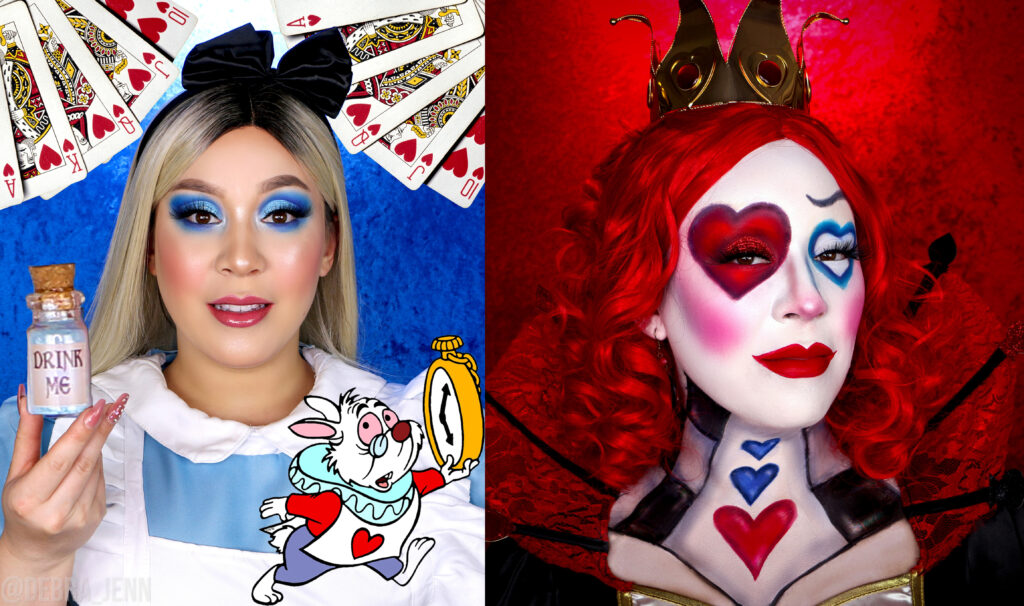 I was so excited for my Alice in Wonderland makeup series and I'm so proud of how all the Halloween costumes came out! But one thing I was NOT prepared for was staying up until 4am every night for a week while doing this series ?
But don't you worry, these Alice in Wonderland costumes don't have to take you all night! They can be as elaborate or simple as you want (and tbh half the time I spent on these looks was spent making TikToks and making sure all the transitions, lip syncs, etc. were on point… why doesn't anyone talk about how much work TikToks are?).
Jump to the Alice in Wonderland Costumes in This Blog:
Follow me on TikTok: @Debra_Jenn
Alice in Wonderland Characters Costumes
Anyways, heeeeeere we go! All of the Alice in Wonderland makeup looks to spark your Halloween or cosplay fancies. Which character is your fave?
P.S. I'll link all the tutorials for each look + the products I used to create them so you can recreate them for your own Halloween costume! Please remember to tag me if you do ? (Instagram: @debra_jenn)
Watch this TikTok to see all my Alice in Wonderland costumes in action!
Subscribe to my YouTube channel
1. Alice in Wonderland Makeup
Alice in Wonderland Costume & Accessories
Watch my Alice in Wonderland makeup tutorial: Part 1 & Part 2
Like my Facebook page for live tutorials: Debra Jenn
2. Mad Hatter Makeup: Johnny Depp Style
Mad Hatter Costume & Accessories
Follow me on Instagram: @debra_jenn
3. Queen of Hearts Makeup
Queen of Hearts Costume, Wig & Accessories
Shop my Amazon store for my favorite skincare, costumes, home organization & more!
4. Cheshire Cat Makeup
Cheshire Cat Costume & Accessories
Watch My Cheshire Cat Makeup Tutorial: Part 1 and Part 2
5. White Rabbit Costume
See More: Easter Bunny Makeup Looks
White Rabbit Costume & Accessories
Watch My White Rabbit Halloween Makeup Tutorial
No time to say "hello," goodbye! I'm late, I'm late, I'm late! I The White Rabbit is certainly not a good last-minute costume, but if you're planning ahead, it sure is a fun one! Check out my tutorial below and don't forget to subscribe to my YouTube channel while you're there!
More Halloween Makeup Looks:
Some of the links above are affiliate links, which means I may make a small commission if you choose to purchase. If you feel comfortable, purchasing products through these links greatly helps me out as I work really hard to make high quality, fun content for you guys to enjoy.