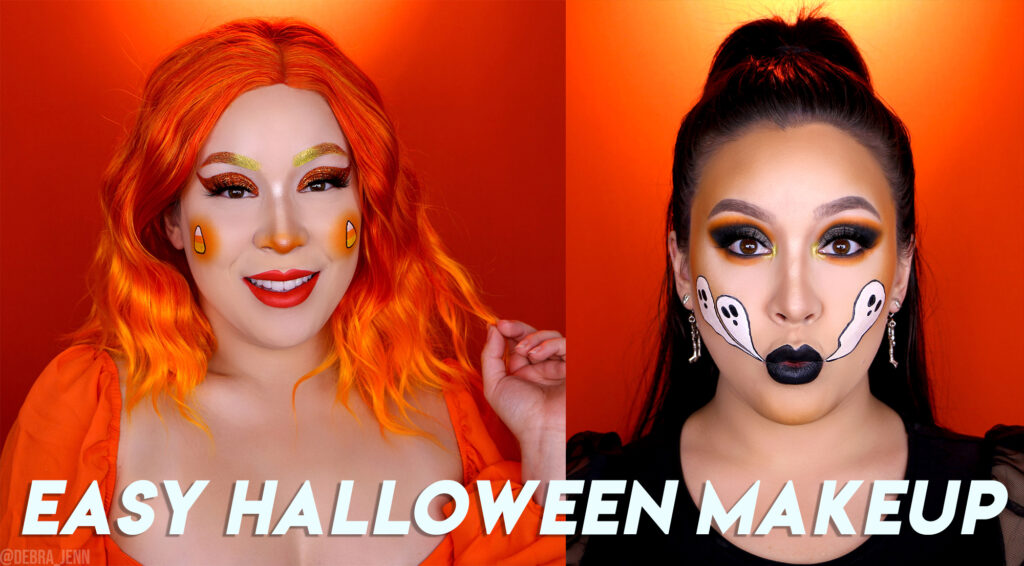 Want to look festive AF for Halloween, but don't want to actually buy anything new? Or maybe you lollygagged til the cows came home and now you literally don't have time to buy a Halloween costume, even if you wanted to. Story of my life. Well, it was the story of my life before I made doing Halloween makeup an entire personality trait of mine.
What can I say, maybe all the years of being a last-minute Halloween procrastinator finally kicked my butt into gear and I just decided to dedicate entire months of my life to a Holiday that was once banned in my house? (Yeah… my mom fully banned Halloween a couple times… something about the devil being evil and some other hocus pocus. She never really stuck to it though, and now supports my Halloween costumes… as long as they're not scary Halloween costumes, but we'll just save that story for another time).
If you're looking for some cute, easy Halloween makeup ideas you can pull off at the last minute, then STRAP ON and STRAP IN, because when I'm doing my yearly 31 Days of Halloween makeup (follow me on IG and TikTok so you don't miss out on this year's spookiness), I always like to work in some quick and easy Halloween makeup looks in between my more elaborate costumes, because mama needs a break!
Jump to the Easy Halloween Makeup Looks in this Blog:
Subscribe to my YouTube channel
Quick & Simple Halloween Makeup Ideas
ANYWHO, wow I get long-winded… but as promised in that looooong intro, if you need some simple yet cute Halloween makeup ideas to get the juices flowing, here ya go, little lady CHOO CHOOOOO!
I'll link all the products I used, as well as the tutorials for each look as we go to make it easy for y'all to recreate if you want. Please remember to tag me if you do! @debra_jenn
1. Spider Web Makeup
Spider Makeup TikTok
See More: Halloween Eye Makeup Looks
2. Cute DIY Scarecrow Makeup
Follow me on Instagram: @debra_jenn
3. Cute Ghost Makeup
4. Easy Skeleton Makeup
Easy Skull Makeup TikTok
5. Easy Glam Skull Makeup
Shop all my favorite Amazon products!
6. Easy Glam Devil Makeup
Devil Makeup TikTok
Follow me on TikTok
7. Pumpkin Halloween Makeup
8. Easy Spider Makeup
9. Easy Clown Makeup
10. Candy Corn Makeup
Watch My Quick Candy Corn Makeup Tutorial
Watch My Halloween Makeup Tutorial
I liked this Cleopatra costume so much, I did it two years in a row! It's no last-minute costume, but if you're reading this and have time to plan out your accessories, she sure is a show-stopper! Check out my tutorial below and don't forget to subscribe to my YouTube channel while you're there!
More Halloween Makeup Looks & Other Creative Makeup Ideas:
Some of the links above are affiliate links, which means I may make a small commission if you choose to purchase. If you feel comfortable, purchasing products through these links greatly helps me out as I work really hard to make high quality, fun content for you guys to enjoy.