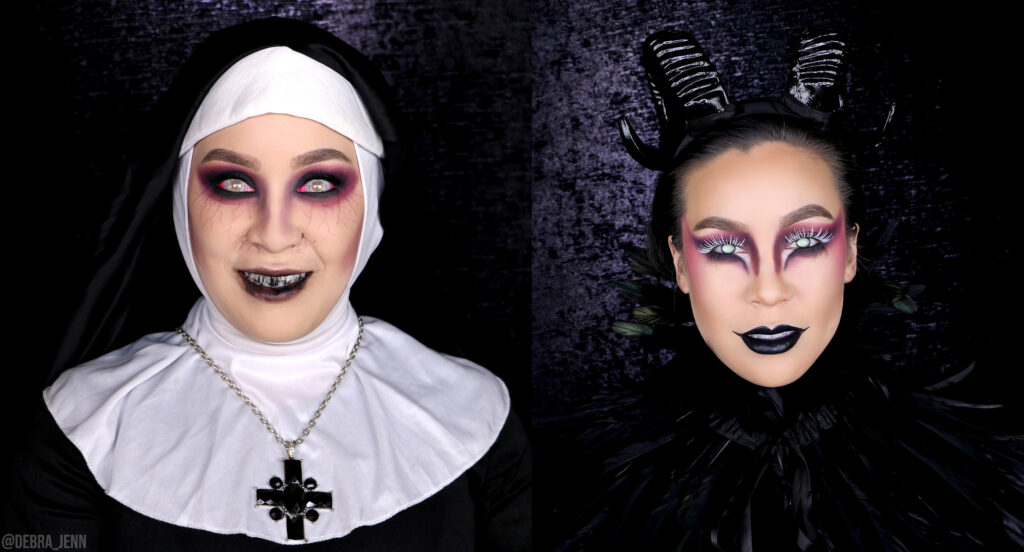 Don't like blood & gore, but still want to rock a scary makeup look for your Halloween costume? Then boy, have you come to the right place! Here are my favorite scary Halloween makeup ideas that'll have you spooked!
Follow me on Instagram: @debra_jenn
Jump to the scary Halloween makeup ideas in this blog:
Spooky Makeup Looks
TBH you won't catch me doing bloody SFX makeup looks, because all that blood grosses me out, but I still love a good, scary makeup look! So if you're looking for some creepy Halloween makeup that doesn't make you want to hurl your guts, keep right on scrolling, little lady. Heeeeeere we go!
I'll link all the tutorials for each look + the products I used to create them, so you can recreate them for your own Halloween costume! Remember to tag me if you do and I'll share you on my stories! ? (Instagram: @debra_jenn)
Subscribe to my YouTube channel
1. Chucky Makeup
Chucky Halloween Costume & Accessories
Follow me on TikTok: @Debra_Jenn
2. Bride of Chucky Makeup
Bride of Chucky Costume & Accessories
Watch My Tutorial to Learn How To Conceal Eyebrows
Unless you're already rocking pencil-thin brows, you'll need to conceal your eyebrows to nail the Tiffany Valentine costume. Check out my tutorial below to learn how to do it!
3. Pennywise Makeup
Clown It Costume, Wig & Accessories
Tharrrrr she blows! Down below is my Pennywise clown eyeshadow tutorial — I also tell the story of Jennifer Pan, a Canadian girl who killed her parents for no good reason. Nothing scarier than that ?
Shop my Amazon store for my favorite skincare, costumes, home organization & more!
4. Devil Makeup
Devil Halloween Costume & Accessories
Like my Facebook page for live tutorials: Debra Jenn
5. Beetlejuice Makeup
Beetlejuice Costume & Accessories
Watch My Beetlejuice Makeup Tutorial
Wowie zowie, the quality is BAD (this was before I got better filming equipment), so please forgive me!
6. Dark Angel Makeup
Dark Angel Costume & Accessories
7. The Nun Makeup
The Nun Costume & Accessories
8. Scary Skeleton Makeup
Watch My Smokey Eye Makeup Tutorial
To see how I got the smokey eye for this skull look, watch my black smokey eye tutorial.
9. Medusa Makeup
10. Scary Pumpkin Makeup
Watch My Halloween Makeup Tutorial
I liked this Cleopatra costume so much, I did it two years in a row! It's no last-minute costume, but if you're reading this and have time to plan out your accessories, she sure is a show-stopper! Check out my tutorial below and don't forget to subscribe to my YouTube channel while you're there!
More Halloween Makeup Looks:
Some of the links above are affiliate links, which means I may make a small commission if you choose to purchase. If you feel comfortable, purchasing products through these links greatly helps me out as I work really hard to make high quality, fun content for you guys to enjoy.