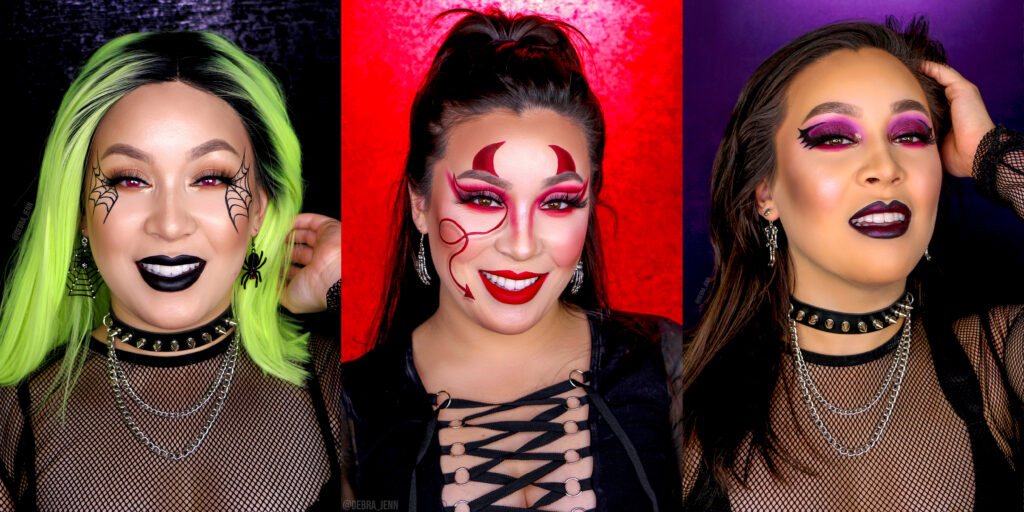 Hey there, my gorgeous goblins and glam ghouls! 🎃✨ Idk 'boutchu, but I think of Halloween as my time to shine, and what better way to channel the spirits of the season than with some jaw-droppingly spooktacular eyeshadow, amirite? So let's dive into the eerie world of Halloween eye makeup looks that will make your peepers pop. From daringly devilish drama to bewitching bat eyes, let's conjure up some eye-catching magic!
Subscribe to my YouTube channel
Jump to the spooky eye makeup in this blog:
See More: Pink Makeup Looks
Feast Your Eyes Upon These Halloween Eyeshadow Looks
As always, I'll link the makeup tutorial for each look, along with all the products I used to create them, so you can recreate the lewks for yourself. Remember to tag me if you do and I'll share you on my Instagram stories! @debra_jenn
Follow me on TikTok: @Debra_Jenn
1. Easy Spider Web Eyeliner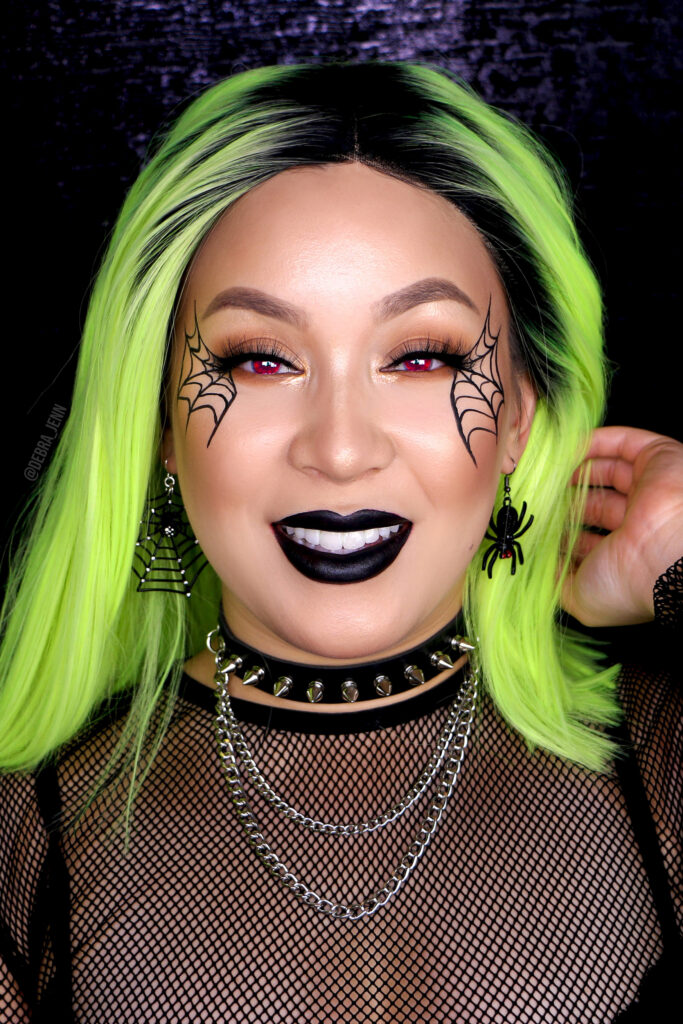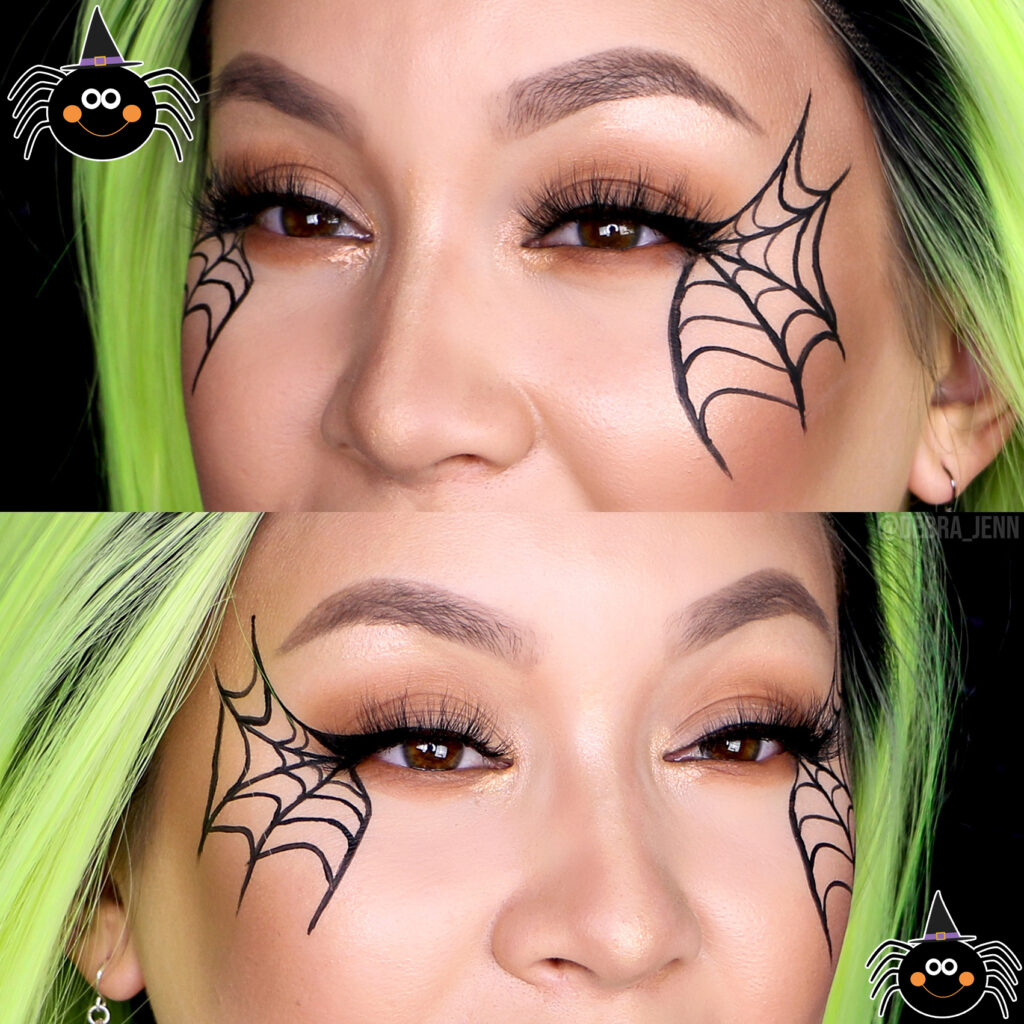 Get ready to spin a web of intrigue with this spider web eyeliner look. Line your upper lash line with black eyeliner and draw your normal wing, then extend that wing outwards to create a spider web effect. It's like your eyes are the ultimate spider playground, and you're the spider queen reigning over it all. This look is so easy and fast, it's truly the perfect last-minute Halloween costume!
Products Used:
See full list of products used in this spider eye makeup look here.
Shop my Amazon store for my favorite skincare, costumes, home organization & more!
2. Purple Eyeshadow with Bat Wing Eyeliner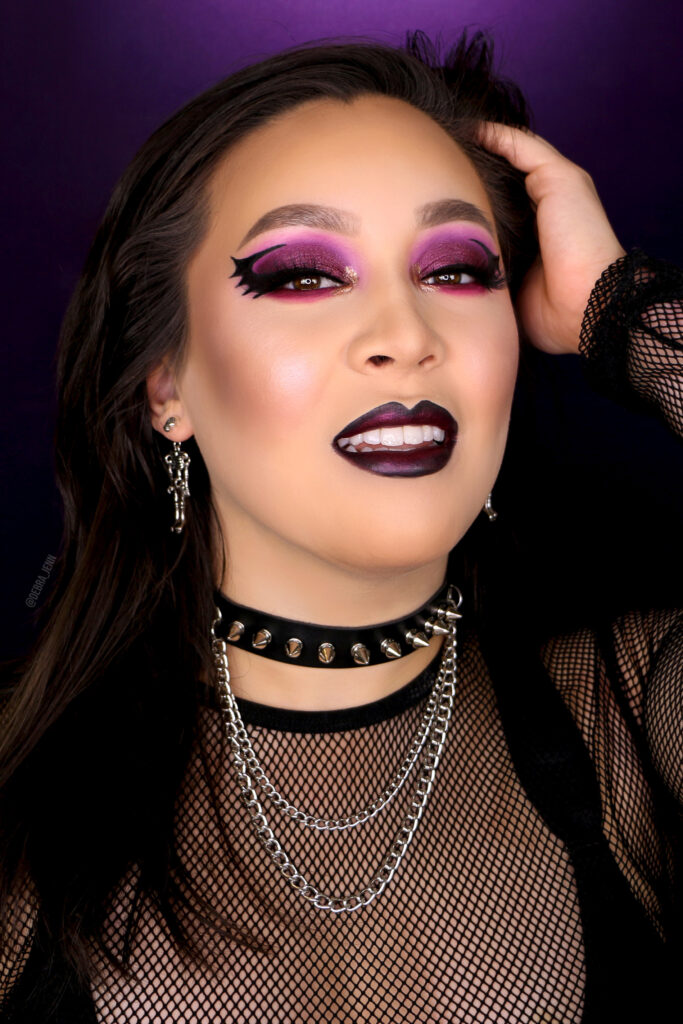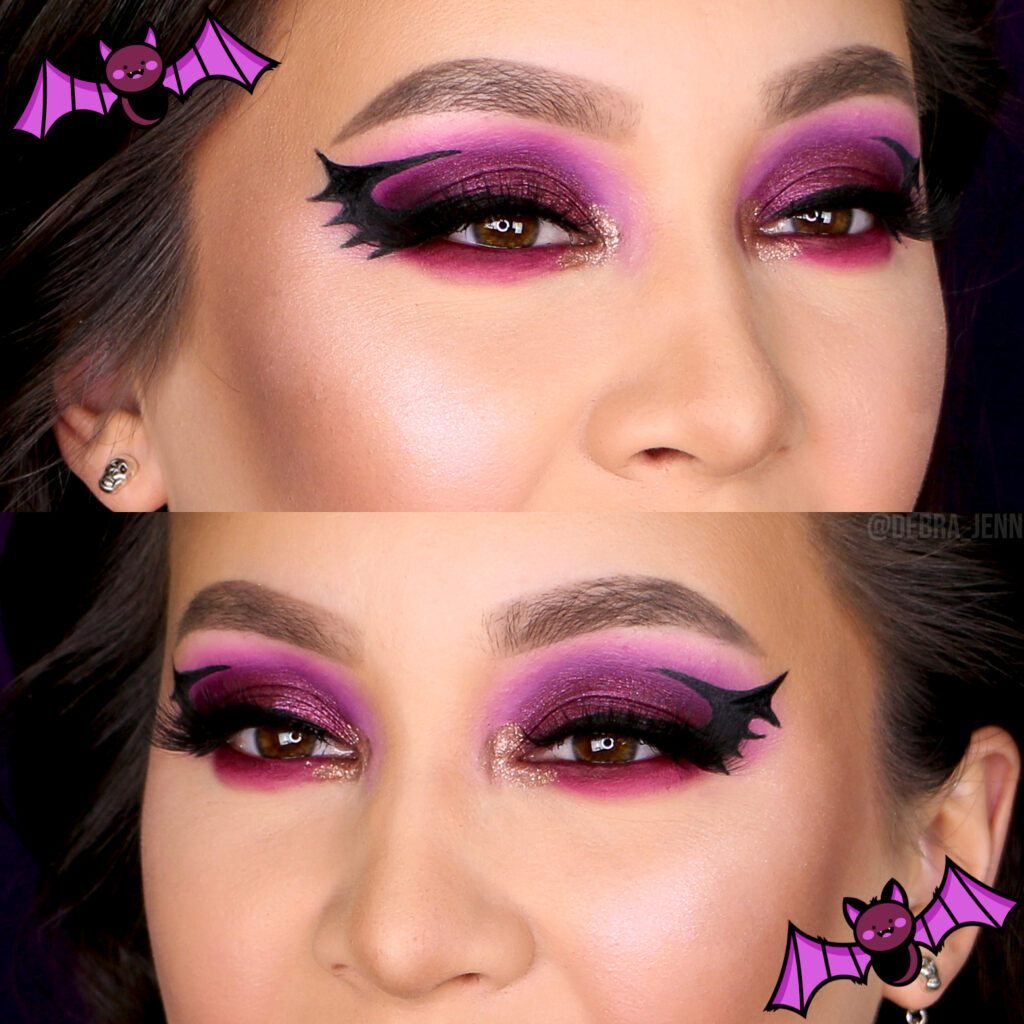 Let your eyes take flight with this bewitching bat eye makeup. Blend out some purple eyeshadow on your lids, then draw the shape of bat wings on the outer corners of your eyes using black eyeliner, and watch as your eyes transform into nocturnal creatures of the night. It's a look so captivating, even Count Dracula would do a double take.
Products Used:
See all the products I used in this bat wing makeup look here.
Watch My Bat Wing Eyeliner Tutorial
Like my Facebook page for live tutorials: Debra Jenn
3. Red Devil Eye Makeup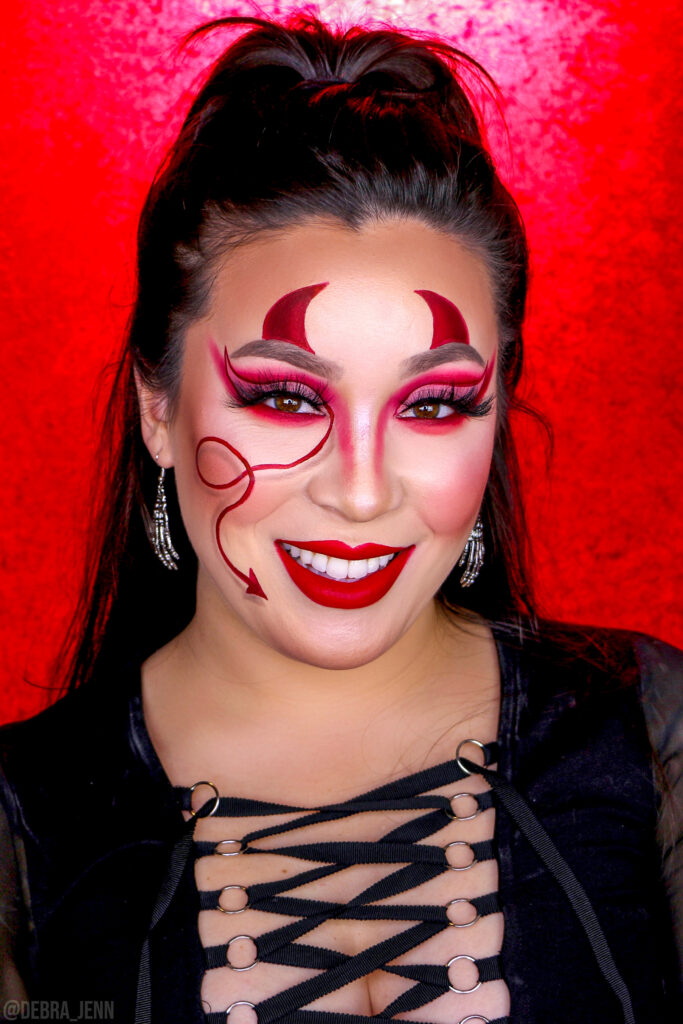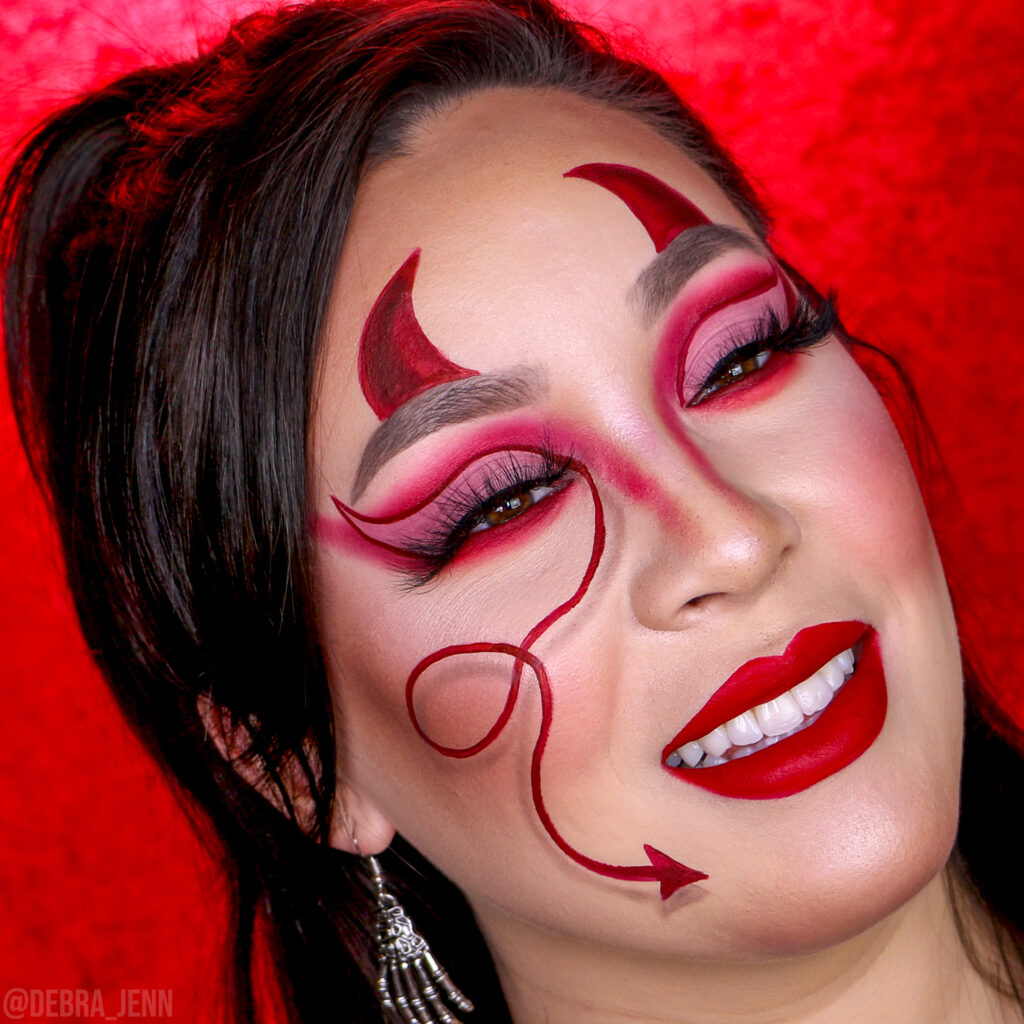 Ready to unleash your inner mischief-maker? Then devil eye makeup is the way to go. Paint your eyelids a fiery red, then use red water activated face paint for eyeliner to create a wing around the eyes leading to a devil tail. Add devil horns above your brows and you're ready to trade tricks for treats. With eyes like these, you'll have everyone pledging their loyalty to your stylish dark kingdom.
Products Used:
See full list of products used in this easy devil makeup here.
Follow me on Instagram: @debra_jenn
4. Purple Eyeshadow with Cobweb Eyeliner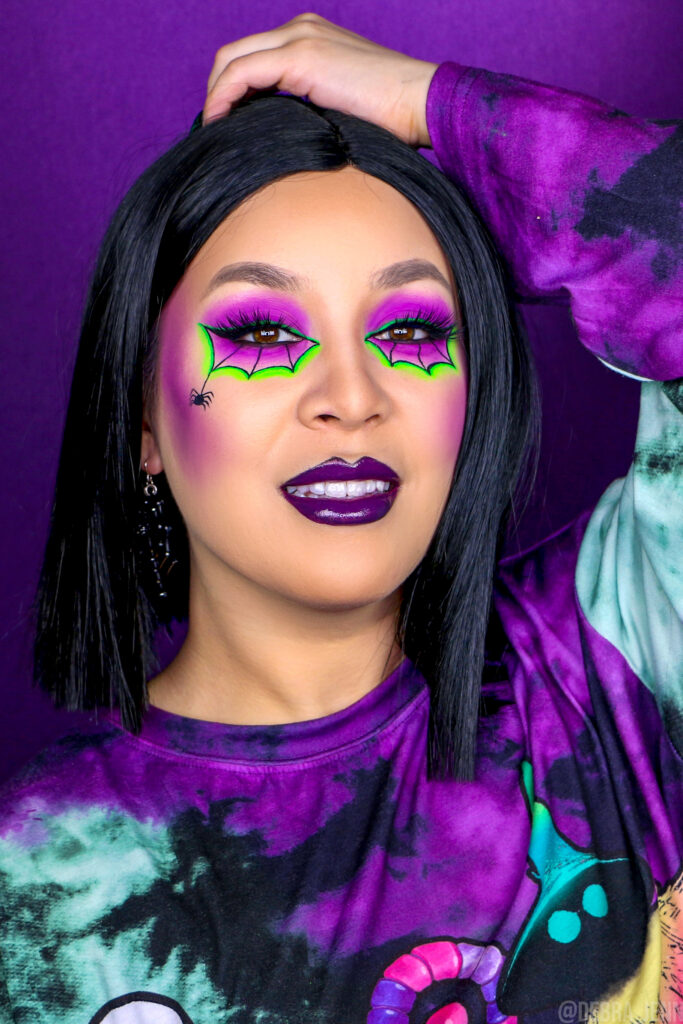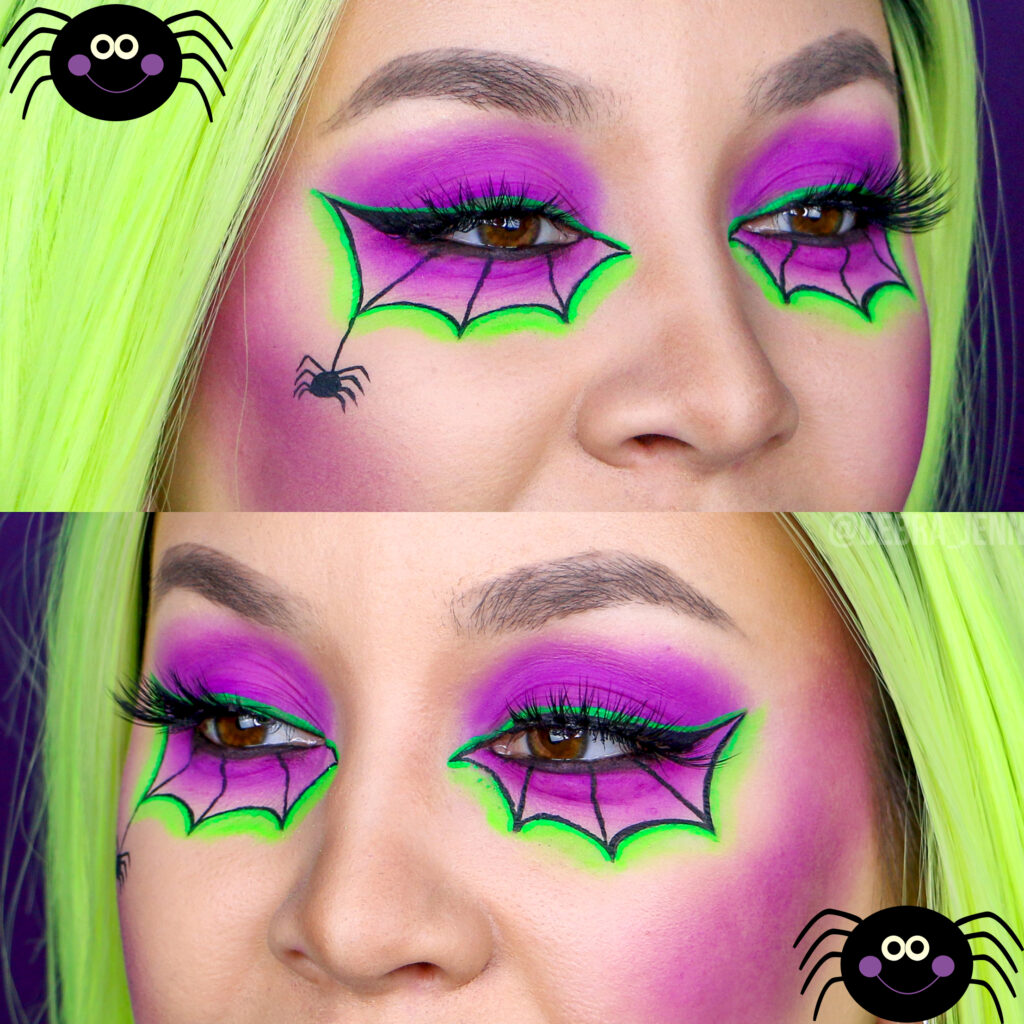 Spin a web of enchantment with this cool cobweb eyeliner paired with purple eyeshadow that adds a touch of mystique perfect for my spooky Halloween queens. The cobweb design delicately drawn around the undereyes adds just the right amount of eerie vibes, while the purple eyeshadow adds depth and vibrancy (and is so flattering on brown eyes!). The result is a look that's both enchanting and haunting, leaving everyone in awe of your makeup artistry. (But it's actually super simple!)
5. Daring Devil Eyeliner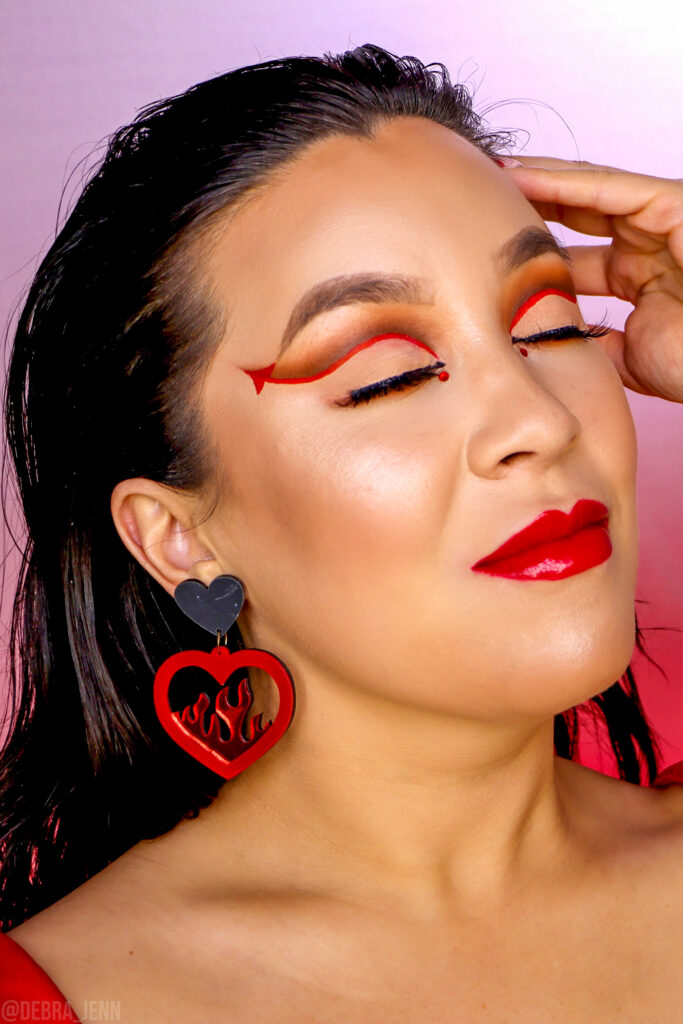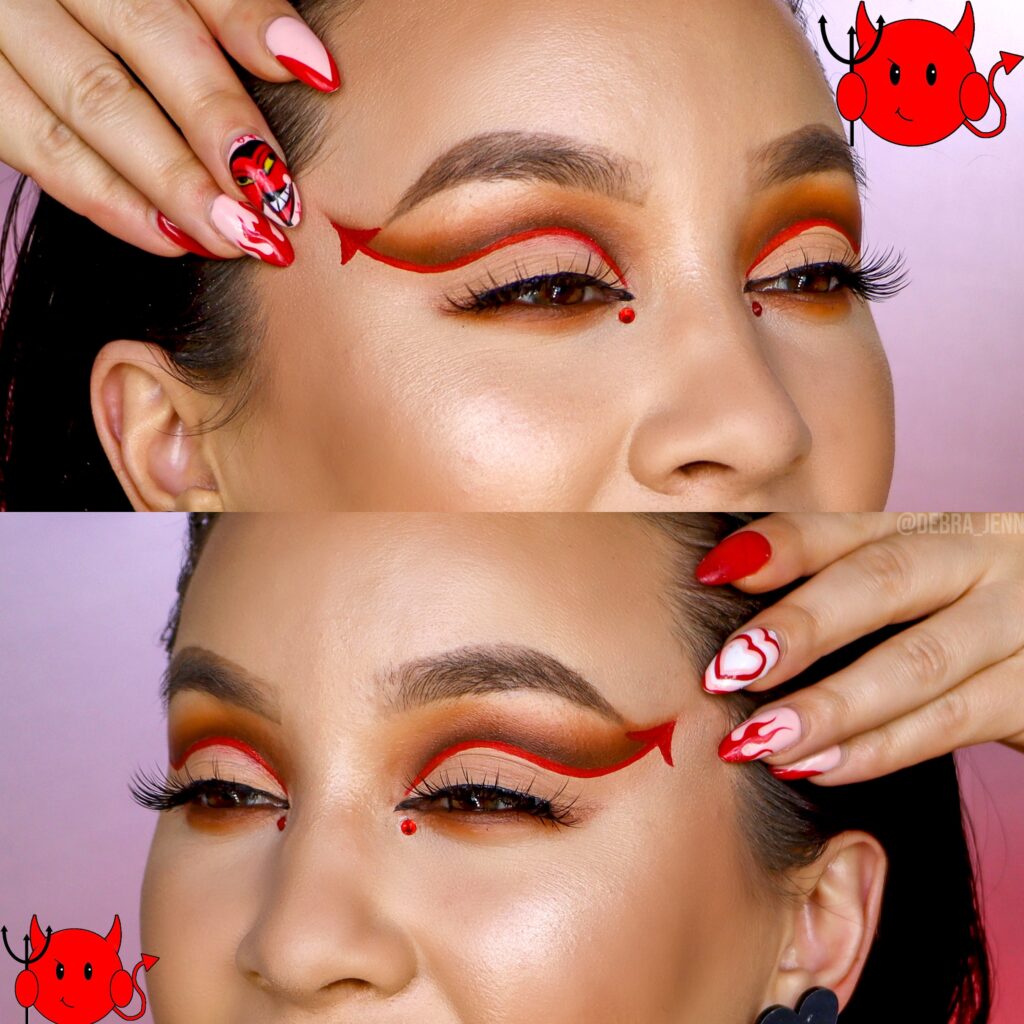 Unleash your inner temptress with this devil eyeliner look. If you're looking for something bold and fierce, this look combines sharp red eyeliner with a devil's tail accenting a classic cut crease to create a gaze that's impossible to resist. With devilish charm and a touch of wickedness, this eye makeup look will make you the center of attention at any Halloween gathering.
Watch My Devil Eyeliner Tutorial
Follow me on Pinterest for more makeup ideas & fashion inspo: @Debra_Jenn
6. Bewitching Purple and Green Eyeshadow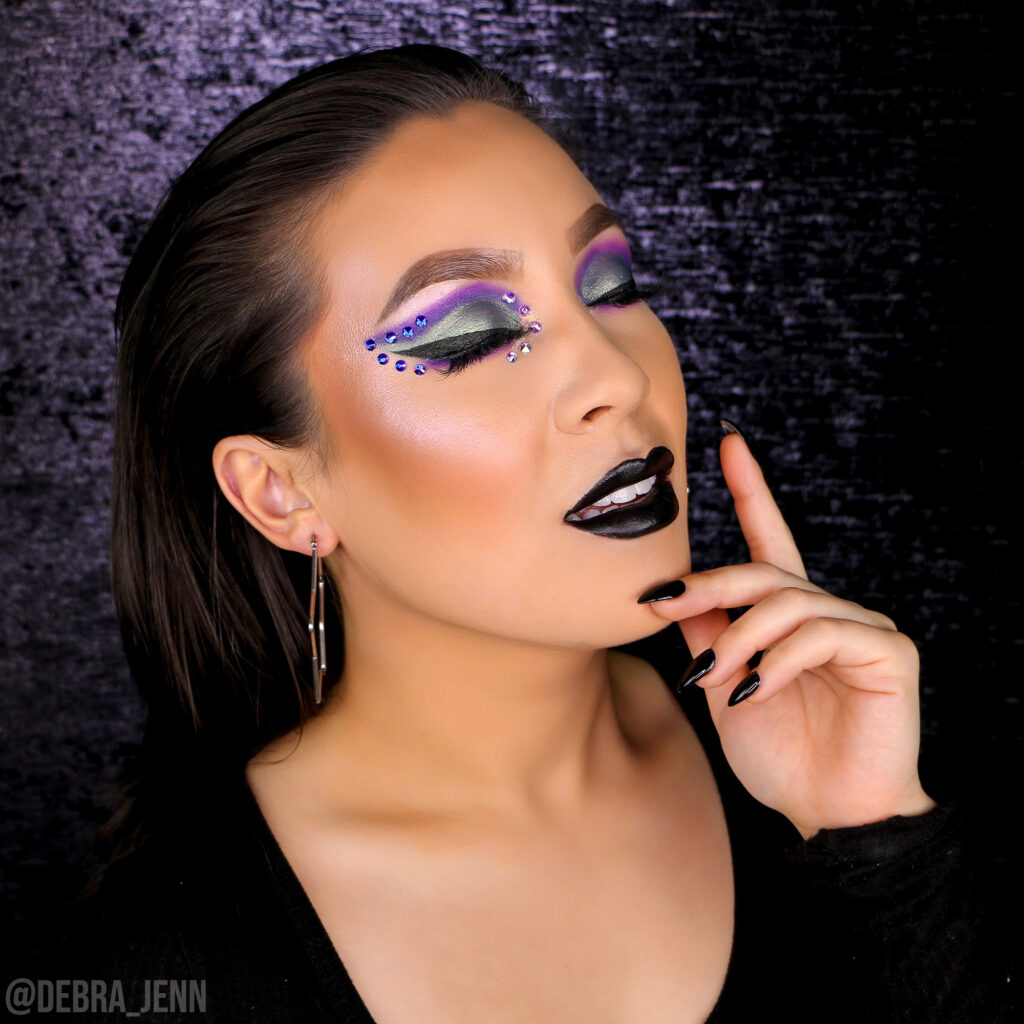 Bewitching is an art, and the combination of purple and green eyeshadow casts a spell that's hard to break. The shades of mystical purple and enchanting green blend seamlessly to create an otherworldly allure. This eye makeup look is perfect for those who want to channel their inner sorceress and leave everyone spellbound.
Products Used:
See full list of products used in this dark Halloween eyeshadow look here.
See More: Easy Halloween Makeup Looks
7. Badass Orange and Black Eyeshadow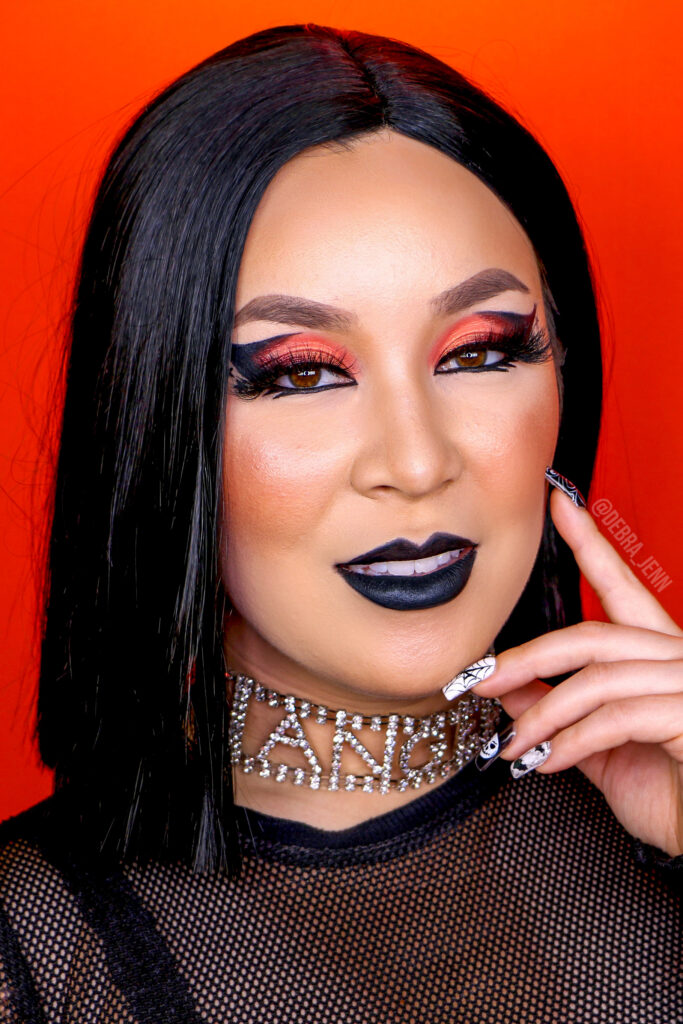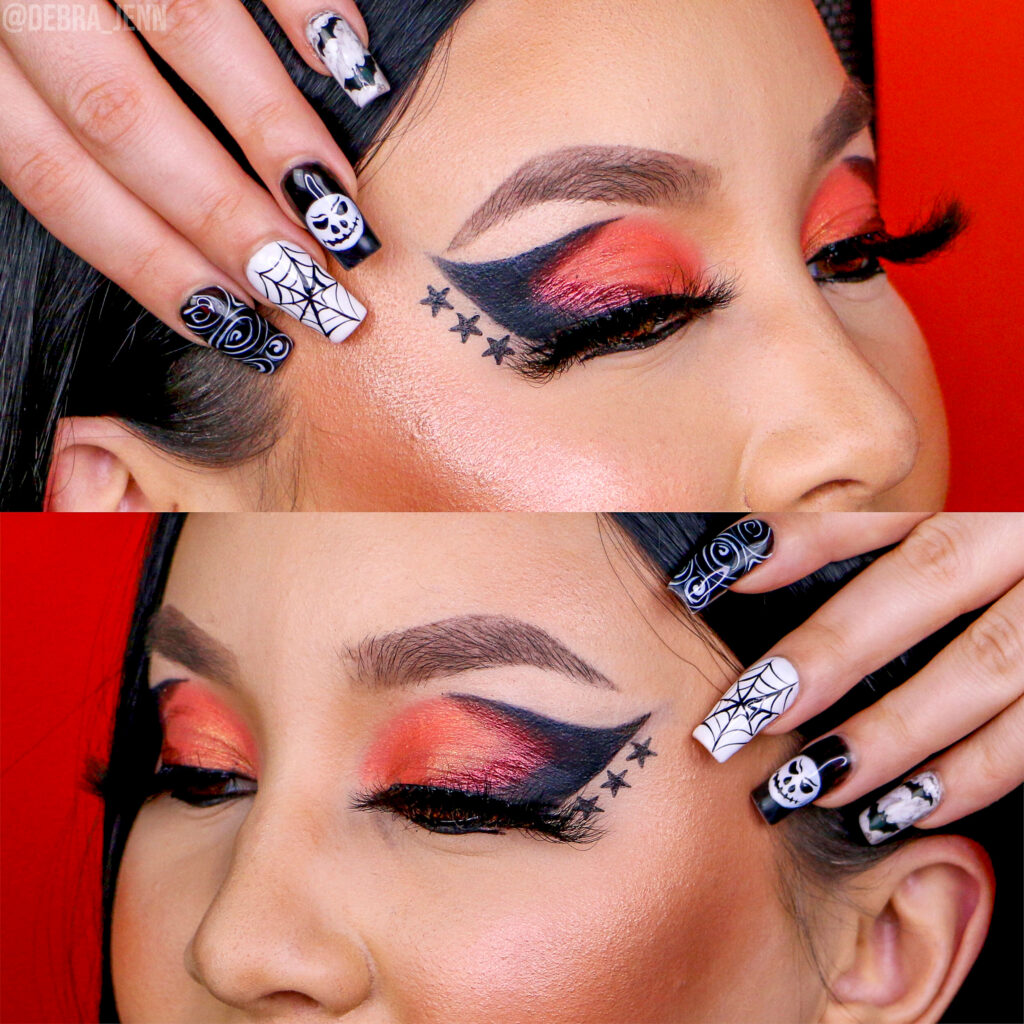 Witches, gather 'round! Orange and black are the quintessential Halloween colors, so channel your inner scream queen with a bewitching blend of orange and black eyeshadow. I created a gradient effect with orange on the inner corners and black on the outer corners in a dramatic wing shape for a spellbinding look that even the most seasoned witches will envy.
Products Used:
Watch My Baddie Orange & Black Makeup Tutorial
Read More: Orange & Black Eyeshadow Tutorial for Halloween
8. Sarah Sanderson Black & Purple Smokey Eye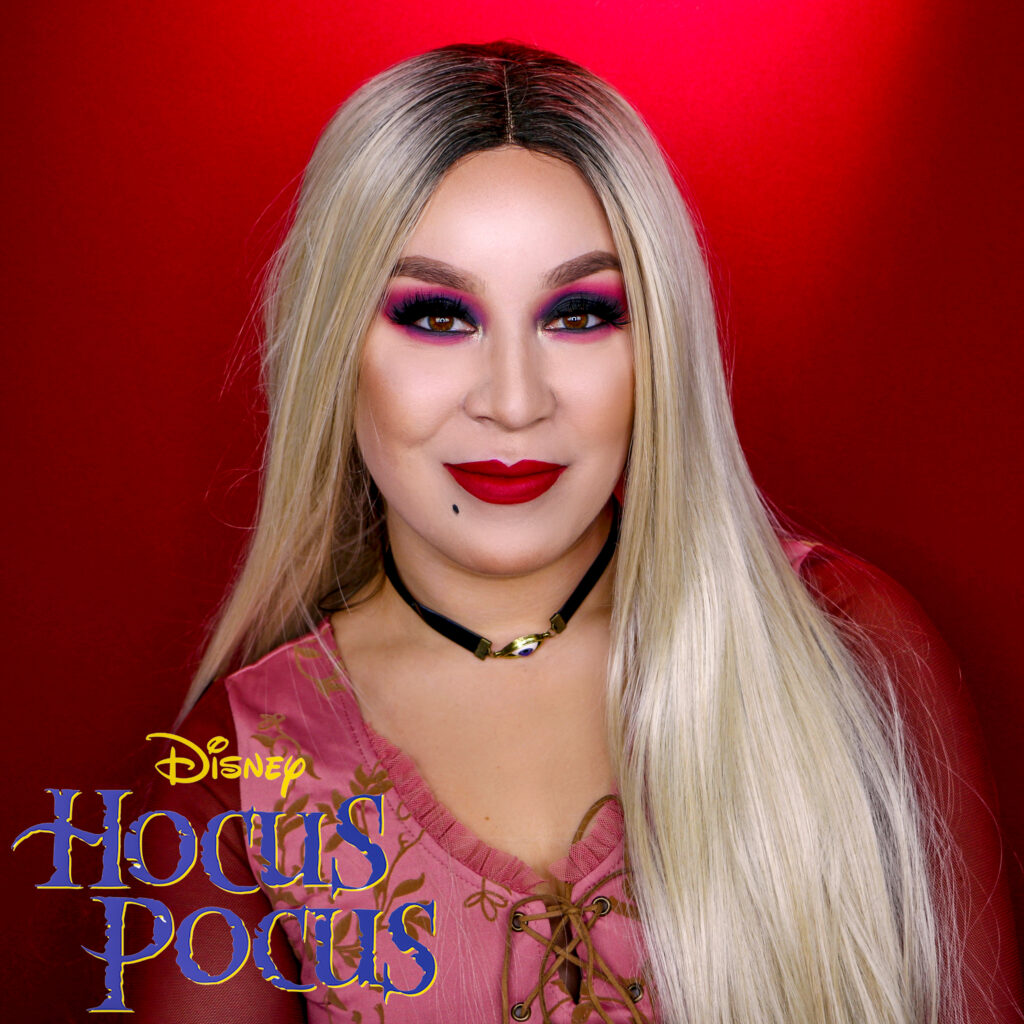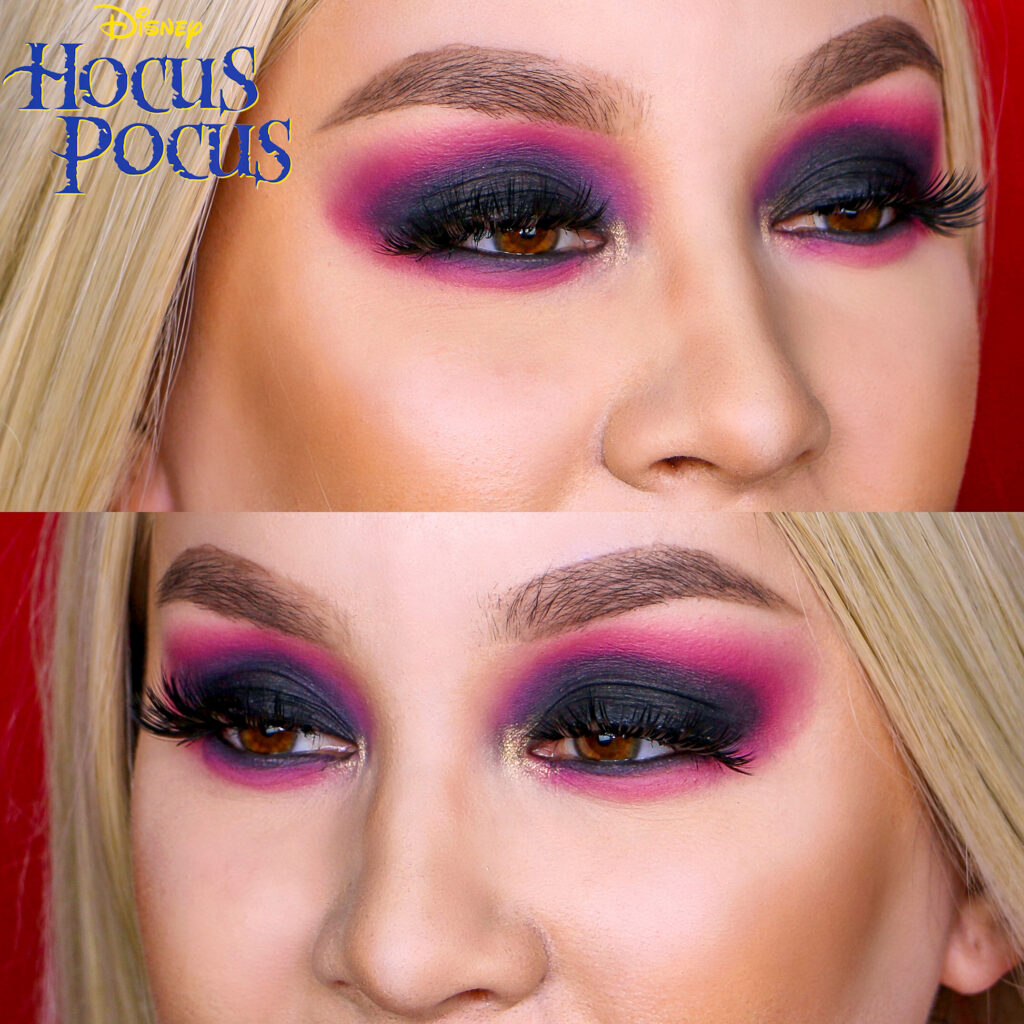 Channel your inner witch. Inspired by the iconic Sanderson sisters, this black and purple smokey eye pays homage to the witchy charm of Halloween. Dark and sultry black shades blended with deep purples create a captivating smokey eye that's equal parts mysterious and alluring. This look is perfect for those who want to channel their inner witch.
Products Used:
Watch My Sarah Sanderson Smokey Eye Tutorial
Read More: Sarah Sanderson Makeup Tutorial from 'Hocus Pocus'
9. Witchy Black Smokey Eye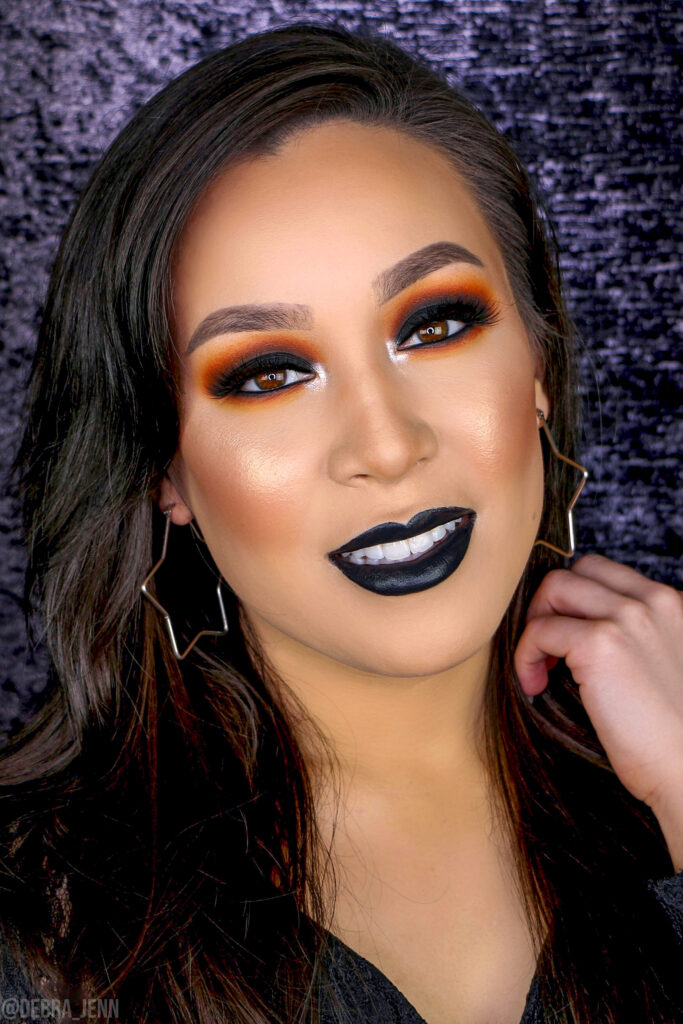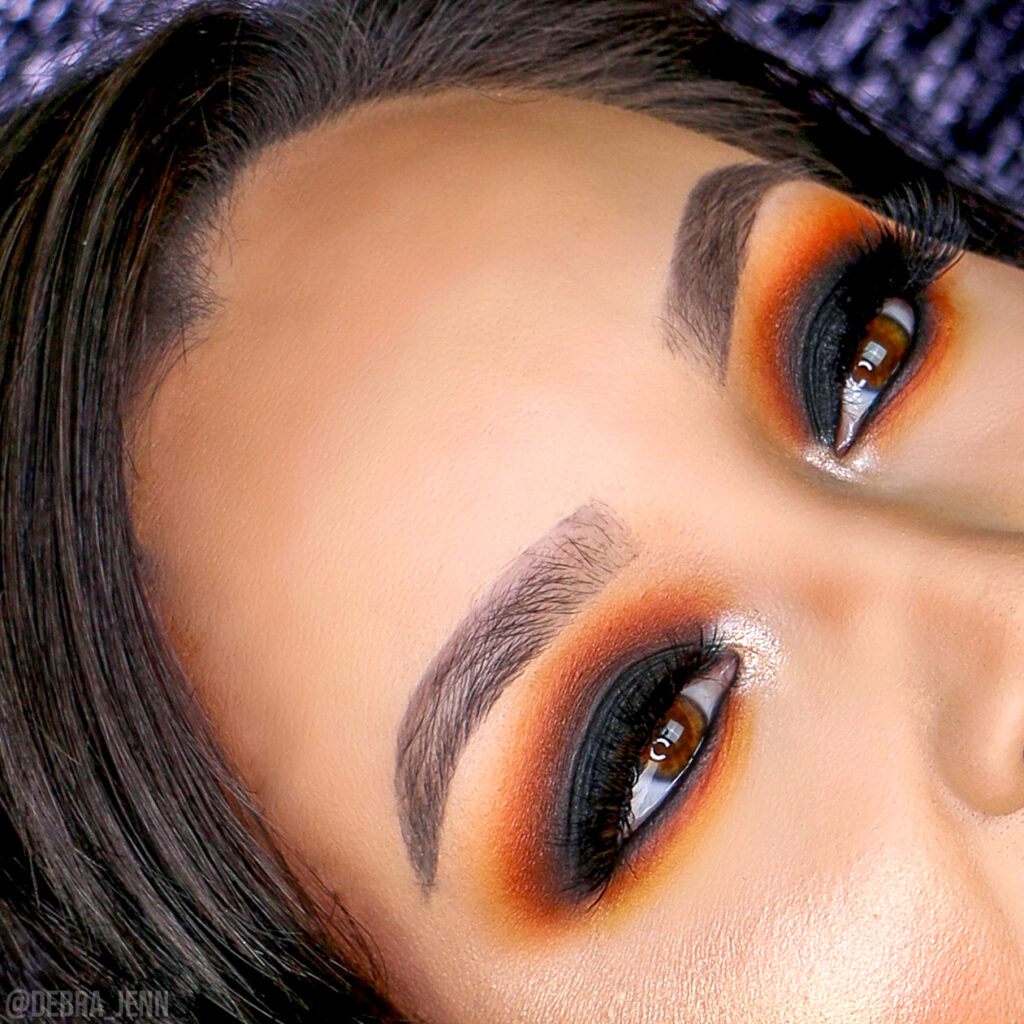 Double double toil and trouble, this witchy black smokey eye is the epitome of Halloween drama. I wore this look to the NYX x Sabrina launch party and it became one of my fave lewks to do.
The deep black shades create a sense of mystery, while the orange sunset smokey shades add depth and intensity. This eye makeup look captures the essence of all things witchy and dark, making it perfect for those who want to make a bold statement on Halloween night.
This can be a tricky look, so make sure to check out my black smokey eye tutorial for all my in-depth tips and tricks.
Products Used:
See full list of products used in this black smokey eyeshadow look here.
Watch My Black Smokey Eye Makeup Tutorial
10. Wicked Winged Smokey Eye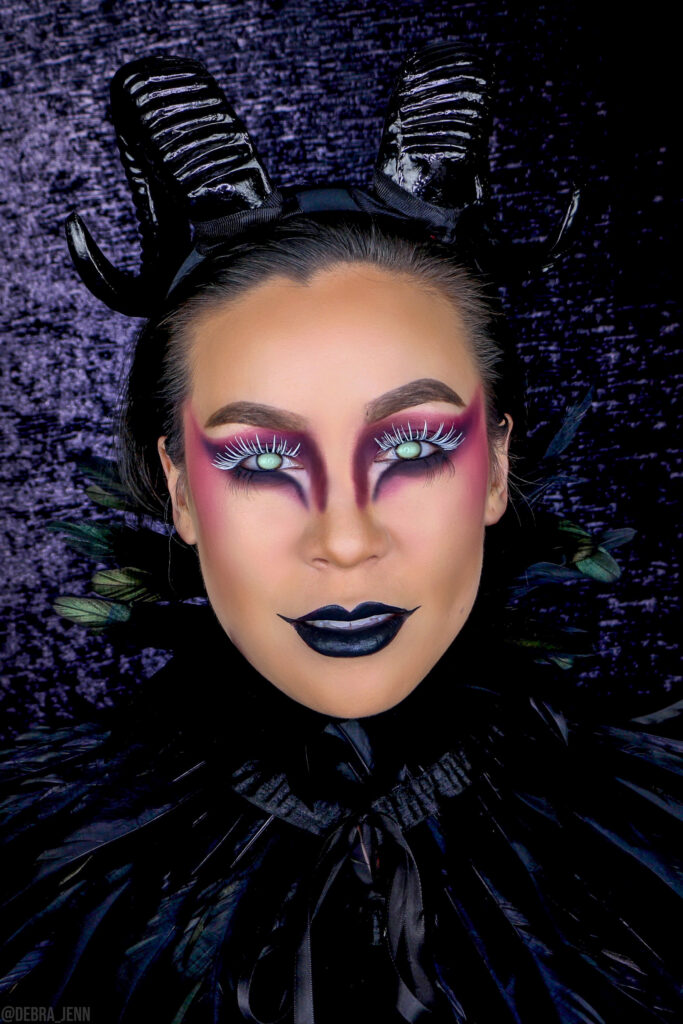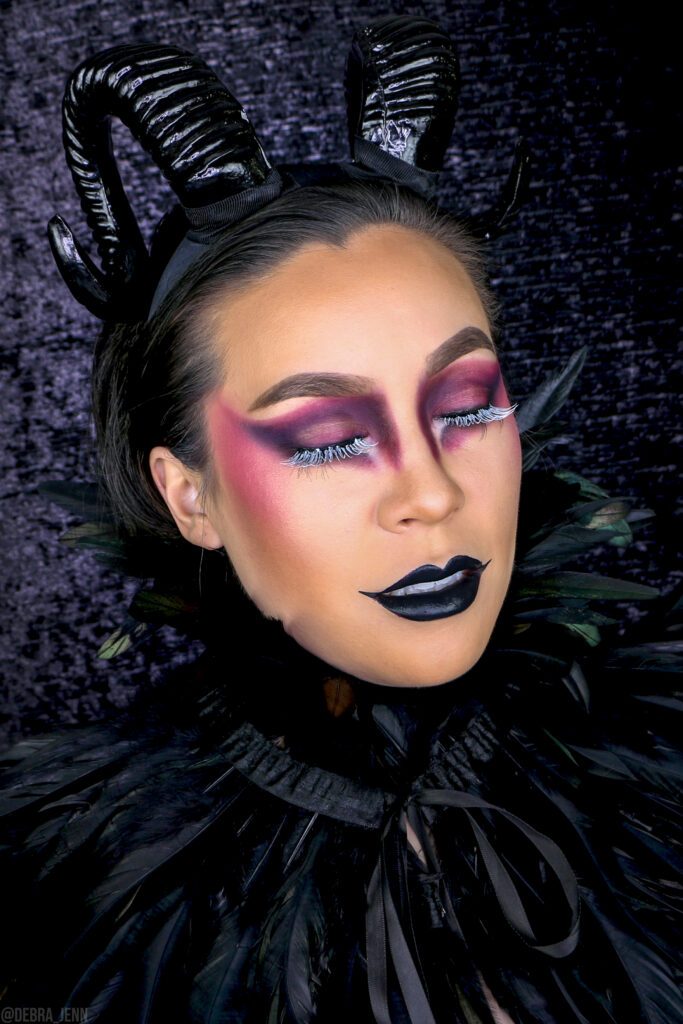 Dare to embrace the dark side with this wicked winged smokey eye that's all about unleashing your inner vixen. The combination of winged eyeliner and smokey shades creates a look that's both fierce and sultry. I added devilish horns and a black feather neck accessory to really bring up the dark side vibes, but the eye makeup look alone exudes enough fright to last a lifetime, making it perfect for those who want to captivate the crowd with their spooky siren soul.
Products Used:
See all the products I used to create this black angel makeup look here.
See More: Scary Halloween Makeup Looks
11. Sparkly Black Halloween Eyeshadow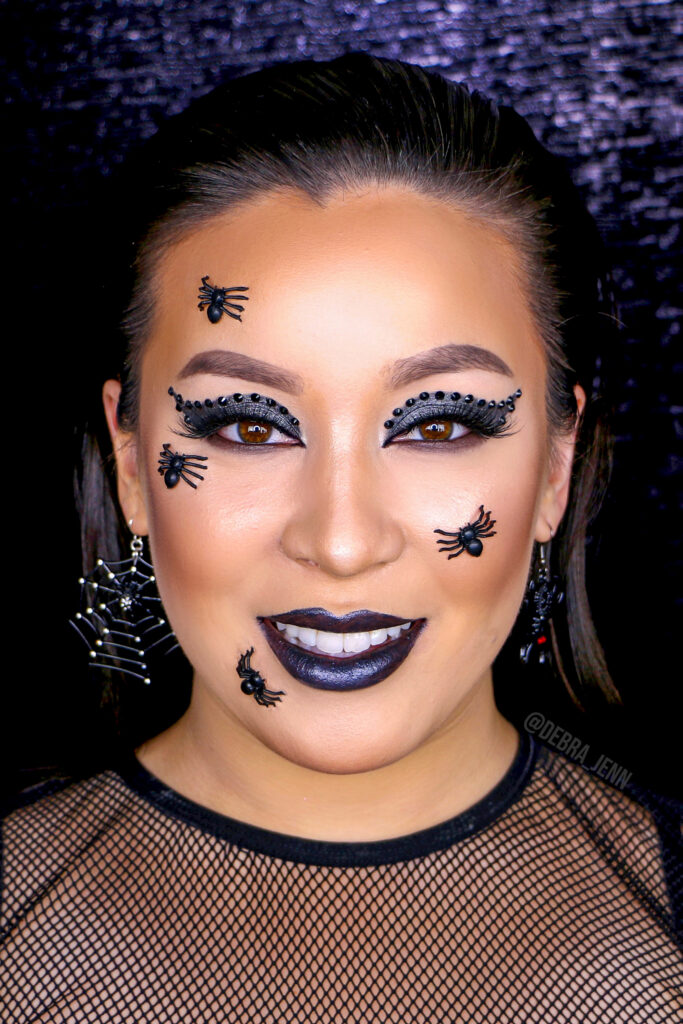 If you wanna elevate your Halloween glam without a whole lotta effort, this bewitching sparkly black eyeshadow look with dazzling rhinestones might just be your ticket. Channel your inner enchantress and embrace the night's mystique as you captivate hearts with every blink. For extra spook, I glued some plastic spiders to my face (I recently found one in my makeup bag and almost had a heart attack thinking it was a real spider.)
Products Used:
See full list of products used in this spider halloween makeup here.
Shop My Spider Makeup Accessories
Hauntingly Beautiful Eyes Await
And there you have it, my eerie enchantresses and dapper devils: a mesmerizing array of Halloween eye makeup ideas that will have your eyes stealing the show at every costume party and spooky soirée. Whether you're rocking devil horns above your eyes, bewitching bat wings, or captivating cat eyes, these Halloween eye makeup looks will cast a spell of fascination on all who dare to look your way. Remember, darrrrrlings, the eyes are the windows to the soul – and when it comes to Halloween, you want your soul to enchant, haunt, and bewitch the world. Stay glam and spook-tastic, my loves! 🎃👁️✨
Watch My Halloween Makeup Tutorial
I liked this Cleopatra costume so much, I did it two years in a row! The look is mostly just fancy eyeshadow, and she sure is a show-stopper! Check out my tutorial below and don't forget to subscribe to my YouTube channel while you're there!
More Halloween Makeup Looks:
Some of the links above are affiliate links, which means I may make a small commission if you choose to purchase. If you feel comfortable, purchasing products through these links greatly helps me out as I work really hard to make high quality, fun content for you guys to enjoy.