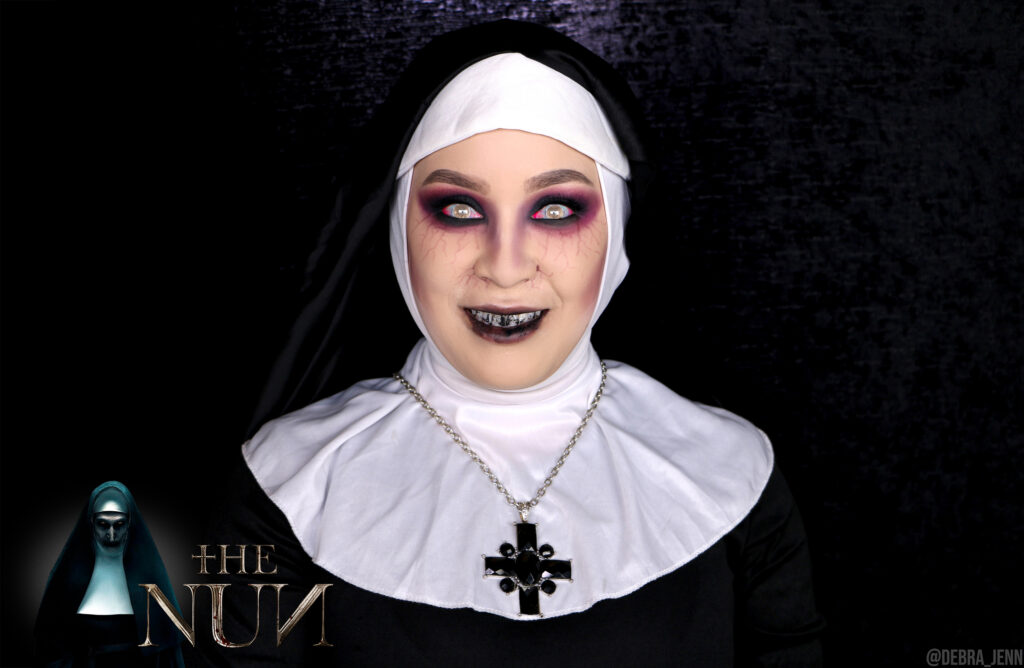 Is there anything scarier than a nun? Methinks not, good lady. And I went to Catholic school so I'm a credible source of information. I once got chased down a dark hallway by a nun… so keep reading and I guess I'll tell that tale.
Table of Contents:
A Scary Nun Costume for Someone Who Hates Demons?
Ok honestly, nuns creep me the hell out, and even looking at the picture at the top of this post freaks me out. Have you seen the movie, The Nun? Because I have, and I hated every minute of it, until it ended. No spoilies, but the movie ended in a way that resolved my fears, so I guess I'm glad I stuck it out til the end of the movie, but dang nabbit, I should've remembered that movies about demons do not sit well with me and just avoided it altogether. I rebuke it in the name of Jesus, thank you very much.
Follow me on TikTok: @Debra_Jenn
My Scary Nun Story
And now I suppose you're gonna want to hear about the time I was chased by a nun…
Well, I was in 8th grade and like I said, I went to a Catholic school in junior high, so we had a couple nuns at our school. Our religion teacher (yes, we had to take religion class lol), told us we were going to have a girls retreat one weekend and any girl could attend. Sounds like a fun sleepover, right? Well that's what I thought too. Turns out, they wanted us to have a silent retreat where we had to sleep alone in separate rooms in the convent (SCARY!), and we couldn't even talk to each other when we did see each other in the halls or at dinner. Yep, we just had to sit there silent and talk to Jesus in our heads, I guess. Well that just didn't sit right with me, so my friends and I snuck out to hang out together in one of the rooms, then all of a sudden we were told the nun was coming, so we had to quickly sneak back to our rooms, down a DARK HALLWAY. Why did they keep the convent so dang dark? We may never know.
So anyways, as I was trying to sneak back to my room without getting caught… surprise, surprise, I got caught and the nun grabbed me by the wrist with her little pincer hands. So I screamed and started running. After all, I ain't 'fraid of no nun! But I was afraid of what I told the punishment for getting caught sneaking out of our rooms was: having to sleep alone in the haunted basement. As if sleeping alone in the creepy nun rooms wasn't bad enough! I wasn't gonna let Sister Nasty drag me down to hell, no ma'am! So I wriggled free of her grip and ran into the bathroom, slammed a stall door shut, and hid on top of the toilet. She no joke ran in there after me and was yelling at me to come out, which I wasn't about to do, so I army-crawled under the adjacent bathroom stalls and ran back out the bathroom door and somehow escaped with my life and got back to my room to hide with all the lights off.
Listen, I can't believe it happened either, but the story is 100% true. Ahh, the traumas of childhood.
The Nun Makeup & Costume Deets
Ok anyways, after that wild story, let's go right on ahead and get into all the details of this scary Halloween costume, shall we?
I'll include my scary nun makeup tutorial at the very end of this post and link everything I used to create it, including all of the Halloween costume accessories, so you can recreate this exact scary sister look if you wanna 😉 (Remember to tag me on IG if you do so I can repost you to my stories! @Debra_Jenn)
Follow me on Instagram: @debra_jenn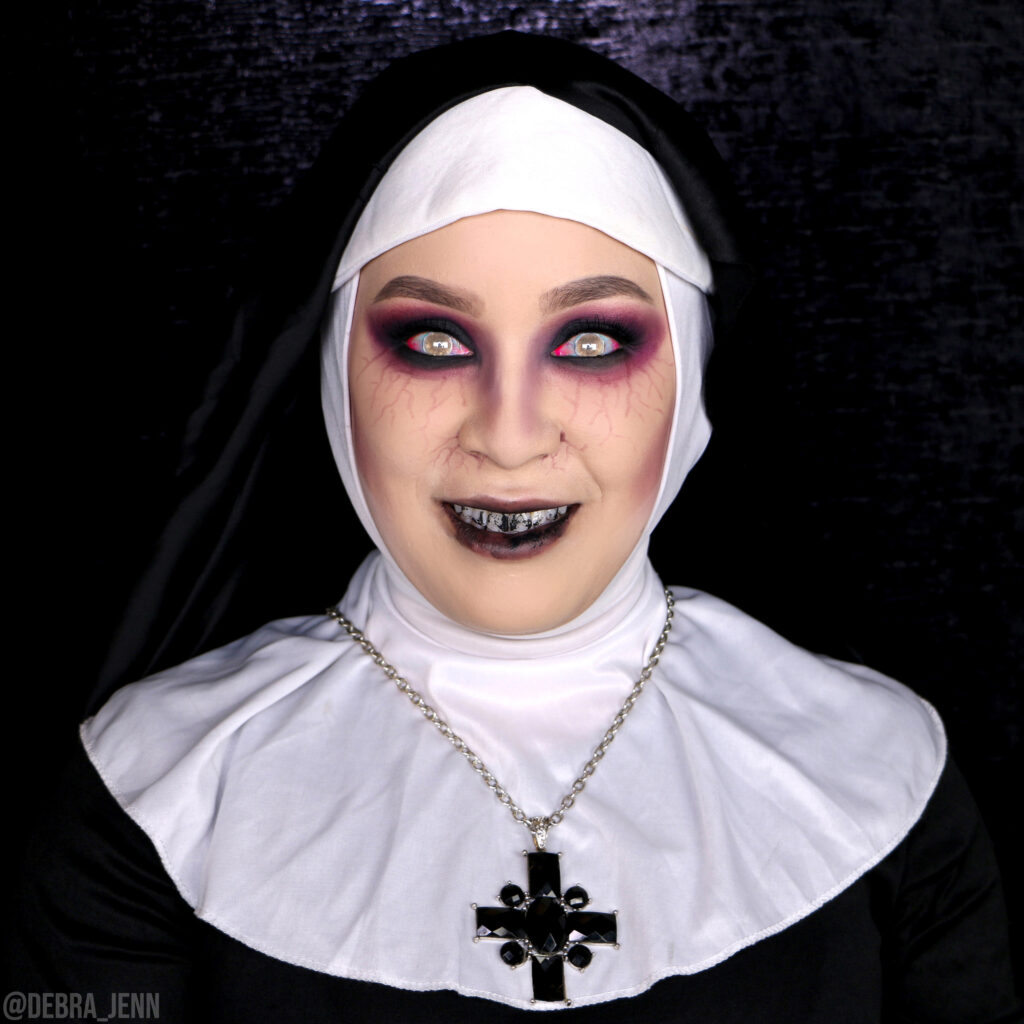 Products Used in The Nun Halloween Makeup:
See the full list of products I used in this scary nun makeup look here.
The Nun Costume & Accessories I'm Wearing
Shop my Amazon store for my favorite skincare, costumes, home organization & more!
Watch My Scary Nun Makeup Tutorial
Ugh it looks like the embedded version of my Facebook live tutorial showing how I did my scary nun makeup look won't load… so you'll have to click through to watch it on my Facebook page. Thanks, Zuck. Anywho, go ahead and like my FB page while you're there, why dontcha. (You can also subscribe to my YouTube channel, where the embeds never glitch.)
Like my Facebook page for live tutorials: Debra Jenn
Subscribe to my YouTube channel
Scary Nun Makeup TikTok
More Halloween Makeup Looks:
* Some of the links above are affiliate links, which means I may make a small commission if you choose to purchase. If you feel comfortable, purchasing products through these links greatly helps me out as I work really hard to make high quality, fun content for you guys to enjoy.