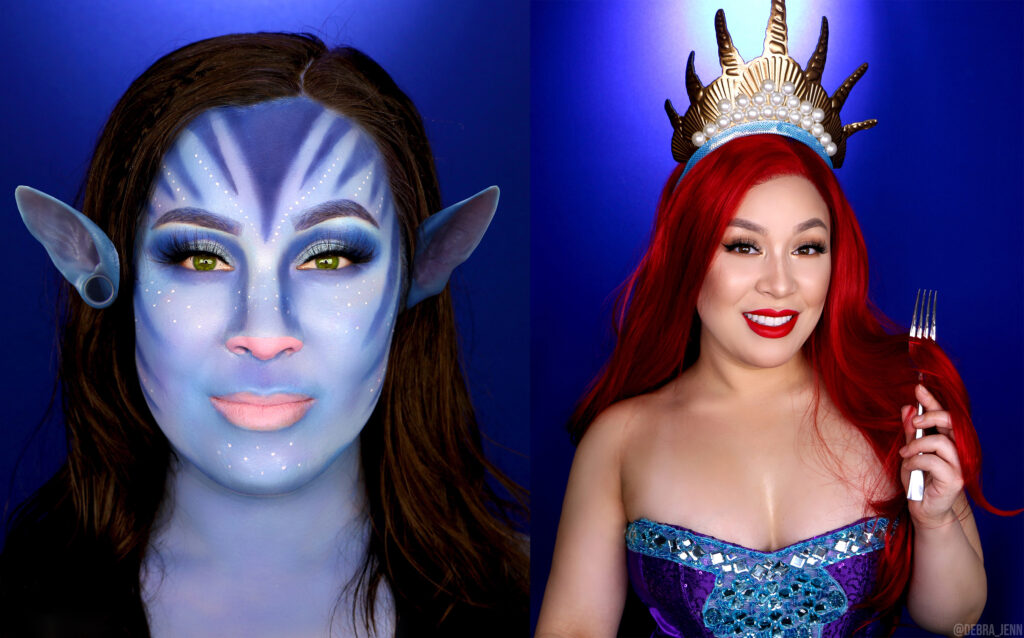 Calling all cosplayers! Have I got the perfect Halloween costume ideas for you! Am I a cosplayer now? Methinks me might be. (And if you love cosplay, be sure to check out my Alice in Wonderland costume series!)
Follow me on Instagram: @debra_jenn
Cosplay Makeup Looks Perfect for Spooky Season
Everyone knows I hate bloody SFX makeup looks (even my scary Halloween costumes aren't gorey), but spooky season is my time to shine, so I'm not gonna let an aversion to blood stop me! Enter cosplay Halloween costumes.
Who doesn't love dressing up as their favorite character for Halloween, after all?
I'll link all the tutorials for each look + the products I used to create them, so you can recreate them for your own cosplay costume this Halloween! Remember to tag me if you do and I'll share you on my Instagram stories! @debra_jenn
Subscribe to my YouTube channel
1. Wonder Woman
Wonder Woman Halloween Costume & Accessories
Follow me on TikTok: @Debra_Jenn
2. Jessica Rabbit
Jessica Rabbit Costume & Accessories
Shop my Amazon store for my favorite skincare, costumes, home organization & more!
3. Barbie
Barbie Costume, Wig & Accessories
Watch my Barbie Makeup Tutorial
🎶 I'm a Barbie girl, in a Barbie world 🎶
4. Kim Possible
Kim Possible Halloween Costume & Accessories
Like my Facebook page for live tutorials: Debra Jenn
5. Shego
Shego Costume & Accessories
6. Ariel the Little Mermaid
The Little Mermaid's Ariel Costume & Accessories
7. Avatar
Avatar Costume & Accessories
8. Elastigirl from The Incredibles
Mrs. Incredible Costume & Accessories
9. Violet Incredible
Violet Incredible Costume & Accessories
10. Shrek's Princess Fiona
Princess Fiona Costume & Accessories
Watch My Princess Fiona Makeup Tutorial
Watch My White Rabbit Cosplay Makeup Tutorial
If you've ever wanted to be the White Rabbit for Halloween, then this is the cosplay makeup tutorial for you! Check out the video below, and don't forget to subscribe to my YouTube channel while you're there!
More Halloween Makeup Looks:
Some of the links above are affiliate links, which means I may make a small commission if you choose to purchase. If you feel comfortable, purchasing products through these links greatly helps me out as I work really hard to make high quality, fun content for you guys to enjoy.