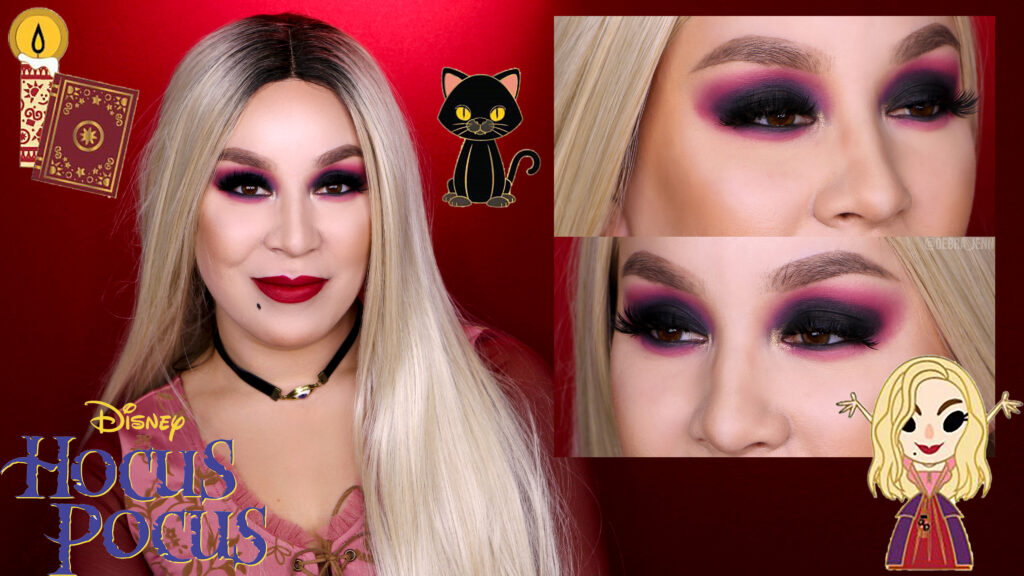 If you're a fan of Hocus Pocus, a Sarah Sanderson costume may just be the sexy Halloween costume you've been looking for! If you want to see exactly how I created this bewitching look, keep reading to see my Sarah Sanderson makeup tutorial and get all the costume deets.
Table of Contents:
See More: Cosplay Makeup Ideas
My Sarah Sanderson Cosplay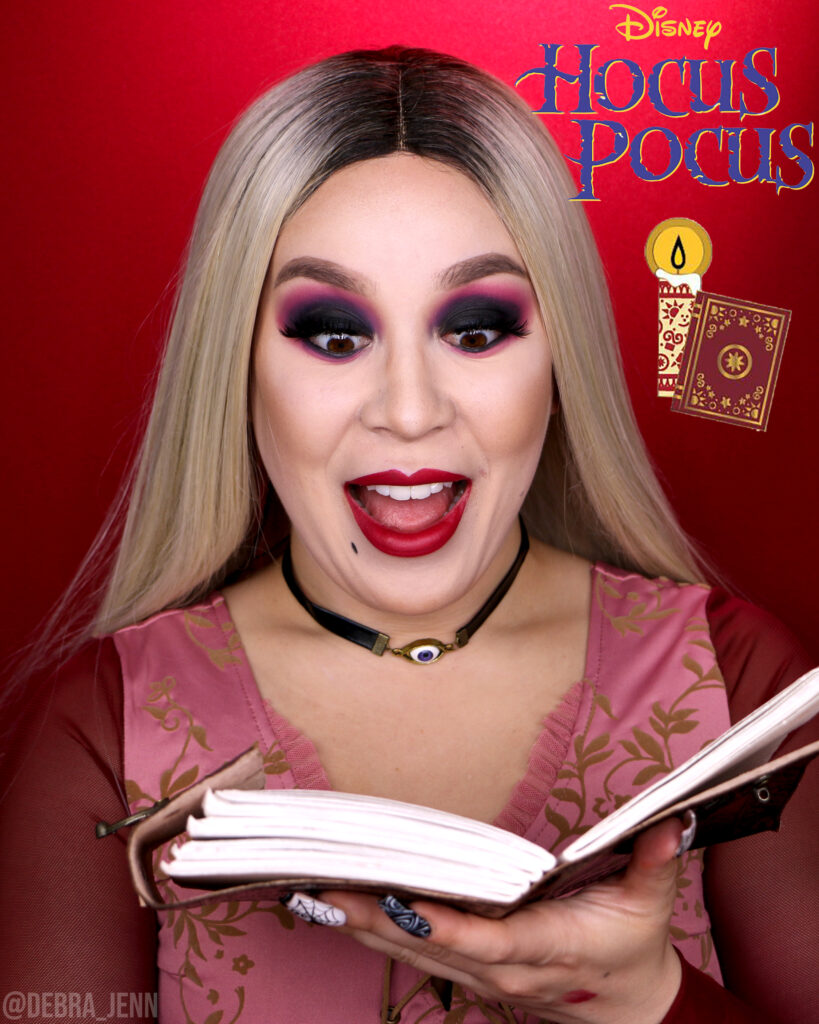 I am beautiful, boys will love me!
I said my Winifred Sanderson costume was the most fun character I've ever cosplayed, but tbh Sarah Sanderson is just as fun! (Ok, maybe she's just a leeeetle less fun, because Winnie is so wild, but it's not a contest.) And if you're looking for a Halloween costume that's both sexy and witchy… you literally can't do any better than Sarah. Seriously, the boys will love you and the children will be following you down a path to hell in no time, just you wait and see.
I'll include the makeup tutorial at the very end of this post and link everything I used to create this Sanderson sister cosplay, including all of the costume accessories so you can recreate the exact lewk if you wanna 😉 (Remember to tag me on IG if you do so I can repost you to my stories! @Debra_Jenn)
Follow me on TikTok: @Debra_Jenn
The Perfect Sarah Sanderson Wig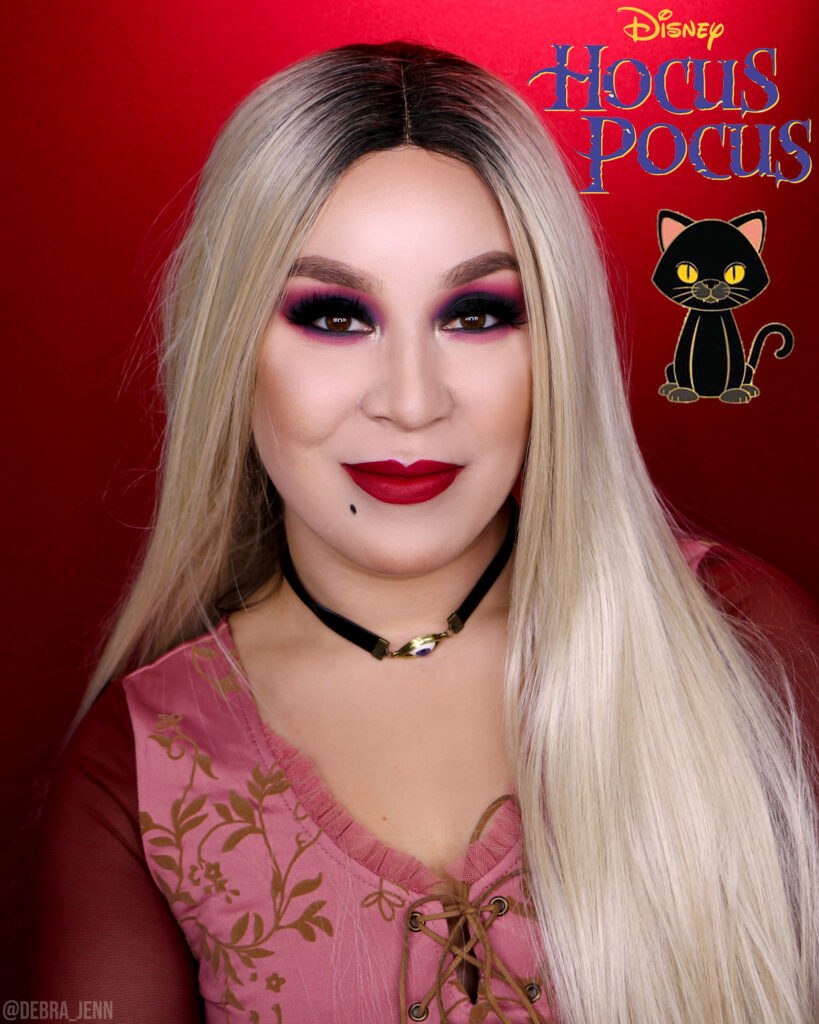 Unless you're a natural (or already-dyed) blonde, you're gonna need a blonde wig to pull off the Sarah Sanderson costume. I hate to break it to ya, but without the blonde hair, you'll just look like any ol' witch and people will ask you all night long who you're 'posed to be. Since I have near-black hair, I prefer blonde wigs with dark roots to help it blend with my natural hair more easily, especially since I'm a lazy wig applier and don't braid my hair or glue the wig down, I just shove my hair in a wig cap and call it a day. Lace front wigs are also my personal fave for a more realistic look, but if you want to do this costume on the cheap, Amazon has a ton of affordable blonde wigs that'll do the trick.
Follow me on Instagram: @debra_jenn
My Sarah Sanderson Makeup Look: A Sexy Smokey Eye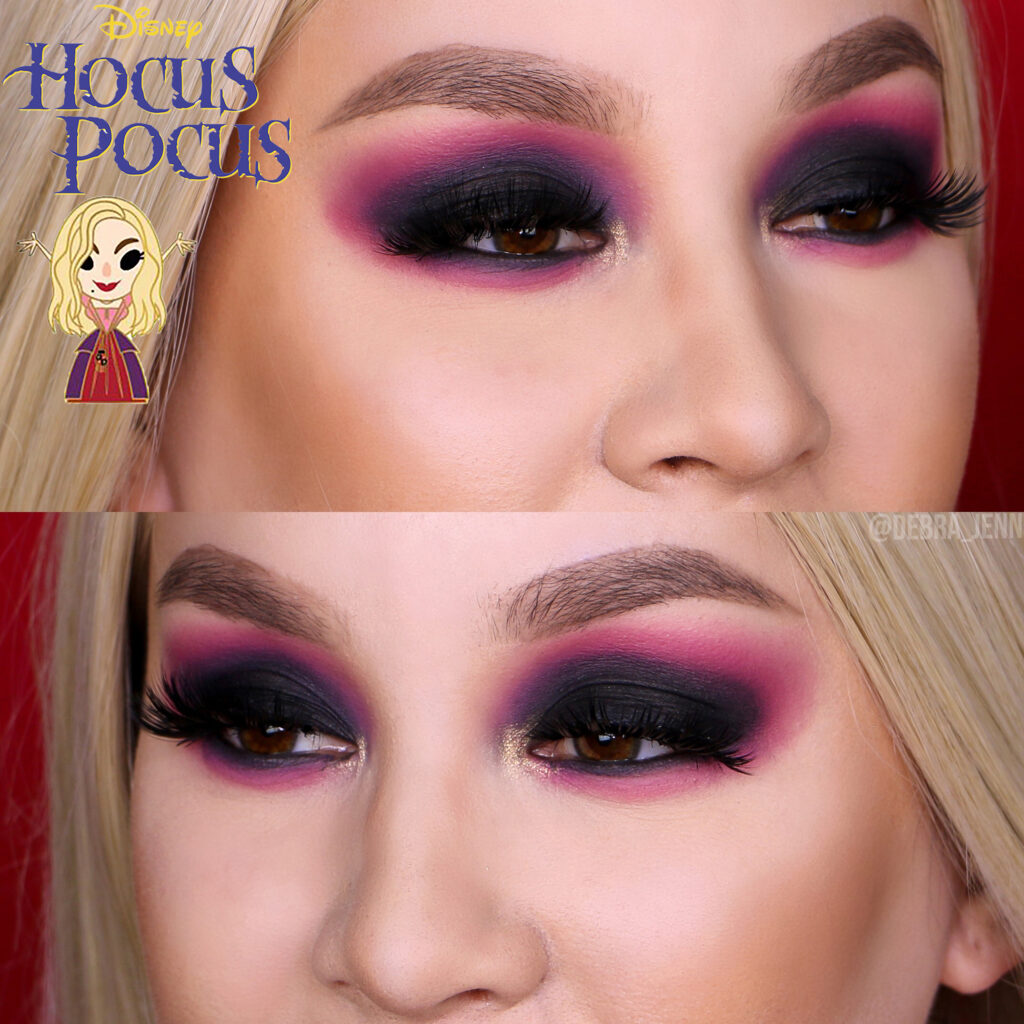 For Sarah's makeup, I created a black smokey eye and blended it out with some witchy purple shadows. TBH, this kind of smokey eye is something I'd wear on its own any day of the year, but it was especially perfect for the sexiest Sanderson sister.
Products Used in my Sarah Sanderson Smokey Eye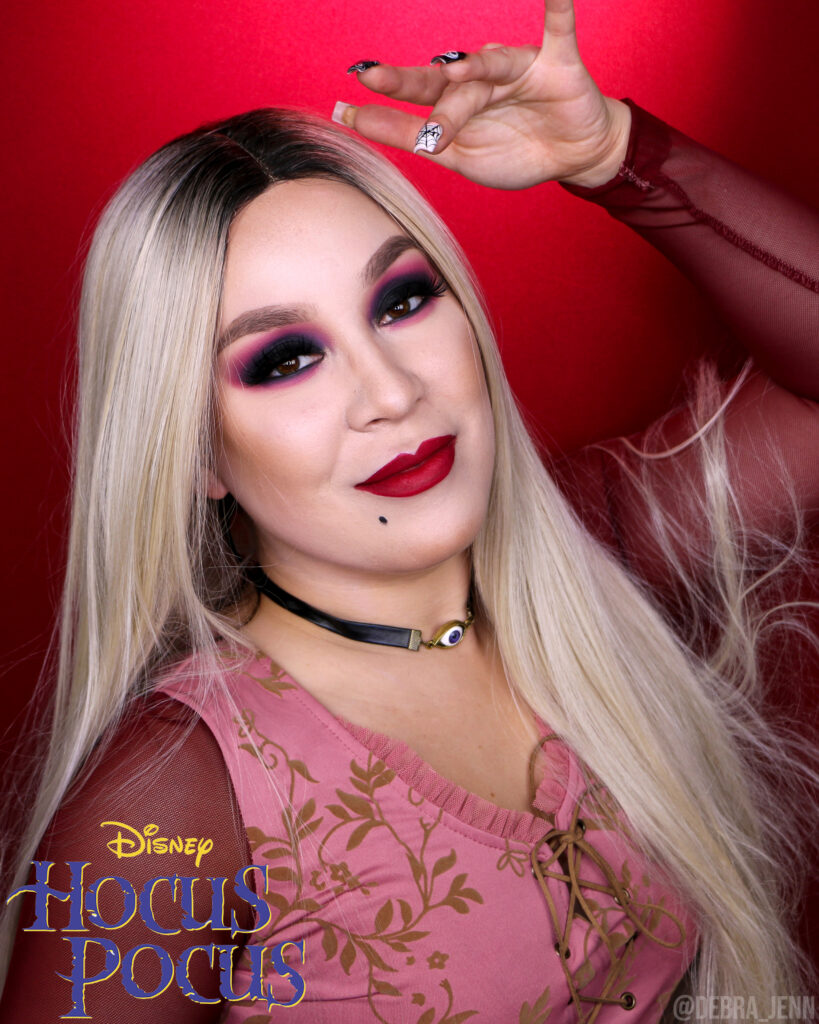 See the full list of products I used for this Sarah Sanderson costume here.
Subscribe to my YouTube channel
Shop My 'Hocus Pocus' Costume & Accessories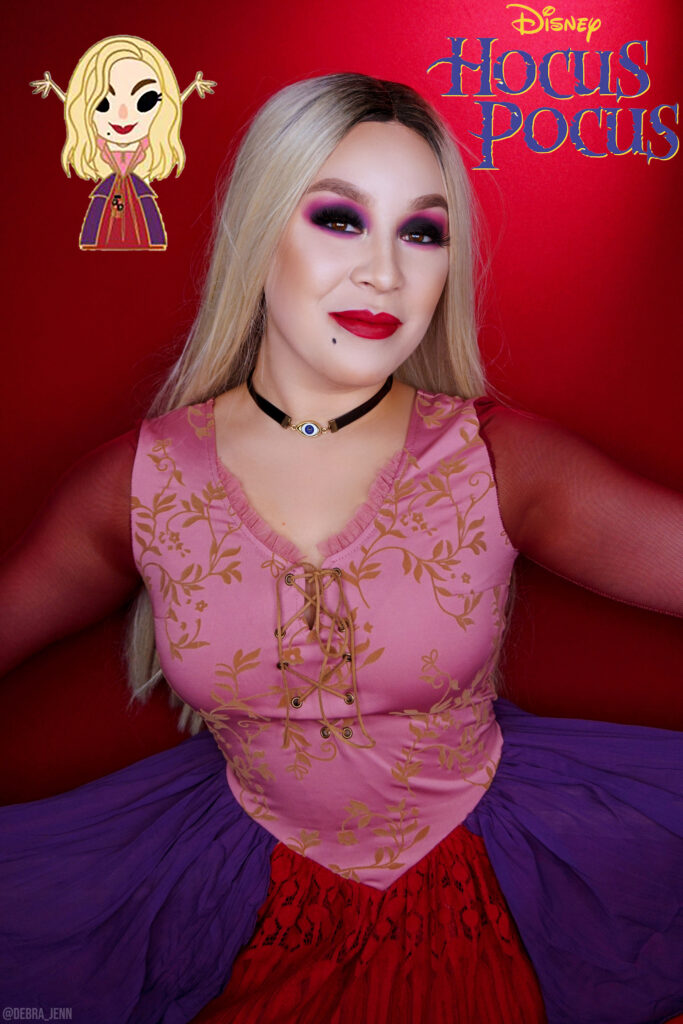 The Amazon links below are everything I used in my Hocus Pocus costume. I wore the short version of the Sarah Sanderson dress, but I bought the long version too and had a hard time deciding which one I liked better. (I'm only 5'1″, so it was easier for me to wear the short skirt without tripping.)
I personally love adding a spell book and a cat figurine (we can't forget Thackery Binx!), so you'll want to plan ahead to make sure you've got everything you need! If you're not much of a planner, be sure to check out my last-minute Halloween costume ideas.
Shop my Amazon store for my favorite skincare, costumes, home organization & more!
Watch My Sarah Sanderson Makeup Tutorial
Check out my Sarah Sanderson makeup tutorial below and don't forget to subscribe to my YouTube channel while you're there! If you ask me, this black and purple smokey eye could be worn on its own, even without the Hocus Pocus costume! Spoooky!
Like my Facebook page for live tutorials: Debra Jenn
And Now for a Fun Lil Hocus Pocus TikTok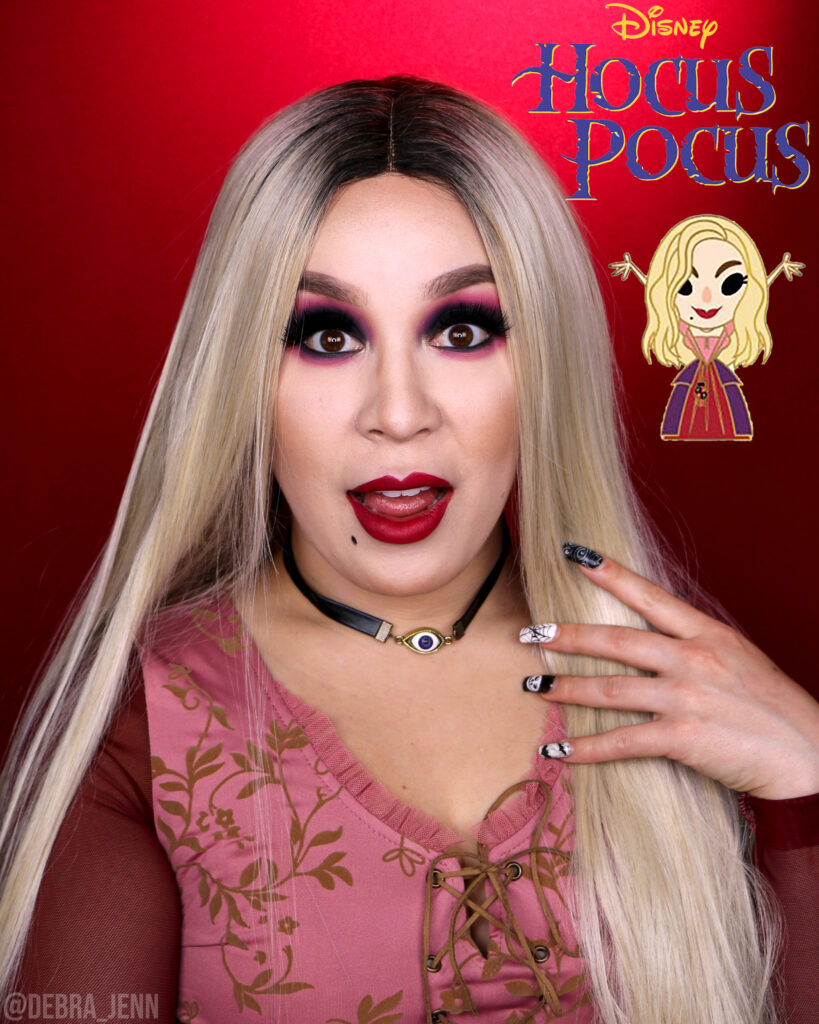 I had so much fun filming this makeup tutorial and it gave me another chance to bust out some acting chops lmao. But seriously, acting out the characters might just be my fave part of creating these cosplay makeup looks. Watch my TikTok below and lemme know how I did!
More Halloween Makeup Looks:
* Some of the links above are affiliate links, which means I may make a small commission if you choose to purchase. If you feel comfortable, purchasing products through these links greatly helps me out as I work really hard to make high quality, fun content for you guys to enjoy.