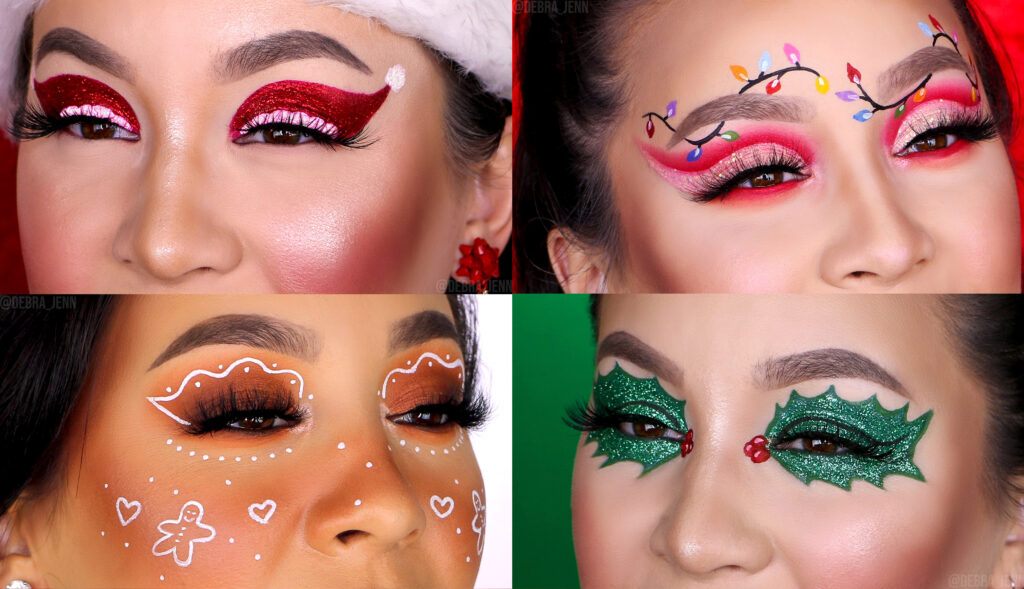 Want to look holly jolly and bright for the Holidays, but still need some inspo for the perfect Christmas eyeshadow looks? Say no more, fam… I gotchu. Here are my top 10 Holiday eye makeup ideas (complete with tutorials) that'll put the other reindeer to shame.
Subscribe to my YouTube channel
Christmas Eye Makeup Looks Ready to Sleighhhh
Christmas makeup is my favorite makeup! TBH, I say that about every holiday, but I really mean it about Christmas. (Although Valentine's Day makeup looks really get my rocks off too…) What can I say, I just love a good theme to give me makeup inspo and the motivation I need to crank out some lewks. ANYWHO, if you're feeling merry and want your eyes to show it, then let the world know it! The eyes are the window to the soul, after all. So get ready to sleighhhhh.
Jump to the Christmas eye looks in this blog:
I'll link the makeup tutorial for each look, along with all the products I used to create them, so you can recreate the lewks for your own Christmas sleighhhh. Remember to tag me if you do and I'll share you on my Instagram stories! @debra_jenn
Pro Tip: You're gonna see me use the ColourPop Main Squeeze and Just My Luck palettes in almost every one of these looks, so you might as well just buy those now and get it over with 😉 (They're the perfect red and green eyeshadow palettes and they're super duper affordable — plus, ColourPop has my fave eyeshadow formula!)
Follow me on TikTok: @Debra_Jenn
1. Red & Green Eyeshadow
Shop my Amazon store for my favorite skincare, costumes, home organization & more!
2. Candy Cane Eyeliner
Watch My Candy Cane Makeup Tutorial
Like my Facebook page for live tutorials: Debra Jenn
3. Candy Cane Eye Makeup Look
Follow me on Instagram: @debra_jenn
4. Green Christmas Makeup with Snowflakes
Watch My Snowflake Makeup Tutorial
5. Christmas Lights Eye Makeup
Watch My Christmas Lights Eyeshadow Tutorial
Follow me on Pinterest for more makeup ideas & fashion inspo: @Debra_Jenn
6. Christmas Cut Crease
Watch My Holiday Cut Crease Makeup Tutorial
This is truly one of my fave wearable Christmas makeup looks! Check out my in-depthtutorial below, and don't forget to subscribe to my YouTube channel while you're there!
7. Gingerbread Eyeshadow
Watch My Gingerbread Makeup Tutorial
8. Pink Holiday Eyeshadow
9. Santa Eyeshadow
Watch My Santa Claus Makeup Tutorial
10. Mistletoe Eye Makeup
Watch My Mistletoe Makeup Tutorial
More Holiday Makeup Looks:
Some of the links above are affiliate links, which means I may make a small commission if you choose to purchase. If you feel comfortable, purchasing products through these links greatly helps me out as I work really hard to make high quality, fun content for you guys to enjoy.